---
Properties / Luxury Homes
Guide: Waterfront Living, Boracay
Boracay was named The World's Best Island by Travel + Leisure, and it is indeed beautiful – but how does its property market standup?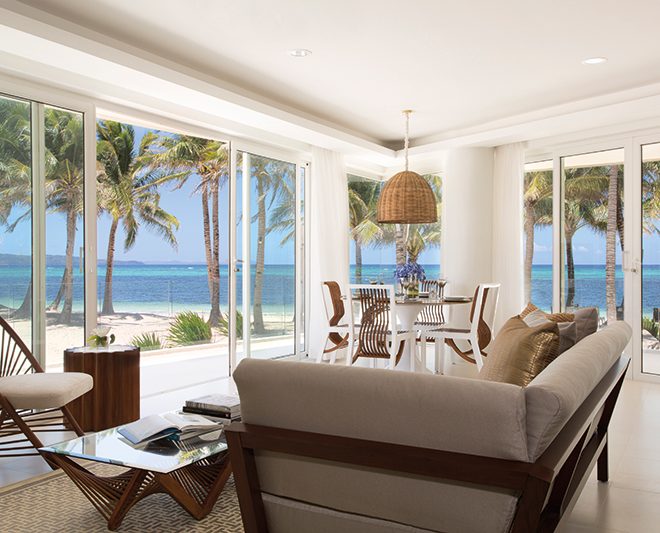 While it is only seven kilometers long and in some parts a slender 500 meters wide, petite Boracay has become one of the top tourist destinations in the Philippines. The island is located in Aklan province, 200 miles south of Manila off the northwest tip of Panay island in the western Visayas region, and it is one of more than 7,000 islands in the Philippine archipelago, but its sparkling azure waters, powdery sand beaches and laid back ambience have raised the islet to international prominence. Multiple reefs surrounding the island also provide natural barriers making the seas perfect for a wide range of water sports, including snorkeling, diving, windsurfing and kiteboarding.
Today development on Boracay has spread beyond White Beach. New luxury hotels are being built on Bunyugan Beach and up into the hillsides where land is more readily available. An ambitious mixed-use project from Megaworld Properties, Boracay New Coast, is also under construction near the Fairways and Bluewater Golf Course, and will encompass 140-hectares — 14% of the island's landmass — with hotel, residential and retail components that seek to approximate the quaint charm of a Mediterranean village.
But the project that has put Boracay on the map for international property investors is its first branded residence, Aqua Boracay by YOO. Co-founded by designer Philippe Starck and developer John Hitchcox, the YOO brand has successfully exported its sleek modern residences to various international locations and Boracay was an appealing market.
"There were no internationally branded resort residences in Boracay, yet there was a demand from international buyers for design apartments," says Mark Rudnicki, Head of Marketing at Aqua Boracay by YOO.
Rudnicki says the island's tourist base has increased 88% in the last five years, but while additional hotels are being constructed to cater to growing demand, there has been a scarce supply of luxury real estate for those looking to reside either occasionally or permanently on the island. "Aqua Boracay fills the gap, offering investors the opportunity to own their own piece of paradise for personal use or to earn an income stream or a combination of both," he says.
The project is located on Bulabog Beach, nearby the commercial area of D'Mall and not far from the nightlife of White Beach. It has 168 residences with amenities that include three swimming pools, a day spa, a health club and concierge services. Sales have been strong. The project sold its first phase of 48 apartments in less than a year, and the most recently released units are already 50% sold, Rudnicki says.
Remaining available units include: one and two-bedroom apartments ranging from 538 to 2,841 sq. ft. Interiors feature a natural white and earth tone palette, optional furniture package by Filipino designer Vito Selma and full height sliding glass doors to wrap-around terraces. The residences are priced from $220,000 to $1,999,999 and a minimum return of 12% is guaranteed over the first two years.
According to Rudnicki, investors are turning their attention to the Philippines from countries such as Thailand and Indonesia where Capital Gains have peaked. "The Philippines is an emerging country at the beginning of a growth cycle and investors are looking at Boracay with one of the world's finest beaches and a new International airport to open in 2017,"
he says.
Previously accommodating only small turbo-prop planes, the new Caticlan Borocay Airport, scheduled for completion later this year, will feature an expanded runway able to land airbus jets and offer 50-minute flights from Manila, two-hour flights from Hong Kong and four-hours direct flights from Singapore. This prospect, of course, buoys the expectations of developers for Boracay's growth potential.
While Aqua Boracay by YOO has firmly established itself as a high-end beachfront hideaway, private residence on Boracay's waterfront are increasingly difficult to find. "There is not much left for sale on the beachfront," says Peter Brugger, General Manager at SPR Boracay Real Estate Inc. "Most of the private houses or villas are on the hillside overlooking the beach."
Brugger sells luxury villas primarily to expats from around Asia, many who are looking for a second home or to settle down for retirement. He is currently listing just one beachfront villa at the northern end of White Beach, near the golf course. Known as Mayumi Beach House, the five-bedroom property spans three floors and 5,564 sq. ft. with several sea-facing terraces and a hot tub on the top floor. The home is listed for $2 million.
Some projects, like Aqua by YOO, are designed to be foreigner friendly, allowing foreigners to buy with no restrictions and in their own name and even offer 'non-status' financing. But by law, foreigners cannot own land in the Philippines. They can purchase units in condominium buildings so long as foreign ownership in a single project does not exceed 40%, and if married to a Filipino, a foreigner can buy land provided the title/tax declaration is in his or her spouse's name.
As Boracay's international reputation grows and tourist arrivals increase, some worry that in addition to dwindling land up for grabs, the island's charm may also be fading. The frenzied rate of development, alongside reports of noise and overcrowding, not to mention damaged coral reefs and heaps of garbage during high season, have led some critics to warn that Boracay has reaching a tipping point. Last June, the Department of Environment and Natural Resources found that the level of chloroform bacteria in the sea at Bulabog beach was almost 50 times above the level deemed safe for swimming, although the DENR has since improved the island's sewerage system and more recent tests show the sea is safe. Like any emerging destination, Boracay is likely to face growing pains, but with any luck, developers will seek to strike a sustainable balance where the rush to capitalize on growth does not threaten the island's eco-system and its natural beauty.
This article was first published on Palace Magazine.
---