---
Culture / Art Republik
4 Spotlight Artists for Art Stage Jakarta
With Art Stage Jakarta swinging round the corner this weekend, here's a sneak peek into four of the artists that will be exhibiting.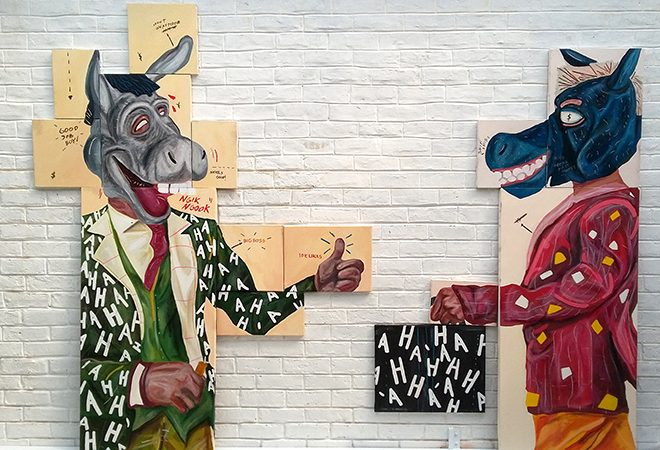 Mark your calendars. For the first time ever, Art Stage Jakarta will be dropping into Indonesia this weekend. With the inaugural art fair just round the corner, here is a little sneak peek into some of the artists featured. See you at Art Stage Jakarta!
Naufal Abshar
His story might resonate with the hearts of many. As a child, Indonesian artist Naufal Abshar found that he preferred art more to his academic studies. Today, he translates socio-political issues into art, where he believes that humor is the best form of criticism. His "HAHA" series will be on display at Art Stage Jakarta.
Yoshimoto Nara
We're pretty sure you've seen his works before, even if his name might not instantly ring a bell. His enigmatic little girls have attained blue chip status in the art world, and can be considered iconic imagery in Japanese contemporary culture. Observe as he communicates stories in a single frame rather than through a collection of pictures, where his personal narratives hold strong.
Erianto
For Yogjakarta-based artist Erianto, blurring 2D and 3D art is his style of choice. Imagine cardboard packages and wooden crates painted to look as though they are real. For Art Stage Jakarta, Erianto will look to portraying one's innate need for communal togetherness, drawing inspiration from shoaling and schooling – it's all about seeking a sense of belonging.
Natee Utarit
Magic is Thai artist Natee's theme for Art Stage Jakarta – or rather, Samlee, a Bangladeshi magician is. An enigma to Natee, Samlee caught the artist's attention when he dropped out of sight at the peak of his fame. Having found the magician by chance later, Natee decided to paint Samlee, in hopes of further unravelling the mystery shrouding Samlee.
---