---
Lifestyle / Gastronomy
The Garden Club, Singapore's Newest Rooftop Concept, is #NotYourOrdinaryFoodClub
Nightclub or health club? There's a new bar in town, and it brings together fun and conscious living all under one rooftop.
In Singapore, we work hard, and we play hard.
After a long day in the office, many of us like to hang out with our co-workers and friends over a couple of drinks and some bar food, and commiserate about the day's happenings.
The Garden Club, Singapore's Newest Rooftop Concept, is #NotYourOrdinaryFoodClub
Before we know it, we've consumed an unhealthy amount of deep-fried snacks and overly-sweet beverages, which often leads to us feeling even more lethargic at the end of the night.
But we don't have to sacrifice our health for a good time out. There's a new al fresco rooftop bar right in the heart of the Central Business District (CBD) that lets you have fun while still living consciously.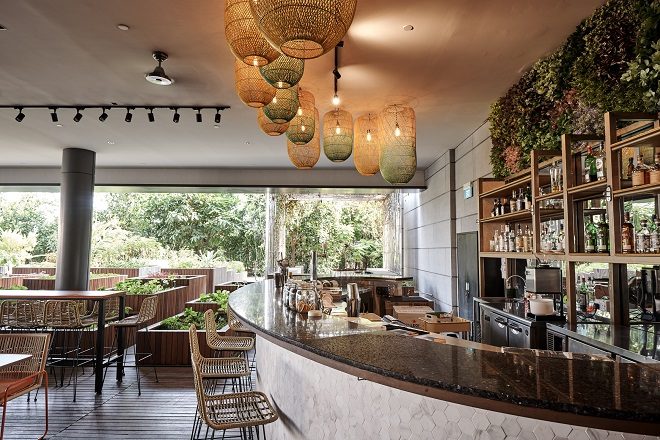 Enter The Garden Club, a live-music casual dining venue by food and beverage group Ebb and Flow, which is also behind other concepts like The Dragon Chamber and Vianney Massot Restaurant.
The restaurant-bar, which has been playfully dubbed #NotYourOrdinaryFoodClub, is set at the breezy rooftop garden of the OUE Downtown, in a tastefully designed space that is both trendy yet cosy.
LUXUO got to tour The Garden Club's own herb and vegetable garden, where we saw basil, coriander, and eggplants being grown.
The inspiration behind it, as Creative Director Norman Hartono shared with LUXUO, is to provide affordable healthy dining options for the CBD crowd.
"We wanted to provide these creative vegan and plant-based alternatives that will not break the bank, beyond what is already available out there" he said.
For lunch, patrons can choose the mix-and-match quick-serve bowls (complete with a variety of healthily-prepared bases, proteins, vegetables, add-ons, and condiments), where prices start as low as S$9, or they can opt for the ala-carte menu.
On the ala carte lunch menu, Beyond Meat Cheeseburger and Fries ($26) stand in for the same juicy bite of a good ol' cheeseburger without the guilt, while Garden Ragu Fettucine ($15) tempts with fettucine in house-made specialty Beyond Meat ragu sauce.
For something richer, the Barley Mushroom Risotto ($12) serves up the best earthy wholesomeness of a risotto with Shimeji mushrooms veggie au jus, topped with Shiitake mushroom shavings and cherry tomatoes, as does the Quinoa Porridge with Grilled Butternut ($12), made with coconut milk, maple caraway and tarragon oil topped with crushed almonds and walnuts for a buttery treat that promises to satisfy.
The dinner menu is a lot more extensive with items like Cauliflower Bouquet Roast ($10) a melt-in-your-mouth delight of a whole roasted cauliflower topped with a house special garlic miso sauce and confit leek, as well as Eggplant Pesto Grill ($12) – cooked with eggplants from its own garden – that has a whole eggplant beautiful grilled with house special pesto, fried capers, confit cherry tomatoes and Japanese purple sweet potato mash. What's so special about the pesto? It is made with ingredients harvested from The Garden Club's very own garden for assured freshness with every serving.
But if vegan food isn't your thing, all that plant-based goodness is also balanced out with traditional proteins like Beef Cheek Confit Fennel ($23), a whole slow-cooked and seared cheek of beef served with a side of roasted potatoes and edible greens as well as Grilled Barramundi ($20) served with tabbouleh, grapes and sesame tofu puree.
Bar snacks are also reimagined with choices like Fried Curry Okra and Wild Herb Karaage to go with equally punchy and vibrant drinks. Desserts are equally tempting with items like Spice Cream ($8), a homemade clove and cinnamon ice cream served with kumquat and candied walnuts and Apple Rosette Tart ($8), little "rosettes" of apples baked with apple gel on a homemade cookie shell.
The Garden Club opens officially in September 2019.
---