---
Culture / Art Republik
Insider: Artist Dawn Ng X Hermès
Art Republik ventures to the end of the rainbow with Dawn Ng, to find out just what it took to create the artwork that sits in the brand's Singapore Flagship.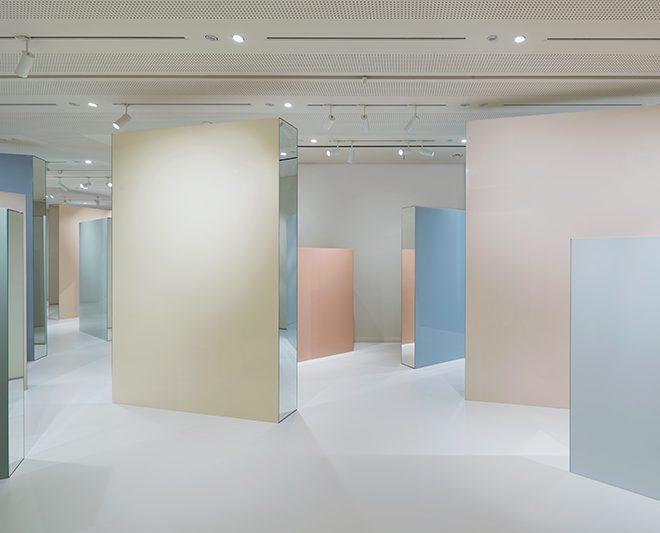 'How to Disappear into a Rainbow' is a new installation by Singapore artist Dawn Ng, commissioned by the Fondation d'entreprise Hermès. It is on show now till 14 August 2016 at Aloft, one of the foundation's five art spaces around the world. Situated at the topmost floor in the luxury house's newly refurbished Singapore flagship store at Liat Towers, Aloft is a platform for contemporary artists to create original works.
The theme of the year for Aloft, set by curator Emi Eu, who is also the Director of the Singapore Tyler Print Institute, is 'Horizon'. In response to the theme, Dawn has created an ethereal world of pale daybreak colours, looking to the Singapore skyline in the early morning for inspiration. The artist says, "I thought about the first light in the morning. And how even before you open your eyes, there are colours which seep through your eyelids: those pale hues of pinks, yellows, blues and greens… a kind of unadulterated palette that your senses slowly awaken to. I wanted to create an environment which borrowed from and played with that soft spectrum."
In the installation, rectangular blocks of different heights and sizes in pastel shades of mint green, pale pink and similarly soothing shades are placed at irregular angles. Washed in even warm light, the installation envelops the visitor walking through the labyrinth. The colour blocks are interspersed by narrow sheets of mirrors on which bits and pieces of other colours as well as the self are reflected as one meanders through the installation, allowing visitors to continually get lost and find themselves within the work, almost in a game of hide and seek with oneself.
Quiet, playful humour comes through in Dawn works, even as she explores outwardly sober themes of emotion, identity and nostalgia, such as in this work. "I think humour is one of the most interesting and disarming tools in telling a story. Humour puts people's defenses down," says Dawn. "There's a strange and incredible duality in everything: sad things are actually funny, and things that are very poignant often tend to possess a silliness as well. I appreciate that dichotomy and tension between these things. I love to play with humour whenever possible."
Recent works have seen the artist use cooler shades, such as in a light, airy mobile centrepiece at the restaurant Odette at the National Gallery Singapore, and in 'A Thing of Beauty' (2015), a series of photographed installations of items from over a hundred mom and pop shops in Singapore, with each photograph featuring a single colour, such as beige and blue. 'How to Disappear into a Rainbow' continues in this direction. "The palette I gravitate towards has become a lot lighter, gentler and calm. I think that's reflective of this stage in my life, where new things are happening yet I have a peace about them," says Dawn. "In this particular work, I wanted to make something that I could get lost in as well. It came from a very introspective space."
Dawn has employed a myriad of materials to make her art, a method of working she attributes to her training as a journalist in college. "I think it has helped me articulate my thoughts. I'm always clear about the story before it even has a form. That is why I've never stuck to one medium. If you understand a story, then you are able to tell it in the way or form it deserves to be told," says Dawn.
One thing that has remained consistent is the artist's fondness for making installation works. "The great thing is that in an installation, you can create a world for a person to be immersed in. I think that when work is two-dimensional, as with a painting, or even three-dimensional, such as a sculpture, it takes for someone to be in a receptive frame of a mind to appreciate it," says Dawn. "With a spatial installation, you can cut all the noise out, and pull someone in fully and quickly into your universe." 'How to Disappear into a Rainbow' is probably best visited on a quiet weekday afternoon, for the artwork's introspective qualities to be appreciated.
This is the first time Dawn has worked with the luxury house. Commenting on the experience, Dawn says, "What I appreciate about Hermès is their integrity in being patrons of art. They gave me full creative license, and that's one of the reasons I really took to the project, and was excited about working on it."
This article was first published in Art Republik.
---