---
Culture / Art Republik
Joseph Chiang, Jennifer Chalklen: Double Trouble
Art Republik goes double or nothing with Joseph Chiang and Jennifer Chalklen.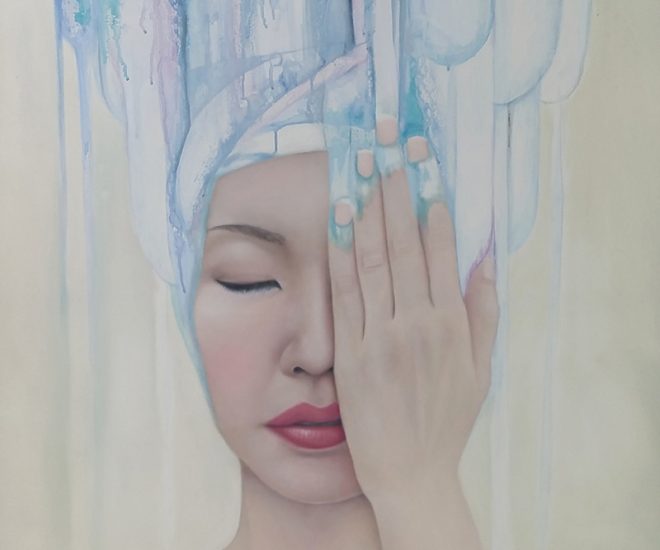 Joseph Chiang is a Singapore-based artist and printmaker, and is the founder of Monster Gallery, a creative print studio that produces original fine art prints and conducts printmaking workshops. He is also the founder of the Young Printmakers League, a mentorship program which aims to nurture the next generation of creative printmakers in Singapore. Joseph has held solo and group exhibitions in Singapore and abroad.
"This past year, I've been busy dividing my time between running a mentorship program, Young Printmakers League, for the first half of the year, and working on my upcoming solo show 'Unique Multiples' during the past few months," says Chiang. "Since my previous show last year, I am moving towards more conceptual and experimental work. The idea of 'Unique Multiples' is to explore ways of making prints that are unique (as opposed to the idea of making prints that are identical). On a deeper level, it looks at the relevance of art-creation versus the modern era of hi-technology and mass-production/consumption."
He continues, "Taking the idea of 'lean production' from the commercial world, a basic element is created and used to make multiple (silkscreen) prints that are unique. This is achieved by printing the same element in multiple layers, with the same element shifted and/or rotated at a different angle for each printing. By doing this, an unlimited number of 'Unique Multiples' can be achieved (at minimal cost and time), and making each piece a work of art. I will be presenting several series of 'Unique Multiples', each series using one design (with one silkscreen stencil) and printing them in multi-layer and color by shifting and rotating the screen at different angles. Each series will consist of between 10 – 20 unique prints."
Jennifer Chalklen is a contemporary realist artist from New Zealand. She is a mostly self-taught artist who began painting portraits and figures with oil color three and a half years ago in Jakarta, Indonesia, after working in the field of digital marketing for seven years. Her style can be described as whimsical, ethereal and forlorn.
In her latest works for her upcoming and first solo exhibition in Singapore, 'Violet', Jennifer blurs the layers of consciousness to create her own style of visual storytelling, her journey to distraction. She focuses on the subject of female form and the ownership of women's' bodies; she moves the lines of perception between subject and object; her works visually describing as a silent tug of war. She questions whether continued subjugation is an inherited legacy, enforced upon the subject matter, or if subject and self is being sacrificed voluntarily. She looks at the immanence within the female psyche, and how a pattern of expectation supporting these traits is perpetually being constructed for women, even in today's modern world. Her stoic figures and faces appear to have become trapped behind glass, held captive by expectation, conjecture and the male gaze.
Her works however, remain overall optimistic in nature. She paints energy and love as a force that is tangible to touch, or a visible ache in one's eye, a tiny pinprick or a colourful visible life force, a visual interpretation of a visceral reaction to her own experiences and observations of the female condition, and its full spectrum of emotion.
From exploring the relevance of art-creation versus the modern era of hi-technology and mass-consumption, to blurring the layers of consciousness to create a unique style of visual storytelling, LUDO Gallery will open 'Unique Multiples' by Joseph Chiang on 19 October 2016, and 'Violet' by Jennifer Chalklen on 26 October 2016, at the Visual Arts Centre, Singapore.
---