---
Properties / Luxury Homes
Real estate in Vietnam: Guide to property investment in Ho Chi Minh City
With one of Asia's fastest middle class expansion, Ho Chi Minh City, still commonly known as 'Saigon', is urbanising exponentially.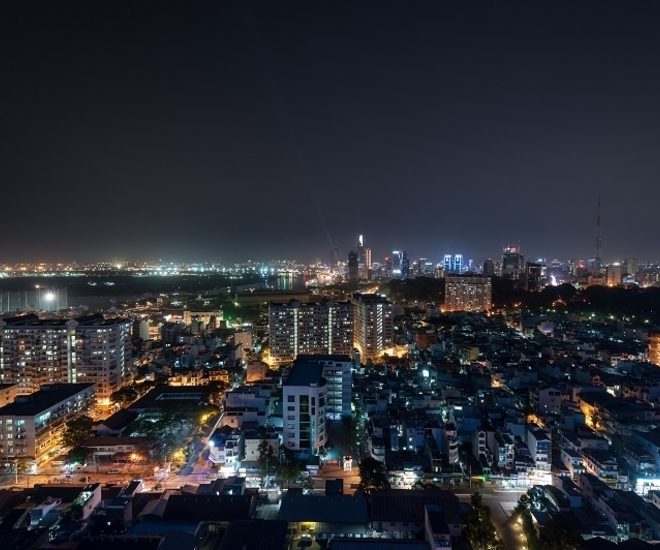 Ho Chi Minh City is without a doubt on the path to becoming one of the largest megalopolis of Southeast Asia and is facing many challenges such as controlling spontaneous sprawl, bringing about urban renewal, increasing the housing stock—particularly for low-income families—and protecting and developing green spaces and waterways.
The strong urban growth and dynamic demographic of the economic capital of Vietnam has resulted in the city extension and "verticalization", bringing considerable change to the face of the city. In two decades, the city formerly known as Saigon has increased significantly in size and it now stretches out in an urban continuum that measures more than 100 kilometres in length and extends into neighboring provinces, thereby embracing a total population of nearly 18 million people.
Saigon relentlessly carries on the task of renewing itself. The city is building fast, tall, and big. Never were the signs of change more evident than now.
The urban landscape transformation will change life for locals and expats especially with the construction of the new mass transit rail system, i.e. Saigon Metro that will be canvassing the city through six lines. The estimated $2.5 billion budget for the first line is led by a consortium grouping Japan's Sumitomo Corporation and Vietnam's Civil Engineering Construction Corporation No. 6 (Cienco 6).
Line 1 is scheduled to complete in 2019 with the first trains to begin running by 2020. In 14 stations, this line will be allowing passengers to travel from District 9 to the CBD in 29 minutes.
With a bit less than 20 kilometers network length comprising 17 stations and 11 terminals aboveground and three underground stations in the historical downtown, the metro will bring about a number of benefits including fast access to office locations, retail and recreation activities.
A new cluster of mixed-use developments is emerging along the metro line area and underground shopping malls are also planned such as in Singapore, Hong Kong, Bangkok and Kuala Lumpur to support new consumer generation growing demand in fast-moving consumer goods (FMCG).
To help reduce traffic congestion, a new system of expressways and ring roads is also planned and under construction. There are also new bridges crossing Saigon river, in particular the much awaited Thu Thiem 2 bridge, which with six lanes will join Saigon downtown to the up-and-coming new urban centre Thủ Thiêm.
This new urban zone is the flagship project of the new Saigon. Envisaged as an extension of the CBD on the East bank of the Saigon river and estimated to be completed by 2025, it is aimed at becoming a service, finance and trade hub of high quality. This colossal and challenging project, that has long been put on hold due to flooded fields, will cover an area of nearly 750 hectare and is somewhat reminding us of the incredible expansion of Pudong in Shanghai.
Both marinas and iconic skyscrapers will pave the way to a luxury property market. A key challenge in the process of Saigon urbanization is preserving green areas and an urban quality of life. While the metro construction in ongoing, local authorities did not hesitate to create the first pedestrian street in the historical centre of the city.
Great weather, a regional manufacturing hub, a growing consuming population with a still very affordable cost of living, an exotic and rich culture with great cuisine, soon supported by modern infrastructure and efficient transport system, will make Saigon the next big Asian destination. This boom in infrastructure will drive property market prices. Real estate market which is now firmly in recovery mode still only at 70 percent of prices peak 2008 levels. The outlook is very bright for the next three years. Forty thousand new apartments will be completed by 2016 if all projects in the pipeline are achieved.
With rental yields around six to eight percent per annum and a property price average appreciation of 15 percent per annum over the next three years, a +20 percent annualized return per year can be expected.
Asking prices of high-end projects in the residential District 2 area—which will be served by Metro Line 1—increased double digit up compared to just three percent citywide and there is anticipation that the premium for land price on sites located within a 10-minute walk from metro stations will go up to 10 to 20 percent compared to sites in other areas.
Furthermore, Saigon real estate will be carried up by the relaxation of foreign housing ownership restrictions, effective 1 July 2015, which now allows non-residing foreigners to purchase properties in Vietnam.
Landmark 81
The 1,514 feet tall and 81-storey Landmark 81 tower is under construction in Binh Thanh District, near Saigon Bridge. It is part of a 1.5 billion luxurious and multi-functional urban area scheduled to be inaugurated in 2018. This tower will become the highest skyscraper in Vietnam and will add to the city's new skyline that include Bitexco Financial tower, Times Square, Vietcombank tower or The One in front of the very popular Ben Thanh market.
Nguyen Hue Street
Nguyen Hue Street has been turned into a landscaped pedestrian zone. The city's first of its kind, it is now open to the public. The pedestrian street spans 670 metres from the Ho Chi Minh City People's Committee edifice to Bach Dang wharf in historical District 1. The street is installed with automatically operated mist-emitting systems and lined with over 200 trees and 122 large tubs of flowering creepers.
More than ever, as the Saigonese saying goes: "Ăn quận 5, nằm quận 3, múa ca quận 1"—"eat in district 1, stay in district 3, entertain in district 1".
Story Credits
Text by Anne-France Marmot and Helene Sauvageon
This article was originally published in PALACE Magazine
---