---
Motoring
Ultimate guide to yacht charters in Southeast Asia: How and where to book a luxury boating vacation
You don't have to own a yacht to enjoy the boating lifestyle. Yacht Style magazine details why yacht charters around Southeast Asia make great holidays, how to rent a boat from Singapore, Thailand, Malaysia and more, plus the costs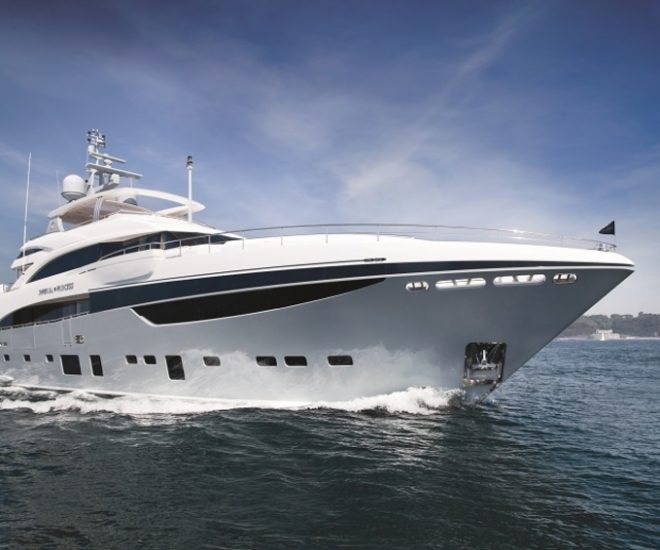 "Money can't buy you happiness, but it can buy you a yacht big enough to pull up right alongside it." Rockstar David Lee Roth
Yacht charter is one of the most popular ways to discover Asia, and Southeast Asia in particular. The area is huge – approximately three times the size of the Mediterranean – with destinations only a few hundred miles' sailing apart. And the number of people wanting a luxury charter vacation in Southeast Asia is growing, along with the supply of charter yachts.
And why not? You are afforded the opportunity to enjoy a diverse palette of lush landscapes, exotic foods, stress-free travel and amazing experiences from a completely different point of view than that of a land-traveler. Only the weather and rhythm of the ocean dictate your schedule. So how has the industry changed and what will this mean for charter enthusiasts? And when everything is deciphered, how do you go about booking the voyage of a lifetime?
There are a number of drivers shaping the charter industry in the region; namely supply of berths, available charter yachts, competition and new markets. The trend seems to be for decreased charter prices across the board as more yachts come onto the market. This in turn will lead to a change in charter clientele and the types of vessels becoming available. But as Kass Scarlet, TUI Marine group (Sunsail and Moorings yacht charter) marketing executive for Australia, New Zealand, Asia and the Pacific says, clients choose to charter for three main reasons: "affordability, convenience and freedom," and this is only set to increase as the industry evolves.
At the 2015 Singapore Yacht Show, Bart Kimman, Northrop & Johnson's managing director suggested smaller vessels in the 22m range would be key to introducing the Asian market to chartering. Other industry players added future growth in the charter market could depend on the availability of yachts of various sizes available for day charter, so locals can get a taste for the yachting lifestyle.
So in response to the growing charter market, those in the industry (with some government help) are listening and putting in place concrete plans to increase the number of available berths in the region.
Projects being touted include the Melaka Gateway project, where Malaysia is planning to build Southeast Asia's biggest private marina, with a 1000 berth capacity. On the Malaysian island resort of Langkawi, Tradewinds Corp Bhd is developing Perdana Quay, a marina project scheduled for completion within the next decade. In Thailand, several marina developments are scheduled in the province of Krabi and on the resort island of Koh Samui – where a marina aimed at accommodating superyachts is in the planning stages. A number of Indonesian marina projects are also in the pipeline.
Charter and marketing manager, Rico Stapel of Boat Lagoon Yachting Group (dealership for Princess, Jeanneau, Prestige, Wider and Admiral) says trends in 2014 and 2015 indicate an increase of charters and evolution of the charter industry in 2016.
"In Phuket we're seeing increasing numbers of charter clients representing the so-called mass market – charters for smaller vessels and for short (day) cruises. At the same time there are more ultra-wealthy individuals looking to charter superyachts. The market is not shifting, it's rather that the pie is growing bigger.
"In the recent past large Russian charter groups booked Thai charters, however now we are seeing increased numbers of Indian, Taiwanese and Chinese charter groups. These groups are evenly split between mass market (day) charters and upper-end superyachts; either those looking for smaller ships and catering to their own requirements and those booking superyachts with full onboard services.
"The charter market is going from strength to strength. In terms of maturity charter around Phuket and other islands in the region is a little behind the market in Europe, specifically the Mediterranean – but it's certainly catching up fast. Costs for charter, which have traditionally been high are coming down and because of this we're seeing increased activity."
So while day tripping and day charter remains an active and growing market in the region, there is also a shift towards the "once in a lifetime" luxury superyacht charter market, involving careful research, time and a considerable budget.
Sytske Kimman, Northrop & Johnson's charter broker says charter clients do share certain attributes. "Our customers are often families who want to catch up and spend quality time together. Nowadays it's not uncommon that family members live all over the world. A boating holiday offers an opportunity for everyone to get together and have fun. A yacht is the perfect medium as there are many different activities to enjoy for young and old, active thrill seekers and not so active sun worshippers, gourmets and gourmands, while all still being in the same place."
Charter manager of Northrop & Johnson Asia, Lies Sol, adds that most of those enquiring about luxury charter in Asia are willing to spend money for a unique experience. "Clients are developing an interest in unusual 'adventure' destinations, and cruise in remote places away from the crowds. They still want comfort though and often want a yacht with zero speed stabilizers, a Jacuzzi to cool down and VSAT-supported WiFi to remain connected during their vacation. Also a top chef and great crew are usually essential. Luxury yacht charter clients find as much pleasure in the voyage as in the destination."
The South East Asian (SEA) market holds great promise for the long term, according to Burgess Yachts senior charter broker and director, Gaye Joyeau-Bourgeois, but she maintains growth will be steady, rather than spectacular.
"While SEA has always held interest for a small number of yachtsmen, we have seen in the past 24 months an increased interest in the region from clients and growing numbers of yachts – both yachts that have stopped for the whole season here, and yachts passing through on a larger world cruise.
"It's never going to be the sudden explosion that many predicted but slowly and steadily numbers are on the rise. As above: we have an unprecedented fleet of seven superyachts ranging from 32m to 73m available for charter this year in Asia. Together with yachts offered for charter by other companies, the number and quality of yachts is clearly increasing."
According to Joyeau-Bourgeois it is the onboard features and the destinations that today influence charter decisions. She says given the diversity of the cruising grounds and the various types of charter itineraries, many different kinds of boats prove popular in Asia. In and around Phuket, you will find the full range of size and models all work well. What is more important, she attests, are the onboard features most conducive to cruising in this part of the world such as large shaded areas, strong A/C system and good tenders for exploration.
The next step, says Joyeau-Bourgeois is opening up the myriad of new charter destinations. She says Burgess has noticed a marked increase in interest in both traditional and newer, adventure destinations with a number of charter operations focusing their attention not only on perennial island favourites throughout South East Asia but new rising stars.
"Some of these non-traditional destinations – Myanmar's Mergui Archipelago; Indonesia's Flores-Komodo and Raja Ampat archipelago; The Philippines' Palawan island – are absolutely fabulous destinations for lovers of stunning natural beauty, exotic anchorages and world-class diving," says Joyeau-Bourgeois.
"But as they do not yet have the more developed infrastructure…and as some of them have regulatory constraints to charter, they remain for now an 'exploration destination' rather than a 'mainstream' destination. But I have no doubt about the growth potential in the long term, driven by the exceptional appeal of those areas and the slow trend towards developing infrastructure and adjusting regulation across countries."
In early 2015 both Burgess and superyacht support provider, 37 South, announced plans to expand into South East Asia, to meet increasing demand for charters throughout the region.
"We have recognized a growing demand in the region from both a cruising and agency perspective," says Allan Jouning of 37 South. "The number of visiting superyachts to Asia has been growing steadily, and our inquiries for the area have increased significantly over recent years. Yachts visiting the South Pacific are now, more often than not, also visiting South East Asia and the surrounding waters."
The rise in popularity of the yacht lifestyle has been bolstered recently with simplified charter regulations being adopted in Thailand and Indonesia and previously underserviced destinations such as the Philippines or Myanmar now slowly embracing the culture of yacht charter.
THE DESTINATIONS
We detail a selection of destinations, some of them surprising and from the most sophisticated markets to the unexplored where professional services are growing to meet demand:
Singapore
The 'Little Red Dot' has a wealth of long and short term charter opportunities for those interested in superyachts or smaller vessels. The island nation is within easy sailing distance from some of the most attractive destinations in South East Asia, including Northern Indonesia, the Andaman Sea, Thailand and Malaysia. The undeniable pleasure of enjoying Singapore's world famous cuisine and shopping opportunities plays no small part in making the tiny nation a hotbed of charter activity.
The Royal Albatross is a unique 47m, four-mast tall ship which can hold up to 150 passengers for a day trip and 10 guests with five cabins overnight depending on your needs. www.tallship.com.sg
ONE15 Luxury Yachting has a comprehensive fleet of excellent vessels from tough fishing boats to luxurious superyachts with services tailored to your needs. www.one15luxuryyachting.com
Hong Kong
With the many islands and secluded coves within the territory, a growing actor on the yachting charter scene Riviera Orientale – Yachting Society is actively promoting Hong Kong as a yachting destination and not-to-be missed experience.
With Sunseeker, Azimut and Ferretti motor yachts and superyachts joining the fleet in 2015, Riviera Orientale – Yachting Society has extended its fleet to 13 yachts. In 2016, two brand new Numarine yachts, the Numarine 60, and Numarine 105, will join the line-up. With professional crew services, both yachts will be available for overnight cruises, an option becoming trendy among the sophisticated HK yachters.
Adding to the impressive array of yachts, Riviera Oriental also offers the newest inflatable toys and water sports and completing the lifestyle experience have also engaged famed performers in town as entertainment and offer a la carte partnerships with a range of local restaurants including the Four Seasons and Intercontinental.
This luxury yacht charter service concept is bound to expand across Asia, including The Philippines, Thailand and Indonesia, where yacht charter fleets in these countries are to be set up in 2016. www.rivieraorientale.com
Thailand
Thailand is without doubt the darling of the South East Asian charter scene. Islands in the Gulf of Thailand, such as Koh Samui, Pattaya and Koh Chang, as well as on Thailand's west coast Phuket in the Andaman Sea epitomise the Thai experience of warm azure seas, palm-fringed beaches and lush tropical jungle.
Asia Marine proposes a comprehensive range of charter options including bareboats, crewed boats and luxury yachts available for day trips and longer term charters. The Princess 65, Azimut 50 and Sunseeker 60 are all options for navigating through Thailand's waters. www.asia-marine.net
Boat Lagoon Yachting boasts a range of yacht charter options with an impressive fleet of yachts – Princess, Wider Yachts and Jeanneau – operates throughout Thailand, Singapore, Malaysia and Indonesia. www.boatlagoonyachting.com
Simpson Yacht Charter offers bareboat charter in Phuket for experienced yachtsmen and women including a range of Lagoon catamarans available to explore the wonders of the Andaman coast, namely the 2014-built Lagoon 450, and Lagoon 400s2. www.simpsonyachtcharter.com
Burgess has a wide variety of superyachts and sailing yachts for charter including the 73m Lurssen MY Titania, 68m Triple Seven from Nobiskrug and the 32.3m Majesty from Gulf Craft. www.burgessyachts.com
Gulf Charters Thailand has a fleet of yachts from keelboats to catamarans including offerings from Beneteau, Jeanneau and Fountaine Pajot. www.yachtcharterthailand.com / www.superyachtthailand.com
Myanmar
The country remains largely unexplored however this exotic destination is attracting interest from charter companies looking to offer their clients something different. The Mergui Peninsula is located in the remote southern part of Myanmar and consists of 800 untouched islands featuring swaying palm trees, vibrant jungle and pristine beaches.
Most of the established operators based out of Phuket – as listed above – proposed extended charter services in the Mergui archipelago.
Northrop & Johnson offers an extensive range of superyachts, sailing boats, sports boats and everything in between for exploring this relatively unchartered destination, including Twizzle and Lamima. www.northropandjohnson-asia.com
Burma Boating has a substantial fleet of schooners and catamarans including SY Meltemi and MY Drenec with crews experienced in the Mergui Archipelago. www.burmaboating.com
Malaysia
Langkawi remains one of the key destinations with the island's boom in tourism and world class marinas cementing its status as a prime charter destination. Penang on the west coast of Peninsular Malaysia is another increasingly favourite destination.The many pristine islands off the east coast – Tioman, Perhentian, Redang, Rawa, Kapas to name a few – with beautiful beaches, reefs and jungles to explore complete the scenary on Peninsular Malaysia. East Malaysia is also a well known charter focus with the area around Kota Kinabalu and Sipadan island.
Pen Marine actively promotes boating in Malaysia and has an array of yachts available for charter including Perry Catamaran's Ivory Street and Ferretti's Lady Sunshine. www.penmarine.com
Dream Yacht Charter has a range of Lagoon's available for charter specifically throughout Malaysia including the Lagoon 400s2 Luxe. www.dreamyachtcharter.com
Simpson Yacht Charter is based in Langkawi and offers a range catamarans in particular. www.simpsonyachtcharter.com
The Philippines
With 7107 islands, the Philippines is the second largest archipelago in the world, only beaten by Indonesia (which boasts over 17,000 islands). This makes the Philippines the ideal destination for charter enthusiasts. The islands of Puerto Galera, Boracay, Coron, Puerto Princesa, and Cebu see the lion's share of charter activity but with the wealth of islands in the archipelago the visitor is spoiled for choice.
Charter Philippines has a plethora of information for those wanting to navigate the islands and a fleet including Leopard Catamarans, Leopard 42 and Bavaria 37. www.charterphilippines.com
Omni Marine offer luxury yacht charter in South East Asia and in the Philippines offer the Lagoon 500, Raja Laut and luxury diving on the SY Philippine Siren. www.omnitrips.com
Indonesia
The Indonesian archipelago is the ultimate destination for those who want to explore some of the most pristine island environments in the world. The vast area of the archipelago which stretches over 5000km between Asia and Australia can cater to a large number of charter operations and is currently nowhere near saturation. Until recently, Indonesia (except for perennial favourite Bali) flew well under the radar as far as charter operations were concerned but today the archipelago is rapidly becoming recognised as a haven for those who truly want to stretch their sea legs and reach far horizons. Today islands in the archipelago such as Lombok, Komodo, Rinca, Flores and Sumbawa see regular charter traffic. In West Papua province the 1500 island archipelago of Raja Ampat which incorporates the four main islands of Misool, Salawati, Batanta and Waigeo boasts some of the best diving in the world where visibility and marine diversity is spectacular.
Northrop & Johnson's offer an array of charter yachts, its Indonesian fleet including the 56m expedition motor yacht Salila (see our ONBOARD CHARTER section) and the 51m Dunia Baru. www.northropandjohnson.com
Luxury charter operator Camper & Nicholsons offer a range of yachts including the 65.2m luxury phinisi sailing yacht Lamima. www.camperandnicholsons.com
THE PRACTICAL GUIDE TO PLANNING AND BOOKING A YACHT CHARTER
Like any travel, research and preparation equates to a stress-free experience. And never is this more relevant than when planning your yacht charter. Of course the guests, locations and dates, not to mention budget are one's immediate priority. But what about everything else? Once you've studied your map what's the next step?
Call a broker
The main thing to remember about your yacht broker is he or she is an expert. They will have the latest detailed knowledge of a range of yachts, facilities, crew and cuisine, make the most of this enviable experience. They are, in essence, the broker between the client and the yacht owner. It is important to understand any charter agency can arrange the charter of any vessel, but if that yacht is not on their central books, arrangements might be a little more complicated. Not impossible, just requiring more time and paperwork.
Speaking of, it is the role of the yacht broker to do all the hard work for you, including sifting through contracts, costing food options, servicing and everything between. Meet the crew, sample the menu, if you are going to embark on a month-long luxury once-in-a-lifetime holiday, you need to make sure you get on with the crew and they get on with you. It is vital your broker knows exactly what you want out of your charter and who you want it to accommodate. For instance the layout of cabins and working laundry might be the main priority for a family, with parents wanting a separate retreat from children, and perhaps more deck space, watersport facilities. You might also want a crew adept to assisting with watching children and making family-friendly picnic's and snacks.
If your charter is more formal perhaps this calls for a sophisticated yacht with specific interior requirements such as custom carpets, a museum of art, and a crew equipped at silver service dinner parties.
If you are keen on a sailboat, you will need to decide if you are seeking a winch-intensive performance cruiser-racer or a more sedate vessel with a powerful engine assisted by sails for sailing. And do you want to be involved in the sailing or sit back and take in the surroundings?
As a precaution always contact at least two brokers before deciding on the one that best meets your charter needs. There are many online resources to consult when making this decision, or contact a local travel agent who may be able to point you in the right direction. There are also a plethora of online blogs by regular charterers that makes not only for good reading, but good insight.
The itinerary
You have booked the charter, next step is deciding where to go and what to see. Of course your yacht broker is an expert in this field and can offer a medley of options depending on your interests and experience, but ensuring your charter is completely tailor-made is your responsibility, so do your research. Ensure you have all the relevant information regarding your destinations. Is there an appropriate dress code you should adhere to when visiting certain locations, cultural differences you need to prepare for, holidays you need to respect?
Preferences form
Depending on the yacht broker, once your charter has been confirmed you will receive the first lot of paperwork asking for your input on a range of decisions that need to be made. Completing this in absolute detail is paramount to ensuring your charter experience is exactly what you want. For instance, what you expect on your arrival, food and wine allergies or preparations, medical history, toys and tenders required, activities organised, even interior furnishings, music and multi-media preferences. Do you need high-speed internet access? Do you want a spa and professional masseuse on board? Diving instructor? Someone who can mix cocktails? Babysit and mash baby food? While it is the role of the yacht charter broker – in collaboration with the yacht captain – to ensure your exact requirements are met, it is you that has to feed them the right information.
Yacht Selection
Armed with your preferences form, you will be sent a range of brochures on yachts your broker feels meets your needs. These will be detailed in terms of aspects available on the yacht and price guides and breakdowns. But remember the quoted charter fee is only part of the cost you could end up paying. Do your research, the internet is a vast wonderland of information, look for yacht reviews on similar, or even the exact vessel you are considering. Do you want a yacht fit for a long live aboard period? Overnight? Expedition? Diving? Longer stint covering further distances? Do you want a motor yacht? A sailing yacht? Once you have decided ask your broker for its record of mechanical reliability, you also need to check it with relevant internationally recognised safety standards.
The Charter Agreement
The Charter Agreement is drafted and compiled by your broker and includes, like any other contract, details of each component of your chosen charter, including the yacht, dates, taxes, destinations, costs, and your preference form. There is a range of charter contracts used depending on your location; however, the information is broadly the same. The important thing to remember is that it is a legally binding contract so rescinding on any part, by either party, is subject to the law. The contract is usually signed by at least four people, the head of the charter party, the owner, a stakeholder, and the broker. It is during this process that first payment will be required which is generally about 50 percent of the fee but terms will be discussed with your charter broker beforehand.
Advance Provisioning Allowance (APA)
APA is in addition to the charter fee and covers the cost of fuel, food, activities arranged, costs associated with berthing in certain areas and other provisions. It amounts to around 25 percent of the charter fee cost. It would be wise to ask your broker about possible additional charges before the charter starts and at the end of the charter thoroughly go through the relevant invoices with the captain and your broker. As the APA is paid prior to the charter, the captain will be responsible for keeping a tab on what is spent and where, and inform the charter group if the APA purse needs a funds boost.
Final Payment
The final balance of the charter fee and the APA amount will be expected before the charter embarks. And depending on your yacht experience, it is always courteous, no matter what country, to tip your crew.
Charter insurance
Be prepared. Check whether the yacht's insurance policy covers guests for Third Party Liability, loss of possessions and personal accidents. Any specific items not covered can then be insured privately. For instance, for guests with specific medical conditions, or if someone is injured in an area not equipped with adequate medical facilities costly medical evacuation might be needed. Make sure you are covered. Cancellation and curtailment insurance is also available at a cost of approximately 2.5 percent of the charter fee to cover a possible loss of the charter fee if the holiday has to be cancelled for unforeseen reasons.
Final Tips
1. Soft luggage is easier to store than hard suitcases
2. High heeled shoes and hard shoes in general are usually not allowed onboard
3. Very few boats allow smoking inside; if this is an issue speak to your broker
4. Oil-bases sunscreens should be avoided as they can stain material and teak surfaces
5. If you have the slightest problem with operating any of the yachts facilities, or have a complaint about anything relating to the yacht or crew speak immediately with the captain
LUXURY YACHT CHARTER COSTS EXPLAINED
Understanding the costs involved with yacht charter can be daunting, but if you do your homework you should be able to avoid the heart-stopping moment when you receive the bill. The two important things to understand are your base price and what you will be expected to pay on top of it. Do you want specific foods? Specific luxuries? Crew with specific capabilities? Your broker will be able to provide you with an accurate estimation of all the costs involved in advance.
Season
High and low season. The key is choose your times carefully, even changing dates by a week can make a huge difference to cost. In general, you'll find two basic rates usually with specific dates set for each. In addition, you'll find special events at certain times of the year – such as New Year's Eve and Easter – have their own rates entirely.
The yacht
The yacht itself is the main factor in determining the charter cost. Like anything, you get what you pay for, and if you want a recently launched superyacht from a famed builder with experienced charter crew and all the trimmings, you pay for it.
Advance Provisioning Allowance
Rule of thumb is the charterer is charged for food and beverage, fuel, dockage and harbour fees, and miscellaneous expenses. Depending on how much fuel the yacht uses and how elaborate lunch and dinner service is, you can expect to add from 25 percent to 50 percent of your charter cost. Whatever the terms of your charter contract, you should understand the Advance Provisioning Allowance is sent to the yacht before the charter to provision the yacht according to your preferences. During the charter it is the role of the captain to provide a running account of expenditure, and, at the end of the charter, present a detailed record of receipts. As the APA is paid prior to the charter embarking the captain will inform the charter group if the balance runs low and needs a top up to cover the needs for the remainder of the charter.
Food and drink
Every charter yacht is slightly different. One may include a standard food and wine package as opposed to a premier package with an elite selection of wines served by a sommelier, to accompany food prepared by a Michelin-starred chef. While other yachts don't include food and beverage packages at all. This cost is purely dependent on the food and beverages you want and how you want them served.
Fuel
Fuel cost is completely dependent on how much the yacht cruises and how fast, so when you are not using fuel you won't be charged. Time spent at anchor will include the fuel for the generators, while shore-side electricity when at a dock is also an extra and don't forget fuel is also charged for tenders and water toys.
Harbour fees and dockage
Harbour fees and dockage are dependent on location and season. Your broker should be able to accurately estimate this.
Communications
Satellite communications and Internet are costly, not to mention global roaming, but for some charterers, vital. Check how much it costs through your telephone company and broker.
Delivery fee
A delivery fee is usually charged if a charterer needs to board or depart a yacht at a different location from where the yacht is normally based.
Laundry
All the yacht laundry, including towels, sheets and table linens, is included in the charter fee but some yachts charge to launder personal items.
Insurance
One cost not directly related to the operation of the charter yacht is insurance for the charterer. Cancellation and curtailment insurance, namely, travel insurance, covers the charterer for the costs if unforeseen circumstances force a cancellation or shortening of the charter. Your charter broker can provide this insurance.
Tax
Charterers may be charged tax on the charter fees. Read the fineprint of the contract.
Made to measure
Anything that is specifically requested will be added to your bill. The level of expense is entirely up to the charterer.
Story Credits
Text by Steven Mallach and Simone Pitsis
This article was originally published in Yacht Style
---