---
Properties / Luxury Homes
Forest City: Billion Dollar Eco-Living Project
One Malaysian property development aims to put man-made islands off Singapore's coast, ruffling feathers while attracting investors.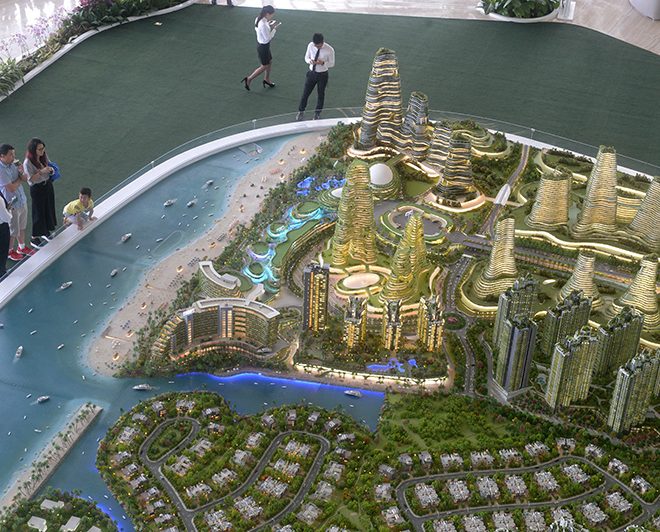 Care to own a slice of man-made paradise just an hour away from Singapore? Well Forest City, a Malaysian property development, is promising to provide potential homeowners just that. Set to open in 2035 (we know, it is a long wait but these guys are literally building a paradise), the property will call four man-made islands on the Malaysian side of the Johor Strait its home. Those interested in having a home or an investment on the island can expect to pay anywhere from $200,000 for a two-bed-room unit to $1.6 million for a seaside villa.
"It is by far one of the most enthusiastic private land reclamation projects I have heard of around the Southeast Asia region," said Chua Yang Liang, head of research for Southeast Asia at property services and investment group Jones Lang Lasalle. The 700,000 high-rise and waterfront villas, will be joined by luxury amenities that will cover the 3,425 acres and is set to have its own immigration centre. At $42 billion, the project is one that is making the news of late not only because of its ambition but also due to the ecological impacts it can have on the marine life around it.
While the concept is being sold as a liveable eco-city, the land reclamation that will help make space for Forest City, is coming under fire for the damage and changes it will have on the environment. "It has the potential to change the ecology of the whole area in profound ways," Greenpeace scientist Paul Johnston told AFP. "It might change the things that are living there, it might change the vegetation that can grow there" he added.
Even neighboring Singapore (no slouch in the land reclamation stakes itself) is taking notice of the development, prompting the environment ministry to study an impact assessment report by Malaysia. "No damage, no pollution has been exported to Singapore," said Mohamad Othman Yusof, Executive Director of Country Garden Pacificview. "We don't want to create any problems with anybody and we're going to abide by the rules and regulations."Country Garden acknowledged the loss of permanent fishing ground, damage to seagrass meadows and mangroves, thanks to the development. However, the developer added that the project would also have economic benefits with its creation of nearly 62,200 jobs.
Alongside these environmental woes, the property is now facing criticism from industry experts who believe that targeting investors from mainland China may not be the best idea. After all, China is seeing little growth in its economy and expansion thanks to authorities cracking down on corruption and stopping cash from being invested outside of the country.
Interestingly, at the reported prices, homes within Forest City will start lower than the majority of public housing in Singapore, with the aforementioned seaside villas being more affordable than most plain vanilla condominiums in the city-state. Apparently, buyers have taken notice because the AFP reports that the developers have moved 500 units already. Some of you reading this might wonder why man-made islands are even necessary for Malaysia, which has no shortage of land. Well, the approach worked in Dubai, though the environmental results there are exceedingly well documented, so maybe there's something to it after all.
Forest City is a joint venture between Hong Kong-listed property giant Country Garden and a firm owned in part by the Sultan of Johor himself. Once again, the Dubai parallel is inescapable as that reclamation project was sponsored by the royals there.
This story was written in-house, based on reporting by the AFP and other online sources
---