---
Properties / Luxury Homes
Focus: Samujana Villas, Koh Samui
We visit the holiday destination that seems to be drawing tourists from the world over.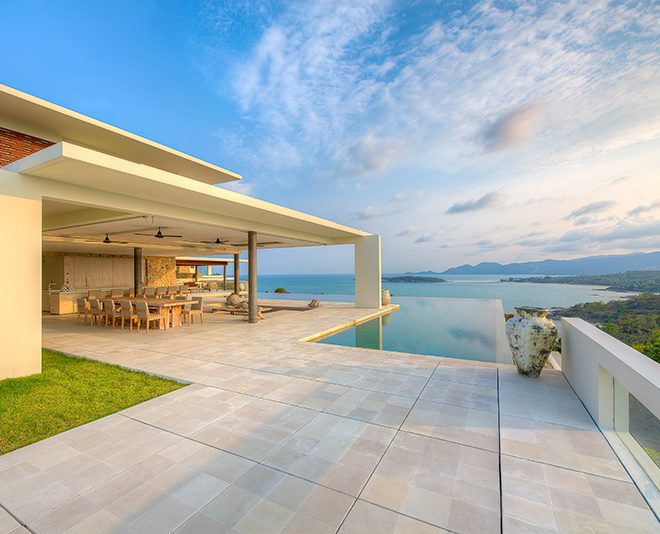 Koh Samui is today a renowned international holiday destination, with visitors and investors from all over the world. The number of visitors from Asian countries is increasing due to improved air links, with direct flights from Hong Kong, Singapore and Kuala Lumpur. The large increase of high-end resorts between years 2012 to 2014 has repositioned the island as a luxury resort destination. The real estate market has also seen prices increased over the last few years.
Boutique luxury villa estate, Samujana, has unveiled its second phase of eight expansive new properties, adding to its existing collection of 25 luxury hillside villas. The project first opened in March 2012 as Koh Samui's most exclusive and discrete luxury villa estate. Positioned in the most sought-after location on the island, it offers complete privacy, yet is within a few minutes' drive from Samui International Airport. Set in a prestigious hilltop location which is walking distance from beaches of Choeng Mon and popular Chaweng, the all-pool award-winning villa estate overlooks a coral cove, giving each villa uninterrupted sea views and private beach access.
The 25 villas at Samujana have been designed by Asia's celebrated Gary Fell of GFAB Architects — each sensitively constructed in harmony with the natural rock outcrops and vegetation with a contemporary spacious design. With large en suite bedrooms, living spaces and dining areas, state-of-the-art kitchens, dedicated parking and private infinity edge pools, each property boasts uninterrupted luxury in a home away from home.
Villa 30 is known not only as the jewel in the crown of Samujana, but the most impressive villa in Koh Samui, as one of the few places on the island with 360-degree sunrise and sunset views of Chaweng and Lamai, Choengmon and Plai Laem, Big Buddha and the neighbouring island of Koh Phangan. Situated at the very top of the estate, Villa 30 features five en suite bedrooms, a state-of-the-art cinema, private gym and a handcrafted spiral staircase. The villa also offers a breathtaking infinity pool, two fully equipped kitchens and incorporates the use of contemporary Asian art and accents throughout. From rain showers to Nuovo sound systems, a full service bar and rooftop barbecue deck, the villa is suitable for functions such as a soirée or intimate dinner party with friends.
Villa 28, which has six bedrooms and extensive gardens, is perched high up on the estate and offers panoramic sea views. This 1,209sf villa is fully equipped with two designer kitchens sufficient to accommodate group functions, a private cinema complemented with a wide selection of films and TV shows, and an infinity pool.
Guests can also enjoy the various amenities offered on the estate — private villa hosts, local and international cuisine from top, private chefs, an all-weather floodlit tennis court and access to water sports. Samujana has also partnered Koh Samui's leading spa centers and a wide range of beauty and relaxation treatments can be provided in the privacy of villas. There is also exclusive charters of various sailing and motorboats, suitable for activities such as water-skiing, picnics on hidden beaches, snorkeling, sightseeing or sailing.
Kurt Berman, General Manager of Samujana says, "we are focused on offering owners the very best return on their lifestyle investment. By operating as a boutique villa retreat with the provision of exemplary hospitality in such a stunning setting, we create an environment where owners and guests can discover a new state of mind".
The development has been awarded various accolades, including the 'Best Villa Development in Southeast Asia', 'Best Villa Development in Thailand' and 'Best Residential Architectural Design in Southeast Asia' at the South East Asia Property Awards 2013, and was highly commended for 'Architecture of Multiple Residences in Thailand' at the Asia Pacific Property Awards 2014, among others.
Buyer Information
Property: Samujana
Location: Bontji Moo 4 Koh Samui, Ko Samui District, Surat Thani 84320, Thailand
Architect: Gary Fell of GFAB Architects
Highlights:
Walking distance to nearby beaches
Selected villas offer 360-degree sunrise and sunset views
Some in-villa facilities include large en suite bedrooms, a state-of-the-art cinema, private gym, infinity pool, kitchens, full service bar and rooftop barbecue deck
Spa treatments provided in the privacy of villas
Exclusive charters of various sailing and motorboat
Access to activities such as water-skiing, picnics on hidden beaches, snorkeling and sailing
Price: Price on Application
Date of Completion: Phase Two is complete, all villas are open.
Contact: www.samujana.com
Story Credits
Text by Domenica Tan
This story first appeared in PALACE Magazine.
---