---
Style
Ballroom Watch: Dior VIII Grand Bal
Dior expands the artistic glossary of the Dior VIII Grand Bal wristwatch with new, precious rotors that echo the beauty of the house's couture dresses.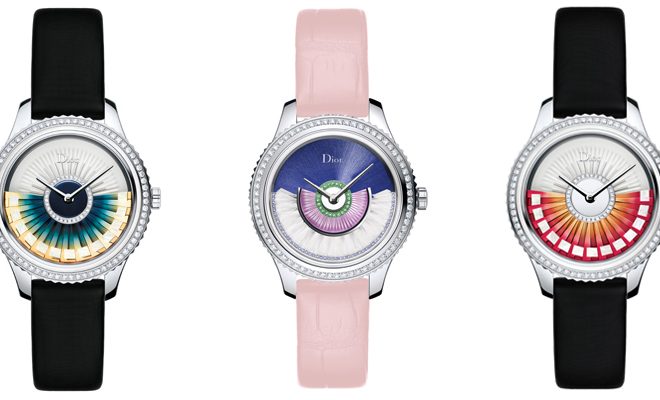 The Dior VIII Grand Bal wristwatch evokes the allure of the French house in more ways than one. For starters, the timepiece is named after Monsieur Christian Dior's favorite number, eight. Then comes the unrivalled attention to artistic detail which the ticker is given (it has been painstakingly decorated in remarkable marquetries of vibrant-coloured feathers, mother-of-pearl and gems, for instance). And, finally, if you still can't picture it, just know that the Swiss-made watch, like many of Dior's creations, is one of luxury's most captivating and memorable.
But the beauty of the Dior VIII Grand Bal is rather unusual. While most automatic watches are equipped with a rotor – a heavy, semi-circular metal disc which swivels freely with movements of the arm to wind the calibre – at the back, Dior has cleverly adapted the moving part as a decorative yet fully-functioning element on the timepiece's dial. And as the oscillating weight rotates, it recalls the dramatic twirls of an elegant ball gown.
Not just any ball gown, though, but pleated petticoats and a dress from Dior's Spring/Summer 2015 haute couture collection. The former is exquisitely translated as rotors in lacquered pink or yellow gold with white mother-of-pearl and diamond accents, while the single rotor in the latter, in white gold, is gently applied with soft feathers and finished with tsavorite garnets and sapphires. In a first for Dior, these precious mechanical rotors now come housed in steel models of the Dior VIII Grand Bal which are more accessible than its predecessors in gold, but no less brilliant in appearance.
This story was first published in L'Officiel Singapore.
---