---
Lifestyle
A Swavroski Cable Car Cabin for Singapore
If you have ever visited Singapore, maybe you have had the chance to see the beautiful local scenery from the sky between Mount Faber and Sentosa, by hopping on one of the cable-cars provided by Mount Faber Jewel Box. Well, now the tourist attraction won't be just the breathtaking views, but rather the 68 glittering […]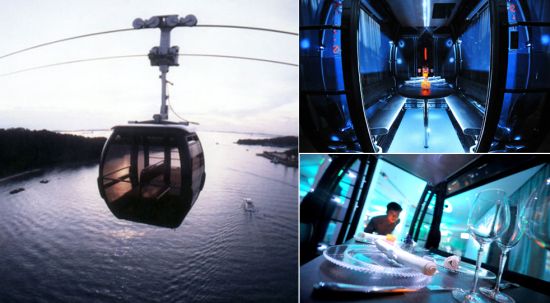 If you have ever visited Singapore, maybe you have had the chance to see the beautiful local scenery from the sky between Mount Faber and Sentosa, by hopping on one of the cable-cars provided by Mount Faber Jewel Box.
Well, now the tourist attraction won't be just the breathtaking views, but rather the 68 glittering cable-car cabins that are planned to be released by the second quarter of 2010.
These are part of a $36 million revamp process that will start this year in August and will replace the existing cable-car system.


67 bigger cabins will be LED-fitted, becoming unique jewel transportation devices.
However, the most impressive one will be the 7* VIP Jewelled Cabin, the one fitted with Swarovski crystals.
It is a four-seater cabin that will provide amazing views from its crystal glass floor and walls, while relaxing on the black-leather sofas with embedded crystals.
The cabin also comes equipped with the best technologies around: it will welcome its guests with a DVD player, a fridge and a high-end Bose sound system.
The new, luxurious cable car system is expected to attract 1.7 million riders, which marks an increase of 10 to 15 percent.
A ride currently costs between $18 and $21. Mount Faber Leisure Group said it is still studying whether prices will be raised after the revamp.
Via Softpedia
---