---
Culture
Interview: Mathieu Musnier, La Maison du Whisky
Care to learn more about the wonderful world of whisky? Then join us as we meet Mathieu Musnier of La Maison de Whisky to find out more.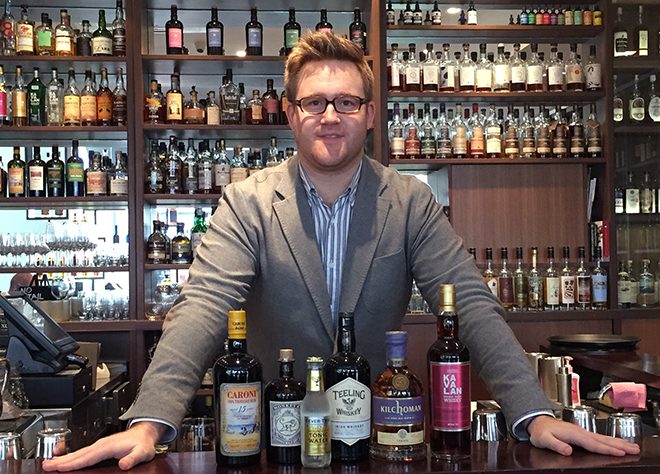 If you are around Robertson Quay, Singapore, and in the mood for some rare whiskies and spirits, then La Maison du Whisky is the place to go. Under the direction of General Manager Mathieu Musnier, the establishment brings a wide array of rare and collectible spirits to those who simply cannot resist a dram or two. We speak with Musnier to find out more about the growth of whisky appreciation in Asia and more about the Whisky Live 2016 (November 12-13) that is currently in its seventh year.
How has the whisky appreciation scene grown over the years in Singapore / Southeast Asia?
Whisky and spirits enthusiasts in Singapore have been very dedicated in the exploration and growth of whisky appreciation. The general understanding and knowledge about whisky and craft spirits are already advanced among these fans, and will without a doubt rival those from traditional markets very soon.
There has been a noticeable rise in the Asian market in the demand for the spirit. The increasing affluence in Asia creates a demand for high-end whisky for collection, personal enjoyment or even as an investment. A growing number of distilleries have also been eyeing the growth of the middle class in Asia.
Additionally, we noticed that with the younger generation, whisky is no longer a typical 'masculine' indulgence. In some events, we have actually more women coming to us and they are very eager to learn.
Whisky Live 2016 is the 7th installation in Singapore. What can guests anticipate or expect from this year's Whisky Live event?
We are very happy and excited with the line-up of distilleries this year. There is a significant increase in exhibitors, especially big and iconic distilleries such as The Macallan, Kilchoman and Littlemill who are joining us this year for the first time. Guests can also look forward to visiting last year's favorites again, such as Teeling and Nikka. Whisky Live is about discovering the big stars of tomorrow and seeing established distilleries from a new perspective, and I believe that we have reached that goal this year.
How do you ensure that this event stays interesting and exciting for the increasing number of guests attending the event each year?
It is important to grow, improve and offer new attractions each year. For 2016, we are proud to introduce our guests to the four different zones at the venue for a holistic experience: The main Whisky Plateau, the Tasting room (for Rum and Brandy), the Patio (for live experiences and food) and the Erasmus Bond Cocktail zone.
For the first time in Singapore, we welcome prolific Whisky writer Dave Broom to Whisky Live; He will be conducting several masterclasses as well as book signing sessions. We are also excited to present a new bar experience for attendees with the recreation of the (renowned) bar Trench from Tokyo, helmed by Master Mixologist Rogerio Igarashi Vaz.
Executive Chef of the Capella Hotel Singapore Chef David Senia has also curated a very special menu for our guests, which we believe will bring their experience with whisky to a whole new level. Potato Head Folk will also offer tasty burgers for a small fee.
On the cocktail front, crowd-favorite Monkey 47 has prepared a very intense weekend with some of the island's best bartenders, and guests will definitely be spoiled for choice with the return of our most popular Whisky Live Pop-up bar where (bartenders from) 10 of Singapore's best bars take turns to make the best cocktail for Whisky Live.
Ultimately, we want our guests to enjoy themselves with the best experience at Southeast Asia's largest whisky and spirits show.
Is there an increasing number of female attendees at Whisky Live each year? If yes, could you offer an indication of statistics and consumer insights on this group?
We always had a large female attendance due to the casual approach that Whisky Live offers when it comes to experiencing and appreciating whisky. From last year's event, we have seen a double-digit growth in terms of the number of female attendees, and they account for more than 35% of the entire attendance.
Whisky Live has a very educational feel to it and everybody is free to interact with the makers at the booth and ask as many questions as they like. We expect this year's Whisky Live to garner the same turnout, and of course it would be fantastic if there would be more female attendees!
How has Whisky Live catered to the rise of women appreciating whiskies?
Women do not attend the event just to keep their other halves company; they are passionate about learning, and sometimes they can be even more dedicated to developing their understanding of whisky than their male counterparts.
Additionally, we also recognize that spending an entire day going around and experiencing whiskies can be daunting. This year, we have reserved a special room for our female guests with VIP tickets called the Ladies' Room. This room will feature a special set of complimentary beauty services provided by Vaniday to help them refresh before continuing their tasting journey.
Asian whiskies have been rapidly gaining popularity in recent years, bagging awards at an international scale. What do you think it signifies in terms of market trends?
In recent years, many talented distillers realized they could make great whiskies, just as the distilleries from Japan have done, as long as they can acquire a good supply of raw materials and a source of clean water in an adequate climate.
There are whiskies from more than 20 countries currently available in Singapore and there is an increasing number of enthusiasts who are willing to discover products from these markets. They know that the next golden nugget might come from the most unexpected location. Whisky Live is no exception as we welcome great whiskies coming from traditional whisky markets (such as Scotland and Ireland) as well as new ones (such as Taiwan and India).
Do you foresee more Asian-made whiskies at Whisky Live in the near future?
In the immediate future, I know that existing Asian distilleries will come to Whisky Live in (ever larger numbers). The current demand for these products is often higher than their production capacity and most importantly, consumers really like their whiskies! As for having more distilleries joining the event, only time will tell where the next great whiskies are going to come from.
La maison du Whisky – 80 Mohamed Sultan Road #01-10 The Pier – Singapore (6733 0059)
More info on Whisky Line 2016 on their website (November 12-13)
---