---
Culture
SINGAPORE RENDEZVOUS Hosts WOW 15th Anniversary
Singapore's premier watch periodical WOW will celebrate 15 years at the inaugural SINGAPORE RENDEZVOUS with big bash.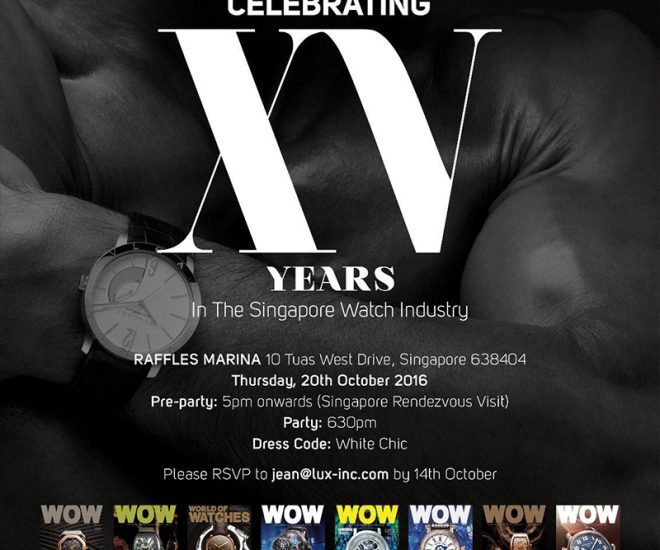 WOW turns 15 this year and there is much to celebrate, from the growth of the title to include seven overseas editions, to the Singapore watch industry that it has accompanied, to watchmaking itself. The magazine will be hosting a party on October 20 at Raffles Marina during the SINGAPORE RENDEZVOUS, where a gorgeous sunset awaits. Pre-party drinks begin at 5pm.
As the go-to periodical for watches in Singapore, WOW brings readers news on the art and craft of watchmaking. With knowledgeable insights from industry veterans and a team of respected journalists, WOW gives readers access to what's new with the leading brands in watchmaking. Published in eight markets around the world such as Singapore, Malaysia, Indonesia, Hong Kong, Vietnam and the Middle East amongst others, WOW has proven to be a must-read for watch aficionados.
The celebrations for WOW's one and a half decades in the industry will be held in conjunction with the launch of SINGAPORE RENDEZVOUS at Raffles Marina. The inaugural event will be a chance for guests to indulge in a luxury lifestyle experience. From timepieces such as deLaCour to luxury yachts such as Princess and Leopard Catamaran, the event is set to be an exciting one for all.
---