---
Lifestyle
4 Asia-Pacific Wine Trends Revealed at Vinexpo
The three-day wine trade show reveals new findings about South Korea, Taiwan and Hong Kong.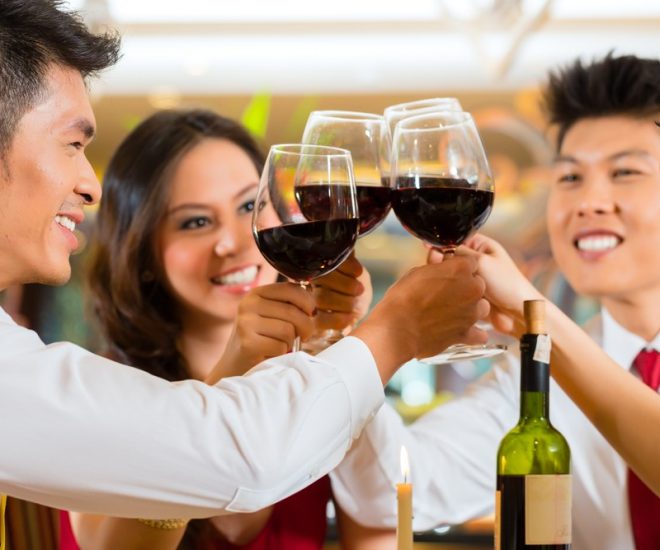 We've previously covered wine trends in Singapore and Japan, now Vinexpo brings us the findings from Taiwan, South Korea and Hong Kong. Here, we bring you the four major trends of wine consumption in these Asia-Pacific countries.
1) Reds over whites
The consensus is clear: reds continue to be the wine of choice in Taiwan, South Korea and Hong Kong, accounting for 89 percent, 74 percent and 83 percent of market share respectively.
In Taiwan, this figure is forecasted to grow by another 13 percent by 2019. Taiwanese consumers tipped back 1.45 million 9-liter cases of red wine, compared with 180,000 cases of white and 2,500 cases of rose. Even so, the reception of white wine is expected to grow 14 percent by 2019.
While Koreans generally enjoy reds for its purported health benefits, white wines are also fast gaining favor for pairing well with Korean cuisine. It is also interesting to note that the per capita consumption of wine in South Korea has doubled over the last decade, to average 0.8 liters of wine a year. Between 2010 and 2014, the per capita consumption grew nearly 40 percent, and is expected to rise another 20 percent over the next five years. This marks the consumption in South Korea as one of the sharpest increases in the Asia Pacific region.
2) French wines are still preferred, except…
French wines are reported to be the most popular import in Taiwan with 37 percent of market share and Hong Kong with 27 percent. After French wines, Australian, US and Chilean wines are most popular. Between 2010 and 2014, US wines saw major growth, increasing by 41 percent.
Taiwan's share of French wines is expected to dip due to the increasing popularity of Chilean wines (currently second in popularity at 18 percent), which are perceived as better value for money. US and Australian wines follow closely behind.
South Koreans bucked the French wines trend, favoring Chilean wines, with 10.2 million bottles imported a year.
3) Getting tipsy over bubbly
Like the Japanese, Taiwanese and Hong Kong people have developed a taste for sparkling wines. Vinexpo reported that its popularity has increased by a remarkable 51 percent over the last five years in Hong Kong, driven largely by the growing popularity of Prosecco and Cava which grew a whopping 89 percent and 110 percent respectively. Meanwhile in Taiwan, a 15-percent increase by 2019 is projected.
4) Spirits still high in demand
As the world's third largest market for single malt Scotch after the US and France, Taiwan boasted a consumption of 1.813 million cases of whisky in 2014, a figure expected to swell up to 1.921 million cases by 2019. Cognac and Armagnac are the country's second most popular spirits.
The focus in Hong Kong, however, is on tequila and rum as its consumption is expected to grow 36 percent and 21 percent between 2015 and 2019 respectively. The popularity of whisky remains stable with 186,000 9-liter cases consumed, topping cognac at 77,000 cases. People in Hong Kong are also increasingly exploring Japanese whisky and American bourbon.
South Korea – the third largest spirits consuming nation in Asia-Pacific after China and India – has reported a decline in consumption of local spirits such as soju and baijiu. However, tequila, vodka and gin have marked improvements of 17 percent, 12 percent and 14 percent respectively.
The Vinexpo 2016 runs 24 – 26 May 2016 in Hong Kong. 
Download the Epicurio app on iTunes or Google Play now, to learn more about wines and purchase your very own bottle, today.
---