---
Style / Fashion
Luxury Kidswear: The Next Big Market for Luxury
In 2015, Luxury kidswear reached $135.6bn globally and accounted for 12% of the overall clothing market. For 2017, it is expected to hit $180bn, is childrenswear is going to save the luxury industry?
In this current retail climate, luxury brands are downsizing. That is to say, they're creating kid versions of their adult lines, catering to an ever younger market through luxury kidswear. Thanks to millennials and the growing number of celebrity couples churning out million dollar babies, the resulting social media frenzy from the Beckhams, Wests and Jolie-Pitts have changed the conversation from one of discovering new mediums for consumer engagement to now appealing to an entirely different class of consumer – the kids, through the most emotionally compromised shoppers on the planet, their parents.
Business of Luxury: Childrenswear, The Next Big Luxury Market
When popular English footballer David Beckham arrived at JFK airport in New York City in 2014, little was said about him, many of the reports were focused on his young daughter Harper and her chic hat and peacoat ensemble.
From Kingston and Zuma Rossdale (Gwen Stefani's kids), to the scions of English Royalty: Prince George (UK Kidfluencer Prime according Forbes no less) and Princess Charlotte, fashion influencer clout is no longer wielded by over-exposed parents like Kim Kardashian but rather their celebrity offspring: North West, Suri Cruise and the like.
Their innocence, wrapped in a trapping of luxury, style and sometimes, attitude contributes to the appeal of whatever ensemble they happen to be rocking at the moment and luxury brands are only just beginning to entertain the idea of luxury kidswear, especially in developing economies like India, China, Indonesia and Singapore.
Luxury Brands taking Baby Steps
According to The Associated Chambers of Commerce and Industry of India, the luxury kidswear market in India is growing at a compound annual growth rate (CAGR) of 20%, hitting 95,000 crore or US$14 billion in 2016, making India one of the fast growing markets for the luxury kidswear segment.
Similarly, the luxury kidswear genre is also growing in China, fuelled by twin phenomena – the now defunct one child policy, which led to parents indulging in lavish gifts for their progeny as well as the issue of that of fu er dai – a Chinese term which literally refers to the second generation wealthy, millennials used to growing in such opulent lifestyles that the children they sire, also lead similar lifestyles and a propensity towards luxury. These are trends which statistics from the China Research Centre for Children's Industry also reflect where the projected baby boom through till 2021 will see the mainland's under-16 population grow over 400 million. In the Asia-Pacific region, luxury kidswear is expected to grow at a pace of 5.3% per annum in Thailand, Indonesia and Singapore as well.
The phenomena of burgeoning luxury sales in the children's segment is reflected not just in the numbers but in media as well. According to Business of Fashion, Hypebeast, an industry pioneer in online luxury streetwear commentary launched Hypekids in March 2017, a new children's vertical when Founder Kevin Ma, saw big data trends in his Hypebeast audience growing up and having kids.
"I think it's a natural progression for us," – Kevin Ma, Founder, Hypebeast
Launching with Kids Foot Locker as a sponsor, Hypekids will include style news and features on designers with their kids, as well as sell children's items on Hypebeast's global e-commerce platform, HBX. The site further posits that millennial parents — who are dressing their children in the same clothes as they dress themselves — are the driving force of the industry.
Additionally, rising purchasing power serves as another driver growth in the luxury kidswear segment and the market for designer childrenswear has also been spurred by increasing brand consciousness and the proliferation of online digital platforms which not only grow interest for ensembles for million dollar babies but also serve as a kind of new status symbol – you are no longer judged by what you wear but also what your kids wear, that aside, the reality is that while many millennials aren't too fussy with what they wear, they certainly are cognisant of the fact that their children are growing up in cultural environs vastly different from that for their era.
 The Business of Luxury Kidswear
In 2013, the first Global Kids Fashion Week launched in London to mixed reception but even with social criticism, the genre continued to grow, encouraged by Burberry, an early adopter, selling $91 million in luxury kidswear in 2014, encouraging the entry of major luxury brands into the arena of childrenswear: Gucci, Armani, Fendi and recently Karl Lagerfeld in 2016 (UPDATE: Givenchy has just launched their kids line) have each launched clothing and accessories lines targeted specifically at children. Given that high street apparel brands like Zara, H&M and Marks & Spencer had found lucrative business in the childrenswear genre, it was only a matter of time before the bigwigs caught on.
According to Singapore Tatler, The Shoppes at Marina Bay Sands Singapore was leading the charge in children's luxury retail, opening a slew of standalone boutiques in 2014 –  Baby Dior, Fendi Kids and Ralph Lauren Children; and then adding to their portfolio of luxury children's stores: Dolce & Gabbana Junior and Armani Junior in 2015-16.
"In today's environment of exclusivity and quality, the retail experiences that the market is catering for adults and children are on par, this can be seen in numerous aspects, from the calibre of designs released by renowned fashion houses, to the extensive selection of apparel, right down to the VIP treatment." – John Postle, vice president of retail at Marina Bay Sands to Singapore Tatler
In China alone, as many as 90% of kidswear labels have their own standalone boutiques but the rise of e-commerce is threatening to move this major market online: Net-a-Porter, a trailblazer in luxury eCommerce, registered the Petite-a-Porter domain name in 2013 (Though nothing has been launched at the moment).  Currently, former Vogue editors Sylvana Ward Durrett and Luisana Mendoza, have themselves launched Maisonette, a Farfetch-style platform that sells a curated selection from children's boutiques.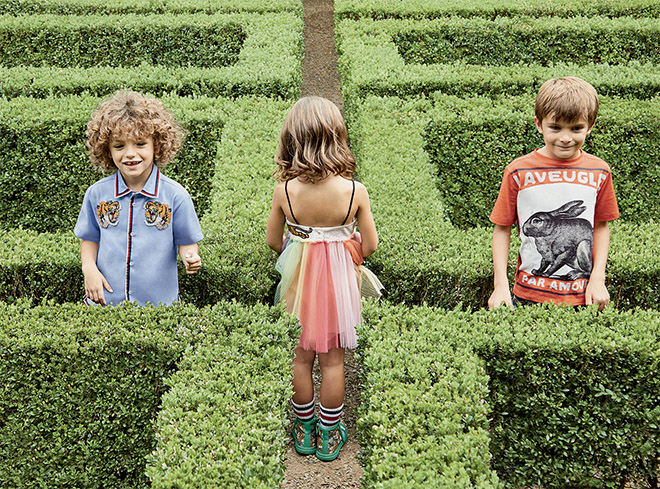 That said, while luxury childrenswear is booming, it isn't exactly a new segment. In the early 70s, Dior and Ralph Lauren were pioneers to the kidswear genre but it must be said, they were likely too early as a nearly four decade drought persisted until Burberry, Chloe and Marc Jacobs reignited the furore. They were followed by Stella McCartney, Lanvin, Marni and Gucci, the latter being the most aggressive (by definition of campaign marketing). Even Oscar de la Renta is in on this, there's no doubt that every self-respecting designer needs to have a children's collection under the auspices of their brand. Surely a decisive strategy of building brand loyalty early and deepening their relationships with existing customers.
Currently, European and North American markets account for a major slice of the global kidswear market.  According to Euromonitor, 2015 sales for luxury kidswear reached $135.6bn worldwide and accounted for 12% of the overall clothing market, Meanwhile, research firm NPD Group Inc expects the luxury childrenswear market to hit US$ 173.6 billion by 2017 at CAGR of 4.2% driven by aggressive growth developing economies, particularly India and China where a healthy and growing middle class as well as targeted marketing by brands, increasing social media engagement and a spurt of international travel has created a cocktail of elements driving on luxury childrenswear consumption.
That said, rising labour costs do not bode well to the two largest consumers of luxury childrenswear as more and more luxury labels are forced to maintain margins by heading to Bangladesh where Zara, Massimo Dutti, Marks & Spencer, G-Star Raw and H&M are already present. Still, markets like Thailand and Taiwan are largely untapped and growth potential is immense and more importantly, imminently renewable as parents will attest to how quickly the little tykes outgrow their outfits.
---