---
Style / Fashion
18 Best Pre-Fall Womenswear Trends 2016
L'Officiel Singapore singles out the trends you should be paying attention to for the upcoming transitional season.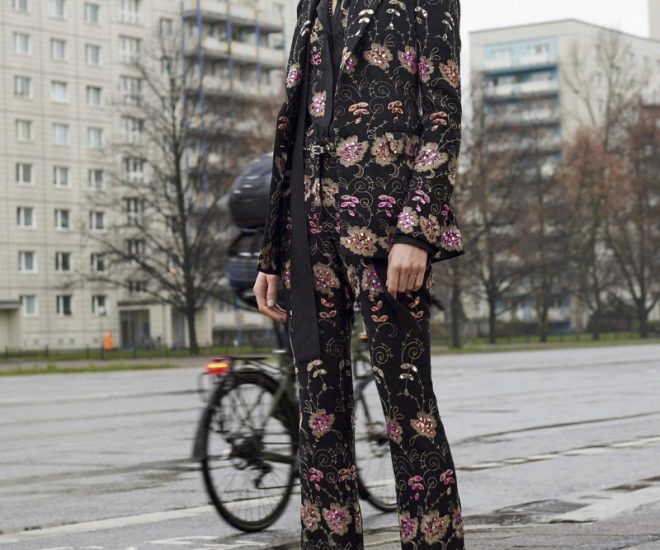 From androgynous dress suits in floral prints to saccharine-sweet pastels and kitsch sensuality, the trends for Pre-Fall 2016 are pretty diverse, so there's something for everyone. Here, our friends at L'Officiel Singapore have done the research for you to bring you 18 looks you should sport for the transitional season.
DRESSY SUIT
When it comes to suiting now, bolder is better. Give your classic navy and black suits a rest and look to versions in daring prints and opulent fabrics – think Bottega Veneta's mismatched tailoring or Givenchy's flower-embellished stunner punked up with studded boots.
STANDARD (RE)ISSUE
Military gets a cool downtown vibe with Alexander Wang's introduction of grunge elements – beanies, 
chains and opaque tights – and unexpectedly ladylike accents in the form of velvet heels.
DOUBLE COATED
A clever take on layering by the design team at Dior, with a gently curved olive coat shrugged over another coat in rich brown fur. A lace-trimmed slip and sparkly flats lends ease and lightness to the look.
SHEAR THING
Shearling continues to be a giant trend for Pre-Fall, turning up as cool outerwear at brands as diverse as Coach, Paco Rabanne and Stella McCartney. Christopher Bailey showed an oversized one at Burberry, which he paired with sleek flares and a boyish rucksack.
FUN FURS
Shearling's more luxurious cousin is also having its moment in the sun, but these furs are not your grandmother's dowdy ones. Pre-Fall's best shaggy pieces come in fabulous hues and patterns like those on Marni's graphic check fur stole, Valentino's ombre fur robe and Fendi's floral explosion.
CANDY CRUSH
Considering the fact that most Pre-Fall collections hit shop floors at the height of summer, it makes sense to drench them in sweet, uplifting shades. Giorgio Armani showed tiered dresses in washed-out blues, Sportmax proposed pale lemon for our outerwear, while Michael Kors had us thinking pink.
MASCULINE FEMININE
Boy-meets-girl is a trope fashion loves to reinterpret. This season's offerings include Jason Wu's jackets that were sculpted for a feminine silhouette, butterfly and lipstick prints on an Alexander McQueen pantsuit, and Prince-of-Wales tailoring at Versace shot through with baby blue and worn with a tiny skirt.
SHINE ON
Who says that sequins should only come out when the sun goes down? When styled with the right pieces, metallics make a wonderful daytime statement too. Case in point: Phillip Lim's gold wide pants, worn with a silk shirt, and Emilio Pucci's sequined shirt, paired with a breezy skirt and a sandal-sock combo.
PRETTY PLEATS
The pleated midi skirt is fashion's favourite skirt shape of the moment and no one does it better than Alessandro Michele. This season he rendered it in high-impact silver worn with an equally shiny pink bomber. Elsewhere, Michael Kors, Giorgio Armani and Max Mara also offered beautiful options of the pleated midi.
MODERN ETHNIC
The current-season way to pull off ethnic influences can be seen in the collections of Alexander McQueen and Altuzarra. The key is to go for a sharper, more fitted silhouette; the end look needs to come off sleek and polished instead of billowy and bohemian.
POWER TULLE
Where Miuccia Prada goes, others are sure to follow. After last season's enchanting tulle layers at Miu Miu, the gauzy fabric is shaping up to be a key layering element. Molly Goddard has built a name with her joyful tulle creations, while Stella McCartney presented a womanly version worn over trousers and a bustier.
TIE DYE TWIST
Designers are reinventing tie-dye with a luxe spin, moving it farther away from hippie-dippy and muddy music-fest connotations. Our favourite version is from Valentino, where the saturation is amped way up and cut into a modern anorak, juxtaposed with a smart shirt and thigh-highs.
SWEET '60s
The youthful charm of the '60s look has always endured – who can resist the appeal of a little skirt, a fitted jumper and a flattering peacoat? The best looks aren't faithful reproductions, though; we love Pablo Coppola's take at Bally where the coat is cut ultra-sharp in bright red and the skirt comes in glossy leather.
'70s REDUX
The '70s is another decade that fashion keeps returning to, but no one makes a more convincing case than Hedi Slimane. At Saint Laurent, he conjured up the bohemian glamour of Loulou de la Falaise with his swishing culottes and midi skirts, all topped with silken blouses and showstopping cloaks and capes.
NAUGHTY & NICE
Fashion loves a good clash of contrasting ideas and this season, designers are riffing on the themes of naughty and nice. Bally has a sharply tailored trench in glossy, fetishistic patent; Alexander Wang put fishnet tights under prim skirts and Karl Lagerfeld invoked Italian screen sirens wearing leather and lace with tweeds and pearls.
SPORTS COUTURE
Athleticism in fashion is here to stay but the most talented, innovative designers are constantly finding new ways to elevate and marry it with high fashion. J.W. Anderson, for example, created bold new things from the idea of nylon and tracksuits, while Julien Dossena at Paco Rabanne cleverly mixed zippers and mesh with lush materials for an effortless but luxurious take.
PUFF PIECE
The grandly exaggerated Edwardian shoulder continues to get more play for Pre-Fall. It showed up with retro inflections at Gucci, while at 3.1 Phillip Lim and J.W. Anderson, it was deconstructed and updated for today's cool girls. But the most interesting mash-up was at Louis Vuitton where Nicolas Ghesquière paired sculpted shoulders with motorcross leggings and edgy, chunky boots.
DENIM DREAMS
This wardrobe staple has been given a fancy upgrade for Pre-Fall. At Carven, it was mixed with shearling and shown as a total-look statement. Julie de Libran also showed denim-on-denim at Sonia Rykiel but her looks were embroidered while Massimo Giorgetti's Pucci pieces were printed with feathers. The most whimsical were Valentino's versions, which bore elaborate scenes and dreamscapes.
---