---
The Lux List / Collectibles
Business of Luxury: Swiss Watch consumption is Up. Just Not for USA.
In our first Business of Luxury analysis of 2018, Luxuo takes a look at why Americans are just not succumbing to the allure of fine Swiss watches
For a country the size of the United States, there just aren't that many retail locations dedicated to the sale of high-end timepieces compared to most other developed markets vis-à-vis Singapore and Hong Kong. So when Reuters reported on 23 August 2017 that the United States overtook Hong Kong as the No.1 market for Swiss watch exports in July, it was major news. At the time, the Swiss Watch Federation had announced that exports to Hong Kong fell 33% in July 2017, while shipments to the United States declined 15%, meaning the United States became the top consumer of mechanical watches with a 10.9% overall market share, versus 10.7% for Hong Kong as watch retailers fearing worsening market conditions refrained from making new orders.
Two years later, Fortune reports that the U.S. stock markets have reached new highs as the Nasdaq Composite briefly topped the 7,000-point mark for the first time and the Dow Jones Industrial Average posted yet another record finish, gaining 140 points and to close at 24,792, coming within striking distance of the milestone 25,000 benchmark. All these capital gains should have prompted a resurgence of conspicuous consumption but thus far, it hasn't. What's going on?
Business of Luxury: The Swiss Watch consumption is Up. Just Not for USA.
After a dry spell lasting almost two years, Swiss Watch consumption is up, just not for the USA. November 2017, the Federation of the Swiss Watch industry announced that exports had jumped 6.3% year-on-year – a rate of growth that was unheard off since 2013. By Christmas, the Swiss watch industry was breathing a little easier after weathering a series of high profile CEO departures, Swiss HQ Senior Executive re-organisation and right-sizing; and even quiet price adjustments across multiple brands.
In fact, data for the general luxury market from Bain & Company's November study was decidedly optimistic. After prolonged stagnation, the overall luxury market grew by 5% towards end 2017 to reach an estimated €1.2 trillion globally. While it was particularly strong in Asia, especially China where Swiss exports had grown 17.3% between January and October 2017, recovery for general luxury was also evident in Europe and the United States, just not for the watch segment.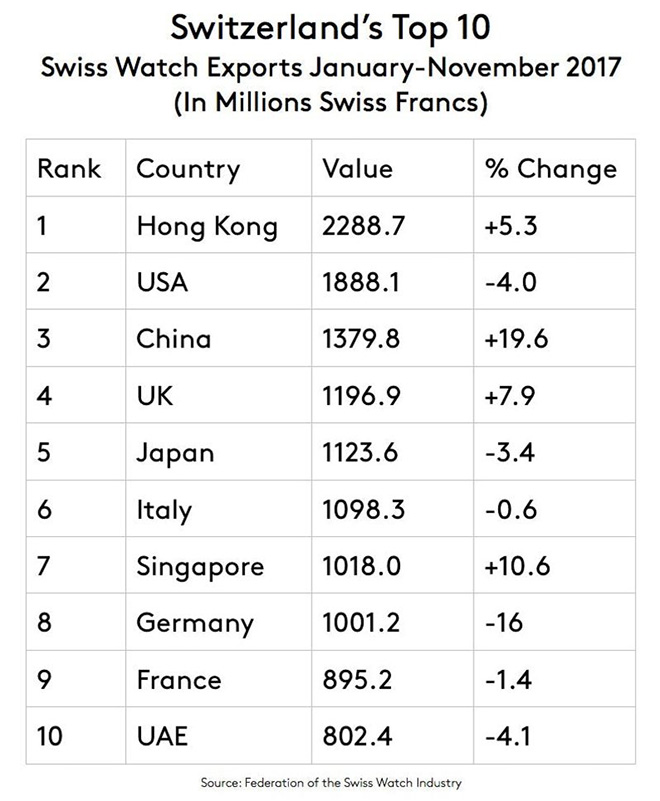 FHH data showed that Swiss watch exports to the U.S. fell 0.4% in November, extending the decline for 2017 to 4% after almost a 10 point drop end 2016. Conversely, sales in China jumped 40% for November, eclipsing statistics for the last three years. If Swiss watch exports continue to recover, analysts project that end 2018 could put final sales figures above CHF 20 billion, a symbolic peak for the industry but the USA will no longer be (and for the foreseeable future, likely not be) a major contributor to that growth.
Where have all the Swiss mechanical watch consumers in the USA gone?
In early 2017, Deloitte commissioned a research study of millennial consumers in four key markets – the US, UK, Italy and China (representing a balance of the world's largest markets for luxury goods). Deloitte found that the top consumers of the luxury goods are still dominated by Baby-Boomer and Generation X, that is to say, individuals who were born between the end of the Second World War through to 1980. But that they are fast becoming supplanted by a new generation of millennials. Furthermore, Deloitte asserts that these millennials grew up in the internet era thus their assumptions, social patterns and values are different.
I had previously postulated that with increasing education and watch review websites, there's more awareness than ever for microbrand watches, especially those of Non-Swiss appellation. More importantly, the cost of these microbrand watches, when combined with exhaustive reviews from reputable watch review sites means that the fear of making a poor purchase decision is significantly less than what it used to be.
Thus we can surmise that with increasing income inequality, these Kickstarter micro-brands are not only serving an undersupplied niche but there's also a good chance they're undercutting entry-level watchmakers from Switzerland and Germany. Most detrimentally, these Kickstarter watch brands are redefining what it means to be a luxury watch through raw transparency (highly mechanised production of watches as opposed to the perception of rare handcrafts) and smart social media strategies.
Marloe manual wind chronograph movements are refinished and the interesting mix of contrast components play up the "artisanal" aspects of the calibre without the price tag
Hervé Munz, a Swiss anthropologist studying the watchmaking industry, recently gave an insightful interview with Swissinfo.ch where he posits that: over the last 30 years, Swiss watch companies have successfully repositioned themselves in the mechanical luxury watch market as exemplifying craftsmanship, heritage and tradition. And that when demand outstripped supply during the boom, many high-end brands started manufacturing more 'affordable luxury' watches which inevitably led to the research and industrialisation of many production processes. Brands don't really talk about this phenomenon because it is at odds with their messaging of luxury craftsmanship and rarity.
In fact, this phenomenon is precisely what Kickstarter and microbrands prey upon, slap a few perfunctory statements about "what Swiss luxury watchmakers don't want you to know", upload a few pictures of machine made but competently albeit industrially finished movements, and viola! a social media storm about "people disrupting a billion dollar industry".
According to a study between McKinsey and the Altagamma Foundation: 40% of luxury purchases are in some way influenced by consumers' digital experience—for example, through online research of an item that is subsequently bought offline, or social-media "buzz" that leads to an in-store purchase. Deloitte backs the McKinsey statistic with "luxury watch brands" – that is to say, watch brands that are not really luxuries but position themselves as such through sheer online marketing capacity – Marloe, Farer, Christopher Ward and Baltic watches are simply eating the lunch of better known and higher priced Swiss watchmakers by educating these millennial 'digital natives'.
Also a factor, simple economics
For more than a century, the United States has been the world's biggest economy, accounting for over 24% of the world's gross domestic product (GDP) but that's changing. Since 2004, the gap between China and the USA continues to close and as of 2016, China cornered 14.9% of world GDP – that's not to say that the crouching Tiger has been taking America's share, they have been carving slices off Europe as well. Currently, US share of the world economy is 1.7 times that of China. As of 2016, US domestic GDP of $18.6T is still almost twice that of China's $11.8T. But the most damning evidence points to 2016 GDP per capita figures which shows the United States GDP per capita trouncing China GDP per capita by 3.7 times – $53,417 versus $14,275. Yet, Both the IMF and the World Bank now rate China as the world's largest economy based on Purchasing Power Parity (PPP), a measure that accounts countries' GDPs for differences in prices – a MacDonald's cheeseburger might be cheaper in China but Swiss watches are still roughly the same price if not more so after adjusting for taxes. A Chinese tourist would be better off purchasing a Swiss mechanical watch from US or Europe but a backdrop of uncertainty – the new US government, Brexit and terrorist attacks in several European cities – has deterred many potential Chinese buyers from travelling to key shopping destinations in the US and Europe.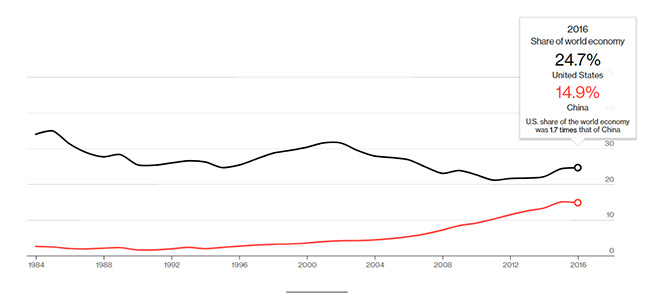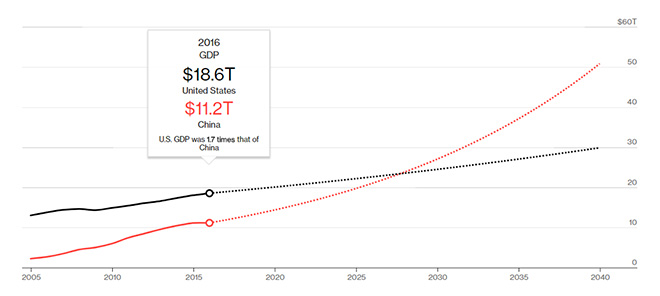 Deloitte's Global Powers of Luxury 2017 also show that the rate of growth in the world's largest luxury goods market slowed in 2016, hampered by a strong US dollar and a slowdown in trade from foreign tourists, in particular from China. While the high value of the dollar has helped to keep the prices of imported goods down, thereby boosting consumer purchasing power; the majority of US consumers are starting to cut back on discretionary spending on clothing and other personal accessories, in the light of uncertainty about where the government's policies are heading. In the coming year growth in the market is likely to continue, although the rate of growth could be affected if the dollar continues to appreciate. Finally, Trump's knee-jerk protectionist measures could ultimately spur an increase on import prices, this would curtail the growth in luxury goods spending.
The USA has an awful lot more Top 1% households who should be buying luxury watches, they just aren't.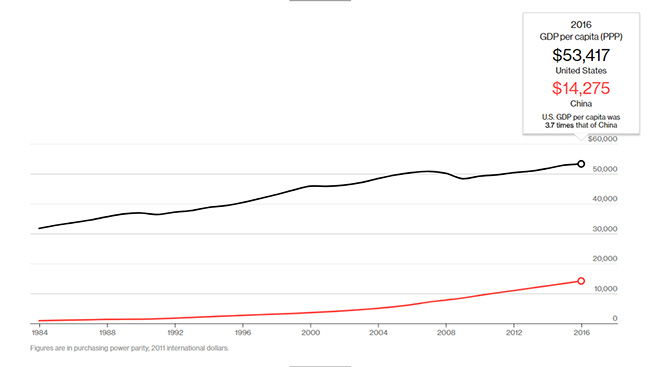 Socio-cultural motivations defer as well…
Luxury goods are "good prima facie evidence of pecuniary success, and consequently prima facie evidence of social worth" – Thorstein Veblen
Prominent sociologist and American economist Thorstein Veblen defined luxury goods as items that do not necessarily have functional utility but displaying them can bring prestige to the owner. That said, people from different cultures are all engaged in varying degrees of self-presentation, therefore, Chinese consumers as compared with American consumers would have greater degree of collectivism. Hence, Chinese consumers should have greater symbolic motivation to consume luxury goods than do American consumers.
On average, Asian cultures tend to be hierarchical, social structures are highly stratified. People care about their "place" in the social hierarchy and respect authority. As a result, strong need to claim social identity because of the hierarchical nature of society, in which one's position is mostly defined by one's economic prowess becomes a strong motivator in luxury goods consumption where in American cultures, these pressures do not exist to this social extreme.
In a statement to Bloomberg, Rene Weber, an analyst at Bank Vontobel AG declared the United States as "an underdeveloped country in terms of luxury watches". He noted that while brands play an important role to the Chinese, Americans are familiar with a smaller range of labels and understand even less about watches. His analysis is further supported by Deloitte research which shows that the US millennial not as interested in premium luxury watches compared to their other global counterparts.
New wealth, a desire to display social status and a new fiscal and social hierarchy, naturally creates a market for the good life or at least, the cultivation of the appearance of a luxurious lifestyle.
Final Views
Perhaps John Reardon's excellent book, Patek Philippe In America: Marketing The World's Foremost Watch, offers the best reason of all. Facing tough economic conditions in Switzerland, Antoine Norbert de Patek went Stateside to do a little market study where he noted in a letter to his partner Jean-Adrien Philippe, "Americans demand above all inexpensive watches which, nevertheless, should allow them to determine the speed of their horses to an accuracy of 1/4 of a second."
At the time, America already had a burgeoning watch industry. High precision assembly lines, birthed from military applications in the 1820s had already given American watchmakers like Waltham a competitive advantage beyond what the Swiss had. The milling machines they used, precursor technology to the CNC machines we use today, were originally tooled to make firearms with interchangeable parts but were now rapidly adopted to make accurate yet inexpensive watches to run the railways. Quite simply, a random Hamilton or Waltham, a fraction of the price, would outperform those artisanal Swiss mechanical watches in chronometer testing. It was a situation so dire that the Swiss delegation attending the 1876 World's Fair had a mini-meltdown in a report stressing that industry adoption of these American production techniques were paramount if the Swiss watch industry was to survive.
Given the historical context, extrapolate the cultural perception that a fine mechanical watch is foppish jewellery, and add to consideration that American politicians, even those we know are watch connoisseurs in private life like Bill Clinton, often sport a cheap, quartz watch while in office. Maybe Trump's penchant for extravagant ostentation would change public acceptance of conspicuous luxury but this would be a longshot.
Ultimately, if Swiss luxury watchmakers want to appeal to the American consumer, they're going to need to take a decidedly different tack than the class, heritage and artisan communication strategy they use for the rest of the world. If Swiss watchmakers want to develop the American market, they're going to have to make Swiss watches as American as Apple Pie and that's a tall order.
---