---
Motoring
Top 10 Superyacht Launches 2016
We have taken a look at the top launches of 2015. Seeing as how the Singapore Yacht show has come to a close, we decided to show you some of the top launches of 2016. Sit back, relax and enjoy Yacht Style's picks of 2016. D4 LOA: 38.6m Year: 2016 Builder: NCA shipyard Exterior Design: […]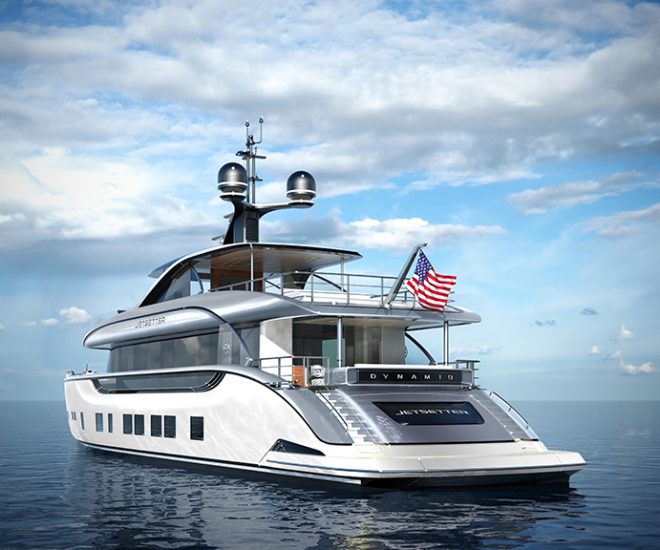 We have taken a look at the top launches of 2015. Seeing as how the Singapore Yacht show has come to a close, we decided to show you some of the top launches of 2016. Sit back, relax and enjoy Yacht Style's picks of 2016.
D4
LOA: 38.6m
Year: 2016
Builder: NCA shipyard
Exterior Design: Dynamiq
Interior Design: Bannenberg & Rowell
Naval Architect: Azure Naval Architects and Van Oossanen
The brainchild of yacht designer and broker Sergei Dobroserdov, Dynamiq came on the scene mid-2015 with the intention of disrupting the entire superyacht buying and building model. The first Dynamiq in build is the D4, scheduled for delivery ahead of Monaco Yacht Show 2016. A smart yacht for smart clients, D4 is the result of a top tier collaboration from across the industry. Combining speed (21kts) with long range efficiency (535 litres of fuel at 19 kts), luxury (designer partner brands such as Trussardi Casa, Technogym, Aqua di Parma) and more space than other yachts of this size, the D4 will show the world how Dynamiq is a welcome disruptor for the industry.
Global 104 Pilothouse
LOA: 31.95m
Year: 2016
Builder: Cheoy Lee Shipyards
Exterior Design: Cheoy Lee Shipyards
Interior Design: Sylvia Bolton
Naval Architect: Jon Overing
Built for a repeat client, this is the first of the Global 104 series that Cheoy Lee has launched and is the Chinese yard's new flagship. A highly efficient and comfortable tri-deck motor yacht, its interior is extremely voluminous for its size, unusually featuring a full-beam master suite and a country-style kitchen on the main deck as well as spacious walk-around side decks all the way forward.
Genesi
LOA: 45m
Year: 2016
Builder: Wider Yachts
Exterior Design: Fulvio De Simoni
Interior Design: Fulvio De Simoni
Naval Architect: Wider Yachts
While its technical launch came at the end of last year, Wider's first superyacht M/Y Genesi is one to look out for in 2016. For a first superyacht, this is a boundary-pusher. Her innovative diesel-electric power system features lithium polymer battery banks that not only supply the entire hotel system but also hold enough power to exclusively battery-run the yacht. Still available for sale, this is a yacht for a conscious client who enjoys the outdoors and is looking for something unique.
RP120
LOA: 36.6m
Year: 2016
Builder: Horizon Group
Exterior Design: JC Espinosa
Interior Design: Luca Dini
Naval Architect: Horizon Group
Nicely debuted at this March's Taiwan International Boat Show, Horizon's RP120 is a sleek yacht that aims to combine luxury with liveability. Indoor spaces are varied to offer different options of entertaining and Italian designer Luca Dini has ensured an aesthetic that airs towards the easy elegance of a beach house. Outside, guests can take their pick from the sofa on the boat deck, the Jacuzzi or the bow's dinette.
Project 1016
LOA: 50m
Year: 2016
Builder: McMullen & Wing
Exterior Design: Gregory C. Marshall
Interior Design: Gregory C. Marshall
Naval Architect: Gregory C. Marshall
This blue-hulled beauty with the yellow boot stripe is the largest yacht McMullen & Wing has built and the second from its Diamond series. Like her older sister, the world explorer 45m M/Y Big Fish, this project is destined to take her owners off-the-beaten track and has been designed as such. Project 1016 (her name is still a secret) is a muscular yacht with a range of 6000nm, light interior spaces and expansive outdoor space with protected spots like the lowered aft cockpit for fishing and lounging.
Sybaris
LOA: 70m
Year: 2016
Builder: Perini Navi
Exterior Design: PH Design with owner
Interior Design: PH Design
Naval Architect: Philippe Briand
While Sybaris' launch date has suffered various delays, it can be promised that when she hits the water later this year, she will be one special yacht. A true passion project in every sense, she has been designed by newcomers to the yachting world PH Design with significant input from her owner. Modern and minimal, art is at the core of Sybaris' design and she will be a floating gallery for pieces selected by her owner, who is an avid and knowledgable collector. Make no mistake though, with an estimated top speed of 17kts and plans for circumnavigation, this will be a gallery with serious sailing credentials too.
OA112
LOA: 34.1m
Year: 2016
Builder: Ocean Alexander
Exterior Design: Evan K Marshall
Interior Design: Evan K Marshall
Naval Architect: Gregory C Marshall
Ocean Alexander's new tri-level OA112 is a rare example of a yacht in this size bracket that offers five staterooms, including a full-beam master on the main deck. The first hull was launched in February in time for Yachts Miami Beach, after construction began in the summer of 2012 following a long period of perfecting.
Serenity
LOA: 40.4m
Year: 2016
Builder: IAG
Exterior Design: Evan K Marshall
Interior Design: Evan K Marshall
Naval Architect: Axis Group Yacht Design
In build for a US client, Serenity is a tri-deck motoryacht from IAG's Noble Star series and has been optimised with both private and charter use in mind. The Evan Marshall design combines open and enclosed balconies and terraces throughout the yacht, creating a special extension of the interior.
Project Charley
LOA: 46.7m
Year: 2016
Builder: Echo Yachts
Exterior Design: LOMOcean
While the explorer yacht concept is an increasingly popular one for many owners, clients who want the full complement of tenders and toys for exploring, but don't want to compromise on space or luxury, turn to support vessels. Australian shipyard Echo Yachts has one such vessel due for launch this year. Built to support the 84m trimaran mothership (also in build at Echo Yachts for the same experienced owner), Project Charley is a catamaran with an impressive level of composite infused construction R&D behind it, and has been designed to house a fleet of 11 watercraft.
Arcadia 100
LOA: 29.29m
Year: 2016
Builder: Arcadia Yachts
Exterior Design: Francesco Guida
Naval Architect: Francesco Guida
This is the first of two Arcadia 100 hulls due for launch this summer. While many yards claim eco-conscious designs, this Italian shipyard puts its money where its mouth is. The 100's hull was designed at the National Physical Laboratory to test efficiency while the aesthetically striking floor-to-ceiling windows integrate solar cells, which provide enough power to run refrigerators, water converters, lights, electrical systems and toilets, and also ensure around 18 degrees of thermal cooling from outdoor to indoor temperatures. A smart yacht for a smart owner.
Story Credits
Text by Angela Audretsch
This story first appeared in Yacht Style.
---