---
Lifestyle / Gastronomy
Review: Thai Restaurant Long Chim
Long Chim invites diners to enjoy Thai food as they would on the streets of Bangkok.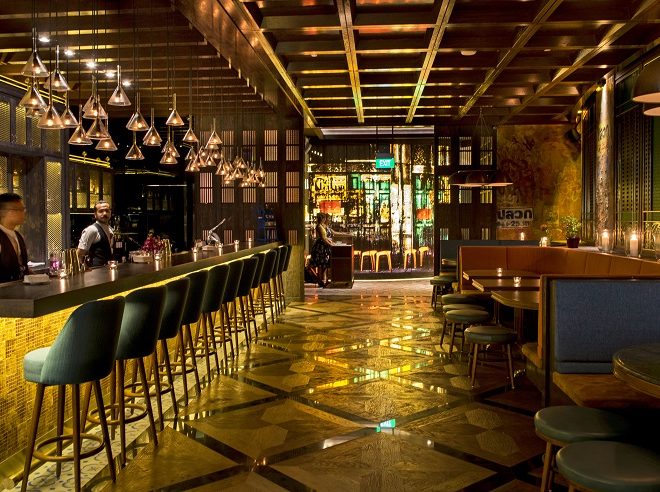 Long Chim brings the art and flavors of Bangkok to Singapore with the opening of its new restaurant at The Shoppes at Marina Bay Sands. Translating to 'come and taste', Long Chim is a happy and open invitation for diners to eat Thai food while surrounded by the ambience and vibrant culture of the Bangkok streets.
Just like the streets, Long Chim's food is fast and affordable and guests have their food cooked in plain view. Diners will be treated with the aromatic scents of Thai spices looming throughout the restaurant, transporting them to the colorful famous streets of Chatuchak or Yaowarat market. Mouth-watering dishes from all over Thailand can be eaten as individual plates at the open kitchen counter, or shared with family and friends in the main dining room.
Aromatic satay of beef with cumin, green curry of beef, prawns roasted with vermicelli, noodles of all kinds, in soup or stir fried, and duck roasted in a wood-fired oven, are just a few favourites from the variety of delicacies guests can choose from. Long Chim's banana roti or durian ice cream (editor's note: SERIOUSLY LEGIT) is a must-try to top off the meal.
Restaurant Manager Aom Orawan and Thai Head Chef Yingyod Raktham manage the team at Long Chim with support from Chefs Matthew Albert, Annita Potter and David Thompson.
"I am so glad we opened our first Long Chim here in Singapore. People have been so welcoming. I hope we can return the favor by producing food that everyone likes – street food, Thai food: Long Chim's food," says David Thompson.
Crafted by the award-winning drinks team at Proof & Company, Long Chim's bar program features interesting cocktails that have been inspired by popular Thai desserts and ingredients. Tipples include Long Chim's Sticky Rice Sour, made with aged rum, rice wine, fresh mango juice and pandanus, and coconut foam.
One interesting and artistic main feature of the restaurant is its array of specially curated graffiti from international street artists. New Zealand-born writer-turned-street artist Diamond One coordinated a team of fellow artists whom he knew could mirror the eloquent grime of Bangkok streets to design the wall murals for Long Chim. These three talented street artists, who go by their pseudonyms, include Alex Face and Gong (both of whom are from Thailand), and Spanish renowned spray-paint artist Sath. From the abstract medley of color and signage, to Thai gods and traditional arts, the graffiti design for the interior of Long Chim truly encompasses the unique vibe and cultural history of the iconic Bangkok streets.
For one of the walls in Long Chim, artist Gong chose to scribe the lyrics of a classic song called Gub-Khav-Pecha-Khat (or 'Food Killer'). Amongst this wall of lyrics, he also designed the letter Chor-Chang, a Thai letter that translates to 'elephant'. The letter was selected as it appears in the restaurant name, and also represents an iconic and sacred symbol of Thailand.
"The art of Thailand has the ability to communicate a story of artist and land, for this reason I dedicate myself to painting in Thai style. I don't paint in a completely traditional way though, I don't feel I'm trying to tell the stories of our past, I am trying to record a snippet of the present in a Thai way, because of this my work has modern elements and techniques making it more relevant to people of our time," explains Gong.
*For more information, please visit www.longchim.com.sg
Story Credits
This articles was originally published in Art Republik
---