---
Lifestyle
Louis Vuitton Presents Malle Extraordinaire
Take a walk down the luxury brand's memory lane with this exhibition of travel accessories and baggage, running in Singapore till end June, 2016.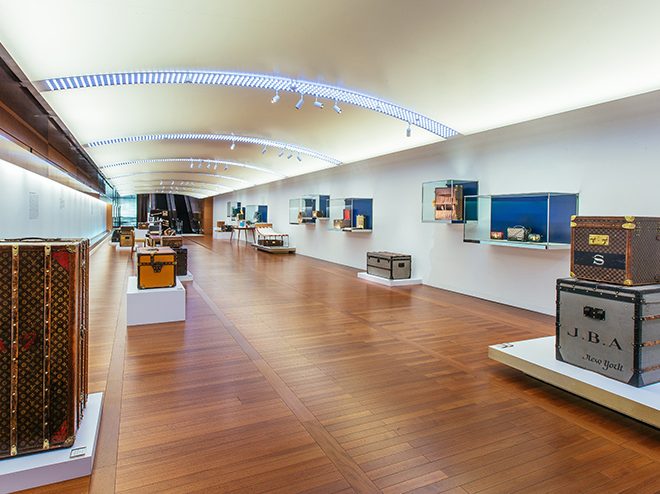 From now until the end of June, fans of steamer trunks should head over to the Louis Vuitton Island Maison at Marina Bay Sands for the Malle Extraordinaire exhibition. With a long and illustrious history, Louis Vuitton has garnered many fans around the world, some more prominent than others. To celebrate this and to allow the public to explore this history, the brand has flown in several heritage trunks to Singapore.
You would be amazed at how well preserved the trunks are, given that some were created nearly a century ago. However, given that this is Louis Vuitton, a brand renowned in its superior woodwork and leather craftsmanship, this has to be expected. Using materials such as Gaboon and Beech wood, the trunks are sturdy creations that can withstand hard knocks while allowing for the natural expansion of the wood.
On display, are trunks that once held the possessions of royalty and historical figures; clients included Napoleon III's wife Empress Eugénie de Montijo, the Maharajas of Jammu and the royal family of Egypt. These trunks from the company's archives even bear the customs stamps as well as shipping and boarding labels that serve as a memento of its original owner's travels.
Many of these historic trunks were even personalized along with the emblematic monogram or Damier print, allowing the trunk to be recognized from afar. While hat cases may be of little use today and a wardrobe trunk for timepieces may not be the kind of luggage we see often, the Malle Extraordinaire gives us a chance to travel back in time. While the past may very well be in the past, some traditions may never die, which explains why Louis Vuitton still constructs some of its luggage by hand, much like it did in 1854.
The Malle Extraordinaire exhibition will be on display at Louis Vuitton Island Maison at Marina Bay Sands until June 30. 
---