---
Culture / Art Republik
Sri Astari Rasjid: Kebaya Diaries
Art Republik looks at the storied three-decade career of Indonesian contemporary artist Sri Astari Rasjid.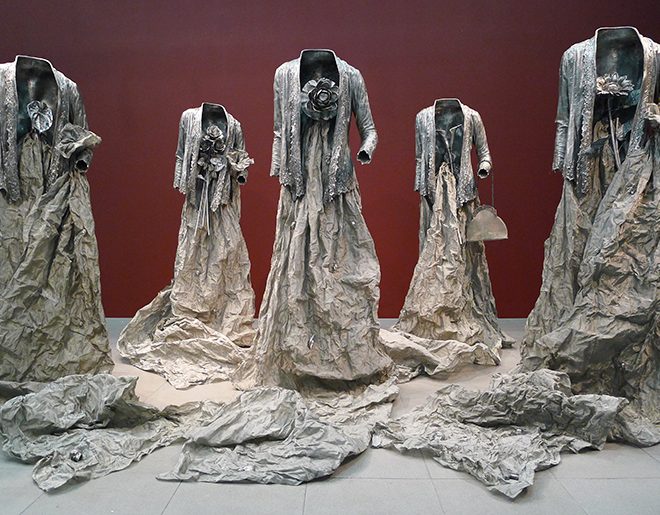 The view of contemporary art being inspired by culture and tradition is a particular characteristic for contemporary art in our Southeast Asian region. Back in 2012, 'The Collectors Show: Chimera' at Singapore Art Museum (SAM) showing artworks by Asian artists collected by Asian collectors was a significant eye-opener; a similar sentiment was also expressed by Tan Boon Hui (then director of SAM). Boon Hui pointed at this characteristic for contemporary art in Asia where elements of vernacular, history and beauty are valid elements in contemporary art.
Indonesian artist Sri Astari Rasjid (b. 1953) was apparently far advanced in time and vision when she started delving into her native Javanese culture some three decades ago. As she sought to re-read and reinterpret the layers of meaning in the Javanese culture into which she was born, she looked at it with a personal vision imbued with the ever-evolving spirit of the time. In doing so she has blown a new wind over her culture, creating a typical artistic language that is entirely her own.
Her recent retrospective exhibition titled 'Yang Terhormat Ibu' (Dear Mother) in the Cultural Centre of Gajah Mada University in Yogyakarta, which was held from 27 February to 5 March 2016, provided an in-depth look at the artist's most striking works, highlighting how she fluidly ties the past to the present, the autobiographical to the issues prevailing in today's world, while exploring the tension between the masculine and feminine forces with painting, sculpture, installation art, photography, video mapping, dance and chant.
A sense of urgency is tangible as her works point at the significance of the cultural and the spiritual at a time when urbanity and the influx of social media and the mix of global voices are dampening the inner voice of humankind. This was even more poignant at the opening night of the show, when she chanted (in Javanese) from above a one-meter-high cone featuring a video mapping of an exploding Mt. Merapi, exuding the inner voice as a beacon amidst the hustle and bustle of our contemporary world.
It was the introduction to her latest creation, the 'Tari Garba' (Dance of Womb), a contemporary take on a sacred dance, and performed in the Pendapa (her work for the Venice Biennale 2013), it put an accent on the importance of the past and present as a whole, and on the belief in the feminine energy, focusing on the womb as the source of humankind and all creative activity.
Reading Sri Astari's oeuvre is like sensing the heartbeat of her life and the relation to the nation's momentum, as her works are based on life as she experienced it.
But it is the kebaya, the woman's traditional blouse, which she has been wearing from the time she was a little girl and became fundamental part of her life that ultimately emerged in her oeuvre as a revealing barometer of mood and changing situations. In 1998, when the confusing political situation and massive rapes struck the country, and the chastity belt came into circulation, she felt the canvas was insufficient to express the issue. She created her fist ever large scale sculpture of the kebaya. Denoting fine appearances and concealing harsh realities like in real life, she made the kebaya sculpture look lovely, and the underwear refined, but used cold and hard steel as a material. And cynically named it 'Prettified Cage' (below).
Her second large scale kebaya 'Abandoning Virility' (2002) ponders life and death, and the fallacy of make believe. To visualize the pain and suffering a woman often has to endure, fragmented body parts, miniature flowers, female attributes and toiletries made up the embellishment of the kebaya. Placed against a background of Javanese scripture on a stainless steel screen with a purple shape of vagina extending from the top, and coming out beneath the lower part, it became a thrilling mix of pain and beauty.
In 2011, negative energies were bothering her peace of mind. She then returned to the idea of amulet or jimat, to shield her soul, and made not one, but five kebayas, made of grey aluminum, and named the installation 'Armours for the Soul'. In spite of the harsh material, she manages soft flowing and elegant lines, denoting a feminine take on harsh realities.
End 2015, when a new era in the nation had set in with the newly elected president Jokowi, and her appointment as first female ambassador with an artist background was forthcoming, she created 'Armour for Change', the 3.5-meter-high kebaya sculpture for the 'ENVISION' exhibition in Singapore, where it was displayed outside Fullerton Bay Hotel until end April 2016. Simple, loose and without the usual body-beautifying attributes, the enormous butterfly brooch was to denote the change taking place in her personal life and the country. President Jokowi had appointed an unprecedented number of four female ministers.
Her bags have also been an enduring metaphor to elaborate on her opinion or vision. Like two sides of a coin, the artworks carry two opposing features of life, such as 'La Vie en Rose' carved on one side, and 'La Vie en Noire' on the other side. Similarly there is another bag with 'Holy' on one side and 'Shit' on the other side.
In her retrospective, the Kelly bag returns in a gigantic format, now denoting it as garba (Javanese word for womb) presented as 'Home', around which ceramic platters in the shape of vaginas lay scattered. While suggesting home as the place where humankind began, it is still a Kelly bag marking the critical issue of consumerism sprouted from earthly desires.
Surely the installation of prayer beads, called 'Eling' (Beware) stands out as a piece of deep insights into the human psyche today, as each prayer bead carries a text in Javanese that warns of such features like dishonesty, corruption, lies, nagging and the likes.
At some instances her works can be full of humour and fun. In the painting 'Formula #1 Perempuan Kuat', she mimics the popular Jamu Kuat Lelaki (a men's potion), a form of herbal Viagra. Dressed in traditional Javanese men's outfit with fresh pink as the dominant tone, and images of tiny racing cars in the background, tiny veiled women's heads on the sarong, and the face marked by her own facial traits, it is a hilarious version of a serious theme. Similarly, her painting 'Petruk Can Do Everything Superman Can Do', features Petruk, one of the Punakawan characters in wayang stories (a kind of Jack of all trades) is featured in a female guise, suggesting women as the protectors of humanity.
Sri Astari Rasjid has exhibited widely, locally as well as internationally, including Singapore, Beijing, Spain, Moscow, Rome, and at the prestigious 55th Venice Biennale Arte. She studied briefly English Literature at the University of Indonesia before studying Fashion in London. She honed her art education and technical skills at the University of Minnesota, USA (1987) and the Royal College of Art in London (1988). She was a recipient of the Philip Morris Art Awards VI Indonesia (1999). In 1999, she was one of the winners at the Winsor and Newton Millennium Painting Competition.
Since March 2016 she has taken up her post as Indonesia's Ambassador for Bulgaria, Macedonia and Albania. No doubt her creative experience as an artist and the culture of her country will shine through in her diplomatic career.
Story Credits
Text by Carla Bianpoen
This article was first published in Art Republik.
---