---
Culture / Art Republik
Shinro Ohtake Talks STPI Gallery Exhibition
Shinro Ohtake creates pulp fiction at Singapore Tyler Print Institute.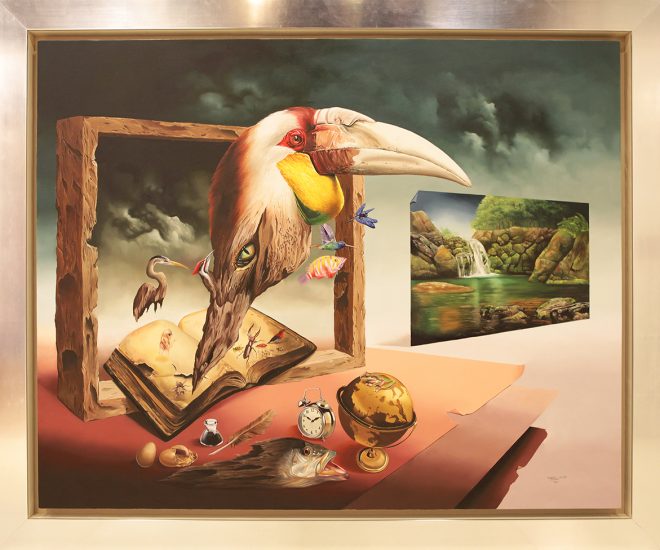 A red-and-white cow stands in a bright yellow field with the suggestion of a green mountain under a cloudy azure blue sky far off in the horizon. The striking work, titled 'Pasture', stretching over four meters across, is one of two large-scale paper pulp paintings produced by Shinro Ohtake at the Singapore Tyler Print Institute (STPI) workshop during his residency in 2015. It is part of the Japanese artist's solo exhibition, 'Paper – Sight', at the STPI Gallery until November 5, 2016.
Ohtake is probably best known for his assemblage works, though his artistic practice includes drawings, paintings, photography, music and video works. His 'Scrapbooks' series, which he began in 1977 are collations of bits and pieces amassed from urban life and mass media in sculptural scrapbooks. 'Scrapbooks #1-66' were last seen all together at 'The Encyclopaedic Palace' at the Venice Biennale in 2013.
Earlier in 2010, the artist had completed an architectural scrapbook of sorts with 'Naoshima Bath 'I♥湯'', a fully functioning bathhouse with eclectic components put together, including Edo Period 'shunga' erotic prints and a life-sized elephant sculpture. This was commissioned by Benesse Art Site Naoshima, on the island town that is considered mecca for contemporary art lovers. At his residency at the STPI Workshop, Ohtake continued his scrapbooking work with 'Book #1/Layered Memories', a 320-page sculptural scrapbook made up of 160 individual artworks filled with a colorful explosion of dizzying images and symbols weighing a hefty 130kg.
Ohtake was able to explore making paper art on an unprecedented scale with the help of the team and the equipment available at the STPI Workshop. "I had been very curious about paper art for a long time and had studied it through books but did not know how to make it in reality," says Ohtake. "The last time I had done anything related to printing, such as silkscreen printing and etchings, was back in art school many years ago."
For the first time, he used a ladle instead of a brush to create large-scale paper pulp paintings, including 'Pasture' as well as 'Yellow Path 1'. Tamae Iwasaki, senior education officer at STPI, explains the process. "We begin by preparing a huge white paper base. We then prepare the colors by dying paper pulp, which is white, with different pigments of yellow, pink and so on," says Iwasaki. "The paper pulp is quite physical, not like ink. Ohtake had to scoop up the dyed paper pulp to apply to the base."
Working at a brisk pace during his residency, Ohtake produced 140 works, both unique and editioned works, in just five weeks. What the artist enjoyed most was the speed at which his ideas could be realized, and he was eager to make the most of the unique situation. "Usually, I make a plate, and I send it to the printers and I wait and they send back the print, so there is a kind of timeline," says Ohtake. "But at STPI, there is no timeline. Here, I make a plate, and I can see the print the next morning. I think that's really exciting, and so it was easy to make many works."
The primarily fluorescent yellow works – even the frames are yellow – pack a visual punch as one walks through STPI Gallery. Works such as 'Yellow Sight 1', 'Square Landscape' and 'Smell' are the artist's response to the March 2011 magnitude 9.0 earthquake, the strongest in Japan's history that struck off Japan's north-eastern shore, which triggered a tsunami that destroyed thousands of homes. These natural disasters caused damage to the reactors at Tokyo Power and Electric Company's Fukushima Daiichi Nuclear Power Plant, causing a third disaster, with radioactive materials leaking into the environment.
The color yellow is a reference to uranium, a radioactive metal, which is also called yellowcake, and the devastating impact that radioactive waste has had on the lives of the Japanese people. However, the artist does not belabor the link between uranium and yellow that motivated his use of the color in these works. Ohtake says, "In this show, the yellow colour is connected to the radioactive problem we have in Japan. The fluorescent color is a radioactive color for me. That's one reason for the works being yellow. The people can see what they would like to, of course. Sometimes dangerous things can be really beautiful too."
Following the devastating disasters, Ohtake felt at odds with the state of affairs, which led to works such as 'Light in the Forest 1' and 'Indigo Forest 10'. These are composed of murky blue-greys that appear antithetical to the other works in the exhibition. The indigo forests are based on his memory of the forest he encountered in Kassel, Germany, when he was there to exhibit the work 'Mon Cheri: A Self-Portrait as a Scrapped Shed' at Documenta 13 in 2012. It was an emotionally trying time for the artist. "The forest works stem from my memory, and is not a particular place, but rather a forest in myself that I draw from my memory," says Ohtake. "I think many Japanese artists lost their confidence after the accidents. It was at this time that I started to paint memory forests using oil paint, for no purpose really. So the memory forest, or the indigo forest, is really important to me.
Memories are key to the artist's works. These can be personal memories, or the memories of others. "A found object is a piece of memory belonging to someone. Finding it is an encounter with someone's memory," says Ohtake. He recounts how he first had the idea to put together his scrapbooks. "When I was 21, I was at a flea market in London and I met a guy selling matchboxes and a few books with matchboxes pasted in them. I'm not sure if he had made these or if someone else had," Ohtake explains. "When I went through these books and I looked through my own work, in which I had already been unwittingly gluing and pasting things, I found what I had to do. The serendipitous encounter was the beginning of the scrapbooks."
Some works at the exhibition, such as 'Black Wall', feature vinyl records collected in Singapore, which the artist considers vessels of memories as well. They are used as plates for printing and also as added components onto the final artwork. "The vinyl record itself is also a memory of a sound in a past time," says Ohtake. "Somebody recorded it. The common point is that we can neither see nor smell sound and radioactive matter, but they are there." The haunting works, with the vinyl records trapped in thick, pasty yellow seem to allude to the unspeakable consequences of the nuclear disaster that the artist has had to come to terms with.
The works in the exhibition, some in muted indigo and most others in shocking yellow, when viewed together, reveal the inner workings of the artist's mind: at turns serene and conflicted. His oeuvre has displayed this duality for a long time. The artist says, "I have been told this over 40 years. Much of my work, coming out, looks rather chaotic but I like simple spaces and things as well. People often ask me why I also make these rather minimalist works, and it's impossible to explain. These opposites co-exist within me."
This article was published in Art Republik.
---