---
Culture / Art Republik
Sculptor Wiyoga Muhardanto: Observer
Sculptor Wiyoga Muhardanto shares with us his inspiration and how he sources for items to create works of art.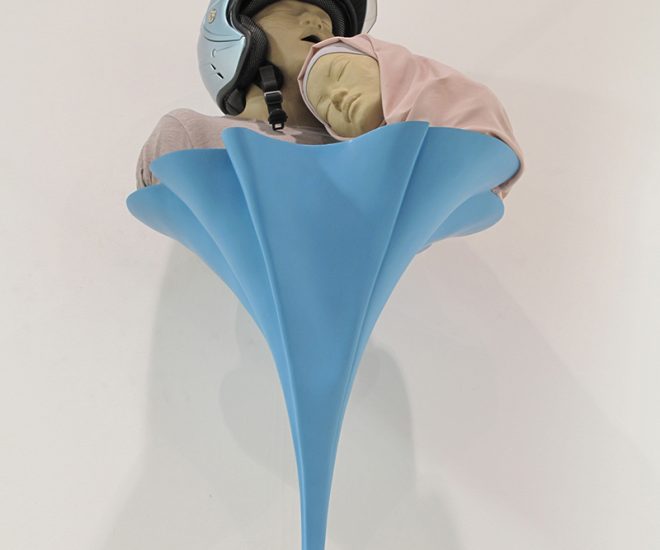 Wiyoga Muhardanto (b.1984) is an Indonesian sculptor based in Bandung. The artist came by sculpture unexpectedly. While he had wanted to major in visual communication design, he was instead accepted to the fine art department at the Bandung Institute of Technology. Inspired by the work of Nyoman Nuarta, a Bandung-based sculptor who created mostly large-scale wire and bronze sculptures, Wiyoga decided to major in sculpture.
A key concern in Wiyoga's oeuvre is in consumer behavior, especially as a reflection of social classes. An early body of work, the 'LV Violence' (2006) series saw the artist creating weapons from material used to make fake Louis Vuitton bags, as a study in consumerism and particularly the power that objects can hold over people.
Wiyoga is a keen observer of the art world, and creates humorous artworks that reveal idiosyncrasies of people who inhabit the industry. One such work is 'Conversation Piece' (2010), which was part of the 'Panorama: Recent Art from Contemporary Asia' exhibition at Singapore Art Museum in 2012. In this work, people are having a conversation behind a wall, and only their feet can be seen. The footwear suggests that they are the gallerist, the curator, the collectors, and the ibu-ibu, or the society wives, typical characters who would attend an exhibition opening in Indonesia. In this work, the artist focuses on the gossiping and negotiating that take place behind the scenes that go towards determining the success of an exhibition and of the artist.
An equally humorous installation about the art world was 'Distinctive Items' in the same year at the Hong Kong International Art Fair. Wiyoga created minimalist items made in the style of MUJI products that poke fun at what goes on at an exhibition opening or at an art fair. In all, there were nine items related to the art world: a pedestal, a frame, an empty canvas, a tote bag, a catalogue, and several accessory items. Through this work, Wiyoga conveyed the idea that the visual attributes of a lifestyle appear to have become more important than the appreciation of an artwork.
'Distinctive Items' was borne of Wiyoga's continued interest in consumer behavior, especially as a reflection of social classes. Accompanying the items were tongue-in-cheek instructional text for the purposes they serve. For the collector, there is the 'Cherry Empty Frame', a wooden frame without an image that acts as a work of contemporary art focused on the natural texture of the wood. For the gallerist, the 'Curious Cup' is a simple paper cup that is attachable to the booth wall to listen in on the adjoining booth for its sale activities in order for a competitive strategy to be put in place. Just like 'Conversation Piece', humor comes to be a delivery vehicle for perceptive observation of human behavior in the art world.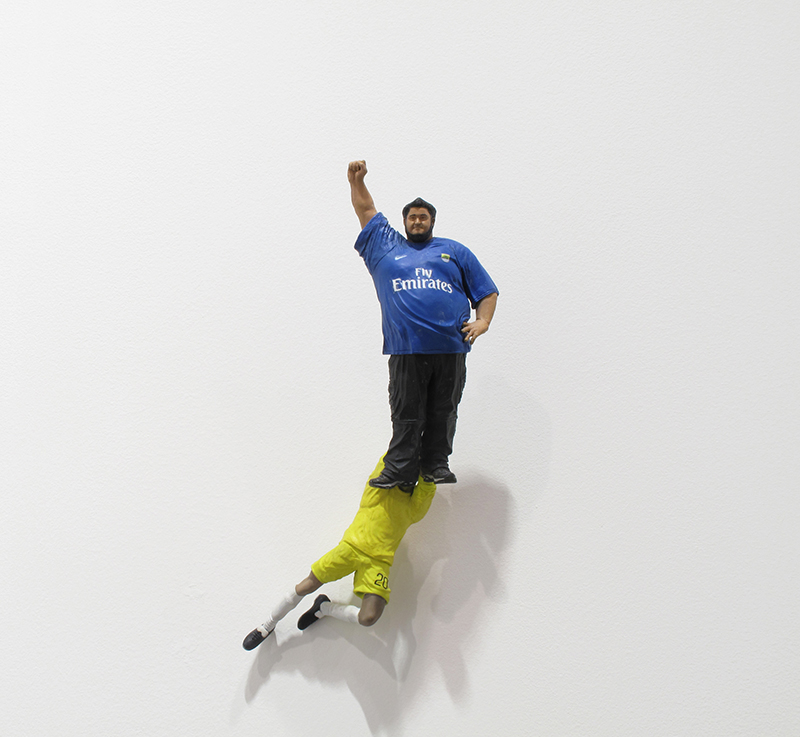 But it is not just from the art world that Wiyoga finds material for his artworks. The installation 'A Sporting Chance' at the Jakarta Biennale in 2015 pokes fun at Indonesians who gain access to wedding receptions uninvited by presenting a closed envelope with a token sum of a 5000-rupiah note, or simply an empty one, for the all-you-can-eat buffet. This attitude of trying to profit from any opportunity, which Indonesians call "aji mumpung", is the focus of Wiyoga's work. In this work, Wiyoga erected a tent of a forbiddingly low height of 60cm, with sounds of merry-making emanating from within, in a critique of Indonesians who at times cannot resist taking advantage of others.
Recently, Wiyoga has been focusing on the household, a more intimate and personal domain. With 'Nothing Happens', an installation at Equator Art Projects in 2013, he told a story about domestic problems between husband and wife in the setting of a kitchen. The artist outfitted the room with pared down sculptures such as a washing machine, a wedding photo, a fridge with plastic groceries, a plain wall clock, a dining table with a moveable top, a telephone with two receivers, and stacked wineglasses on a wooden shelf, hinting at the typical story of the life of a married couple, with all its inevitable ups and downs.
With his most recent solo exhibition, 'What If' at Art Basel Hong Kong 2016, Wiyoga worked with Dutch Bandung-based curator Roy Voragen to extend his solo project at Langgeng Art Foundation in Yogyakarta, focusing on the idea of the common people's anxieties as well as their desires, in a continued exploration of consumer products and the meanings they hold.
Within the installation were sculptures that were simultaneously poignant and humorous. In 'What If? (Figure No. 4, Frozen)', Elsa, the protagonist from the popular children's film is turned upside down, and her blue dress is elongated and expanded to envelope the figures of a man with a motorcycle helmet and a woman wearing a tudung, or a veil for Muslim women. It is a familiar portrait of two young parents working tirelessly to provide for their child, and embodies the anxieties that come with parenthood. Another sculpture, 'What if? (Figure No. 5, Shopping Bag & Slippers)', a single folded well-worn slipper, which could belong to the common worker in Indonesia, supports a pristine rectangular paper bag, which holds the promise of aspirational consumer products, revealing the desire for a better, more moneyed lifestyle.
Incidentally, Wiyoga is also the Director of Platform 3, which he started with two other artists and three curators. In his role, he oversees exhibitions and the artist-in-residence programme at the Bandung-based space. The artist is keeping busy preparing for his next solo show, which will take place at ROH Projects in Jakarta in November 2016.
---