---
Culture / Art Republik
Art Kaohsiung 2016: Polarities Converge
An eager look at Art Kaohsiung 2016, in Kaohsiung, a thriving hub in Taiwan for arts and culture.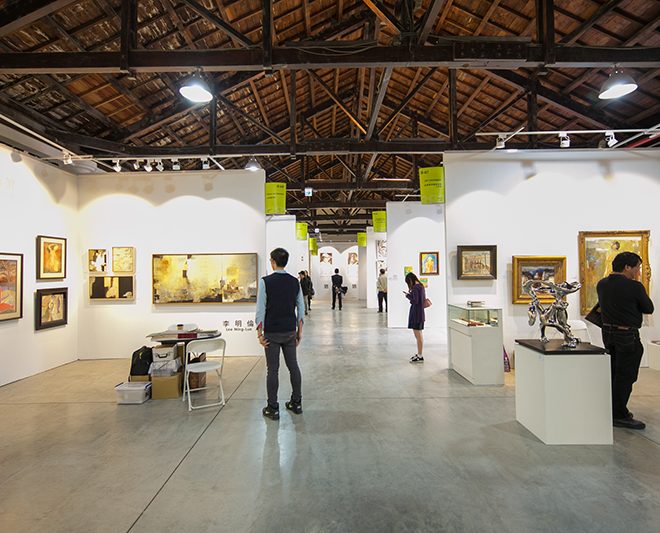 Kaohsiung is a picturesque Taiwanese oceanic city surrounded by breathtaking views of mountains, oceans, rivers and ports. Located approximately two hours to travel by train from the central of Taipei, Kaohsiung is a popular tourist destination in Southern Taiwan known for its quaint harbor-town vibes.
In recent years, the city has grown to become a thriving hub in Taiwan for arts and culture. Its biggest yearly art fair, Art Kaohsiung, will launch for its forth time this year from 9 to 11 December 2016 at the Pier 2 Art Centre Ponlai Warehouse and the City Suites. This year's theme is: Converging Southeastern and Northeastern Asian art.
In accordance to its central focus, the fair invites 10 Korean galleries (such as Dong San Bang Gallery and Keumsan Gallery) and seven galleries from the Philippines (such as Galerie Stephanie and Galerie Joaquin). Art Kaohsiung and Asia Hotel Art Fair Korea (AHAF) are collaborating this year to bring Korean modern and contemporary art to the Taiwanese market. Curated by Art Plus, Philippine art will also be introduced to the Asian art market.
A luxurious VIP tour has always been the spotlight for the art fair. Art Kaohsiung will provide a three-day VIP trip for 500 art collectors in Taiwan, as well as for the invited collectors from Korea, Philippines and Japan, to experience for themselves. It also targets 6,000 VIPs from Japanese, Korean, Singaporean and Malaysian associations of commerce in Taiwan, local construction companies and conventional industries. The tour involves a series of salon events, and aims to encourage interactions across different industries, supporting young art collectors and creating new possibilities for improvement in the art market.
Art Kaohsiung originally came about as an initiative launched by government in cooperation with the private sector to make Kaohsiung a metropolis, becoming the art stage of Southern Taiwan. The fair supports both local and international art galleries, and, just last year, reached a sales amount of 120 million NTD with 12,000 gallery-goers. Its great success over the years has boosted the growth in number of overseas gallery from 25 last year to 45 this year. Overall, the number of exhibitors has also grown from 60 to 100 this year.
Art Kaohsiung 2016 will contribute to the liveliness of city art, integrating galleries throughout Taiwan and Asia to establish Kaohsiung as a platform for international art exchange.
This article was originally published in Art Republik
---