---
Culture / Art Republik
Fast Forward: ArtScience Future World
A look at ArtScience Museum's landmark permanent exhibition 'FUTURE WORLD: Where Art Meets Science'.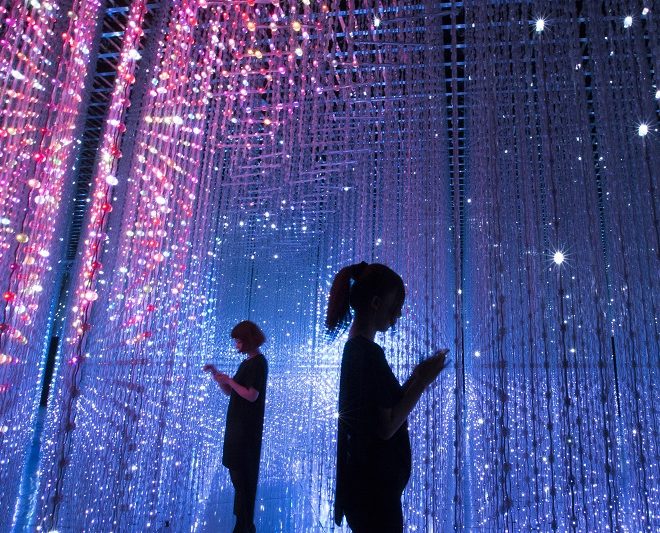 This March, ArtScience Museum, Singapore, unveiled its new permanent exhibition 'FUTURE WORLD: Where Art Meets Science', where 15 digital art installations come to life through cutting-edge science and technology. Co-curated with teamLab, a globally renowned Japanese group of ultra-technologists and multi-award winning art collective, the exhibit is Singapore's largest digital playground spanning 1,500 square meters, which is approximately a quarter of the museum's total gallery space. The immersive and interactive exhibition allows audiences to become an intrinsic part of the artworks on display, as the installations dynamically evolve through their presence and participation.
"We are thrilled to launch 'Future World', ArtScience Museum's new permanent exhibition to mark our fifth anniversary. At ArtScience Museum, we explore the intersection between art, science, technology and culture. Our exhibitions and programmes show that it is the interplay between these areas that creates innovation and new ideas. We believe that where art and science meet, the future is made. So, we are naturally drawn to teamLab's extraordinary work. Their fluid combination of artistic expression, technological ingenuity, scientific enquiry and their insistence that, 'we are the future', makes them ideal partners for ArtScience Museum," says Honor Harger, executive director of ArtScience Museum.
Featuring 15 digital installations specially selected and put together from teamLab's extensive collection of works, 'Future World' takes visitors on a journey of discovery through four key narratives – Nature, Town, Park and Space.
NATURE
The adventure begins with an enchanting stroll through an interactive world of flora and fauna comprised entirely of digital technology, recreating the experience of being connected to nature. As visitors move through these galleries, they are invited to reflect on the intricate relationship they share with their environment.
Flowers and People, Cannot be Controlled but Live Together – A Whole Year per Year; Ever Blossoming Life II – A Whole Year per Year, Dark; Flutter of Butterflies Beyond Borders (Interactive Digital Installation, Endless – 2016)
Three recent artworks of teamLab are presented in one gallery, bringing visitors into a beautiful ecosystem of digital flowers and butterflies. The artwork is both generative – the plants and butterflies are created algorithmically, and reactive – they respond to our presence and subtly change based on our behavior. The work is instantly evocative of a natural environment as it replicates the cycle of life, death and rebirth in real time. The flowers gently blooms in tune with the four seasons of the year, and thus this installation can be said to be one of the few places in Singapore where visitors can experience the four seasons.
100 Years Sea Animation Diorama (Digital Installation, 2009)
This larger-than-life installation gives a glimpse into the future, as it illustrates the rising sea levels wrought by climate change, based on scientific data derived from the World Wildlife Foundation (WWF). The prediction of the world's rising sea levels over a century is condensed into a 10-minute time frame. As the borders between the screen and the viewer dissolve, it creates the illusion of the viewer eventually being swallowed by the rising sea, encouraging visitors to reflect on the long-term environmental effects of climate change.
TOWN
The journey continues as visitors playfully glide via a slide into 'Town' – a bustling and lively cityscape where visitor-generated input builds up and populates virtual towns. Adults and children alike will have a chance to try their hands at urban planning and building architectural elements through fun and innovative ways.
Sketch Town (Interactive Digital Installation, 2014)
This highlight artwork depicts a fictitious town based on Singapore, including recognisable landmarks such as Marina Bay Sands, ArtScience Museum, the Merlion, and the Singapore Flyer. It is the first time the installation has been adapted to feature the city in which it is displayed.
Audiences can let their imagination run wild, as they colour in and draw objects such as cars, buildings, and spaceships. These two-dimensional pictures become animated and move around as they enter a large projected screen. The artwork grows and evolves constantly as different images are added. The objects in town move at different speeds and in different directions, as the audience touch them, bringing the town to life.
Sketch Town Paper Craft (Paper, 2015)
Connected to 'Sketch Town' is 'Sketch Town Paper Craft', a special installation that enables visitors to turn their drawings into paper craft patterns, which can then be assembled into original three-dimensional paper craft models. This is where the visitor's experience materialises into a physical souvenir to take home with them.
Connecting! Train Block (Interactive Digital Installation, Wooden Blocks – 2013)
In this interactive artwork, children work and play together to design their own transportation network. Wooden blocks, distinguished by shape and colour, are used to design roads, railways and rivers. Cars, airplanes, boats and helicopters can also be added to bring life to the infrastructure. As more blocks are placed on the surface, the table becomes busier, ultimately developing a cityscape.
Media Block Chair (Interactive Installation, 2012)
Consisting of fiberglass light cube chairs, these cubes can be seen as the building blocks of 'Town'. Adults and children alike are invited to construct high-tech furniture, like chairs and benches, or architectural structures such as walls and partitions. Each block communicates information to each other when they are connected, changing colour in the process. The installation encourages visitors to be both innovative and practical in the process of creation.
A Table Where Little People Live (Interactive Digital Installation, 2013)
The little people are a community of miniature characters who live inside circular tables. When visitor place their hands, or an object, on the table, the little people jump onto it. The actions of the little people change in response to the shape and colour of the objects which they interact with. The more they are interacted with, the more the little people become animated and playful.
PARK
The third chapter of this exhibition invites visitors to play and have fun, and to appreciate 'play' as an integral and essential part of human life. Here, children and their families are encouraged to learn and play together using a combination of physical and digital technology.
Universe of Water Particles (Digital Work, 5 channels, Continuous Loop – 2013)
As the visitors move away from the busy urban life of 'Town', they will be reconnected with nature through the spectacular centrepiece of the exhibition, 'Universe of Water Particles'. An eight-metre tall waterfall created in a virtual space with thousands of water particles cascades down the façade of the wall. The installation replicates the magnificence of an actual waterfall, inviting visitors to be immersed in a moment of magic as they encounter the grandeur of nature. The water particles are digitally programmed and generated to produce an accurate waterfall simulation flowing in accordance to the law of physics, producing an uncannily real waterfall that appears to be alive.
Create! Hopscotch for Geniuses (Interactive Digital Installation, 2015)
This unique installation lets visitors design their own customised hopscotch game by arranging circles, triangles and squares on an electronic tablet, which is then projected onto the floor. When participants expertly land on the same shapes in succession, they trigger off beautiful colours and sounds. Special connections exist between the shapes, which are discovered through practice. It is a game of discovery that tests the skills and imagination for all ages.
Light Ball Orchestra (Interactive Installation, 2013)
As the central work of 'Park', these light balls form an electrifying orchestra of sound and colour. Touching one of the large balls changes the colour and sound of the balls around it, creating a ripple-like effect. Movements from other areas send ripples in different directions, creating dynamic and playful interactions throughout the space. Participants of all ages playfully collaborate by pushing, bouncing and rolling the balls, continuously changing the composition, colour and sound of the space.
Sketch Aquarium (Interactive digital installation, 2013)
A favourite among children of all ages, this installation features a digitally rendered aquatic world where the two-dimensional sea creatures that visitors draw on paper come to life in a virtual ocean. The artwork grows and evolves constantly with the different images that the visitors add. Visitors can feed the fish and sea creatures by touching specific images of fish food bags on the screen. In 'Sketch Aquarium', individual creative processes become part of a unified, shared experience.
Story of the Time when Gods were Everywhere (Interactive Digital Installation, 2013)
In this digitally projected world, visitors of all ages can create their own environment by touching Chinese and Japanese characters, which then transform into natural elements such as wind, rain, trees and mountains. When visitors touch the characters, the story begins and the movement of their bodies further changes and evolves the world. Just as in nature where no two moments are repeated, the visitor experiences a new story each time he encounters the artwork.
SPACE
Beyond nature, city life and recreational sport, the journey through the exhibition ends by embarking outward and upward into astronomical space, taking visitors to the heart of the universe.
Crystal Universe  (Interactive Installation of Light Sculpture, Endless – 2015)
This monumental, immersive and interactive artwork enables visitors to experience astrophysical phenomena such as planets, stars, galaxies, and even the very recently detected gravitational waves, which Einstein predicted would exist a century ago. This stunning artwork utilizes teamLab's Interactive 4-D Vision technology, which allows users to control over 170,000 LED lights, which together give the illusion of stars moving in space. Thus, visitors experience the Universe from within it, as it surrounds them, and enfolds them, and responds to their presence, thus helping visitors understand themselves as part of the vastness of celestial space.
For more information, please visit www.marinabaysands.com/artsciencemuseum
Story Credits
This article was originally published in Art Republik
---