---
Style
WOW SG Festive 2018 – The Year in Watches
With Festive 2018 issue, we are launching our inaugural edition of the WOW Awards, a celebration of the 2018 Year in Watches from a consumer decision making perspective.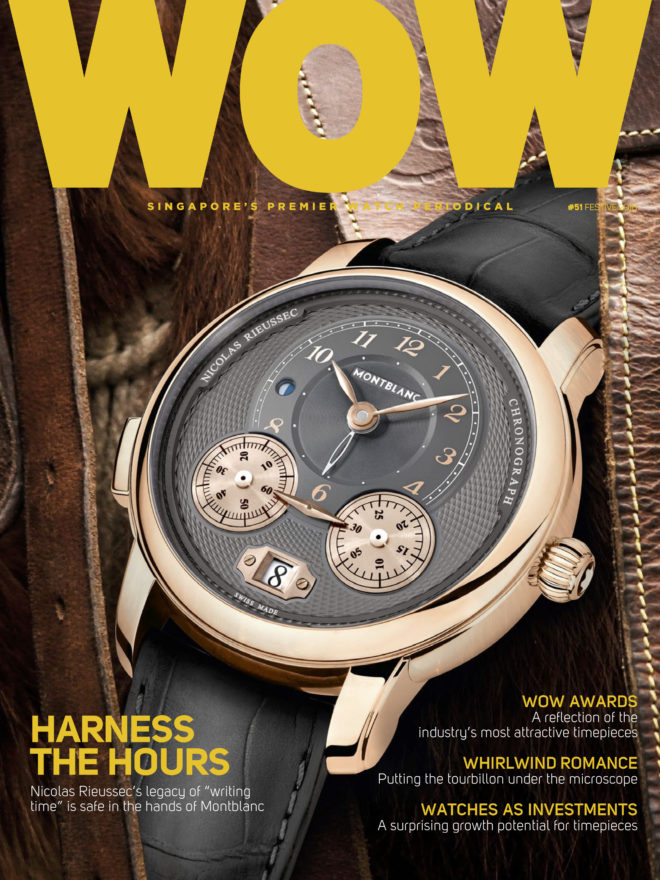 Haute Couture houses have their "fashion weeks" – trade events while the watch industry has had our "watch fairs" by way of the Salon International de la Haute Horlogerie (SIHH) in Geneva and Baselworld in its namesake town. Of late, the rise of these Couture houses in the rarefied realm of fine watchmaking has prompted some introspection on our part.
The WOW Singapore Festive edition 2018 takes a look at the year of watches and endeavours to provide some perspective to these new developments. For instance: What do we make of provenance if fashion houses like Chanel can make GPHG award-winning timepieces? How has a jeweller (and relative newcomer to watchmaking), like Bulgari achieved an unprecedented 5 out of 6 GPHG nominations in an industry so rife with some of the best (and oldest) horological minds in 300 years?
WOW SG Festive 2018 – The Year in Watches
With this December tome, we are launching our inaugural edition of the WOW Awards, a celebration of the 2018 Year in watches from a consumer decision making perspective. We've spent the past months leading up to this, scrolling through an endless gallery of timepieces in our mobile phones, scouring our past pages, and sifting through a mountain of press releases to bring our readers what we deem the best-in-show for timepieces this year.
Our Cover Star: Montblanc Star Legacy Nicolas Rieussec Chronograph
Last but not least, where would we be without our cover star? The history of the world expresses the poetry of the written passage of time and in Montblanc's Star Legacy Nicolas Rieussec Chronograph one finds a provenance deeper beyond the idea and concept of the chronograph; this timepiece is perhaps one of the rare instances in watchmaking where an idea of "record keeping" is so fundamentally expressed before its time that people are so fixated on what a "chronograph should be" rather than what it could be – a timing device which keeps pace without constant supervision. We hope that our essay will convince you to consider a rare perspective – that historical truths must be viewed in context with its translated impact on our modern era.
"A brand manager once opined that "World of Watches continues to be the best, consumer-centric publication with substantive editorials" to that I would like to add, "for good reason", our brand partners and readers who have stood by us and we moving into 2019, we will continue to deepen understanding of these brands, the legacy, and the intrinsic value of their offerings to our readers." –  Jonathan Ho, Editor-in-Chief
Do check out our labour of love, now on shelves in time for the festive season. Thanks for all the support!
---