---
Style
Interview: deLaCour CEO Alfred Terzibachian
We learn more about how Alfred Terzibachian does luxury.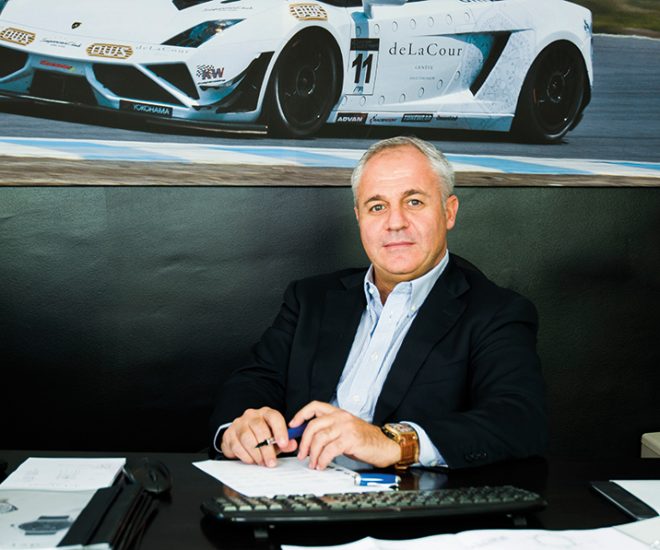 One of the finest luxury watchmakers in the world has brought its latest collection to Singapore. Alfred Terzibachian, CEO of deLaCour, discusses the brand, the new Reflect Tourbillon collection and how watch customisation plays such an important role in this segment of the market. We meet with him at deLaCour's Singapore boutique to learn more.
If you could please tell our readers a bit about the background of the brand and how it came to be?
We started the brand with three partners, and have been manufacturing watches even before deLaCour was established. That was over 20 years ago. Our specialty at the time was creating a small series of pieces for different jewellers, with each piece being different from the others, as if every piece was customised. Our clients wanted 10-30 pieces in each collection, with every one unique and different, so this became our strength. We then felt that we have to come up with our own brand, so that's how we invented deLaCour. To create a brand, the most important thing was to have an identity. Finding your identity can be done through your name, to have a nice name. We also found that shape is very important; we don't want people having to look for our name in order to identify our brand, so we found a nice shape that will help identify us. When we came out [as a brand], we wanted to come out with some novelties, because there are so many watch brands in the market, and to strike out [successfully], we have to have something different. We came up with the double chrono, and invented the double tourbillon with the double time zone shooting star with a moon face, as well as the double Minute Repeater. Through this, we achieved our identity, and the market started to know us more easily. Through our adventure with Timepiece World, we came back to our origins in customising watches for the brand. Today one of our strengths is in customisation, a trait that also helps identify us in the market. Everyone knows they can ask us and we can do it for them.
How has the brand evolved over the past 13 years since you started it in 2003?
In the beginning, we were hungrier to show the many things that our company could do. However, through the evolution of time, we found that there were negative points in attempting to do too much, so our brand yet evolved by slimming down our collection and concentrating on a few items only. Today, if you were to compare our brand with that of 10 years ago, we see fewer pieces, but far greater detail in each piece in the collection.
How would you say deLaCour differentiates itself from other watchmakers and stays unique?
First of all, through its shape. 80% of the watches in the market are round, so we came up with a unique shape, and people have to get used to this. If the brand is really concentrated on something totally different, then this becomes our differentiation. Secondly, through utilising materials that nobody used to use, or maybe now are using, like asphalt and cigar leaves. We used to come out with many things that later on we saw others using, but the other brands were much bigger and were able to spread the news, whereas we are a small company that brings out wood, cigar leaves, asphalt, and ceramics… so we differentiate ourselves with the technique of using this small series that we do and people enjoying small limitations with products that are different.
Can a customer come to you and request for a custom personal watch?
Yes, but it has to have our shape. We can customise a personal watch with no problem, and we have done that a lot, especially for many sports personnel, starting with the football world. We have a base in Spain, a big country for football, and many footballers and they buy everyday something different with unique requests. We have done a lot of unique pieces for many people in the football world, from Christiano Ronaldo to many others. He has five different pieces, each one different from the other one.
Who is the typical deLaCour owner?
People who are not afraid of the consequences of their decisions, who are not afraid to say: 'I want to be different. I don't care what he says, I like it.' We are not the first watch that somebody would buy, there are for sure brands that people want to have, that other watch lovers will have, and they will come to us if they see something different that they can add to their collection, so this is where we come in.
Tell us a bit about your new collection, the Reflect Tourbillon?
The trend in the market was to go into slimmer watches, no more of this bulkiness. We would like to follow it, but we didn't want to lose our identity so we kept the same shape and made it a bit slimmer, and this is how the Reflector came out. We came up with a special tourbillon with corundum columns that holds the movement in the case, another construction that made it a bit different. All our gent's watches are titanium; we don't use anything else. We have ov 95 hours of power reserve inside, so we found that it's enough to have our watch hand wound instead of automatic. Making the piece automatic will only make it thicker, so we felt that for this it's okay to have it hand wound with such power reserve.
How important is the market in Asia for the deLaCour brand?
It is very important, as it is for all other brands. Asians are more daring compared to Europeans and others. Europeans are very conservative, so for these kind of watches, through experience, I feel it's the right market for these timepieces. What drives you as a leader in a highly competitive luxury watch segment? I'm driven by people or watch lovers who accept the watches that we do. This drives me to do something that doesn't follow trends, something out of the ordinary, the normal, whilst still having the right crowd enjoy what we do, or enjoy our timepieces.
Tell me a bit about your management style and your team?
We are a very small team; we are around 25 people today. We work very closely together, multi-tasking mainly. No one does only one thing, we are all inter-combined, meaning that everybody knows exactly what is happening, which direction we are going, the good days and the bad days.
When you're not busy being CEO, what do you like to do?
Interested in boating? I like boats, I don't have my own boat, but I rent one sometimes. Travelling is something I do a lot outside of my private life, but I enjoy doing it even in my private life. Family life is important, as well as having good, but few friends. I'd also like to have a more easy and quiet life, rather than moving a lot.
Favourite watch that the brand has ever produced?
The Double Minute Repeater. It was very limited, and we created only 10 pieces at the end. It was an extreme complication. It had 2 double minute repeaters, and each minute repeater had a different sound. It was very challenging work, and very special work. I liked it a lot. Its look, its shape, and its function was really very special. It was made in 2007.
This article was first published in Yacht Style Magazine.
---