---
Motoring
Interview: Mike Simpson for Simpson Marine
Guy Nowell talks to Mike Simpson about Sanlorenzo, Monte Carlo Yachts, Viking Yachts, and the continuing process of introducing Asia to luxury boating.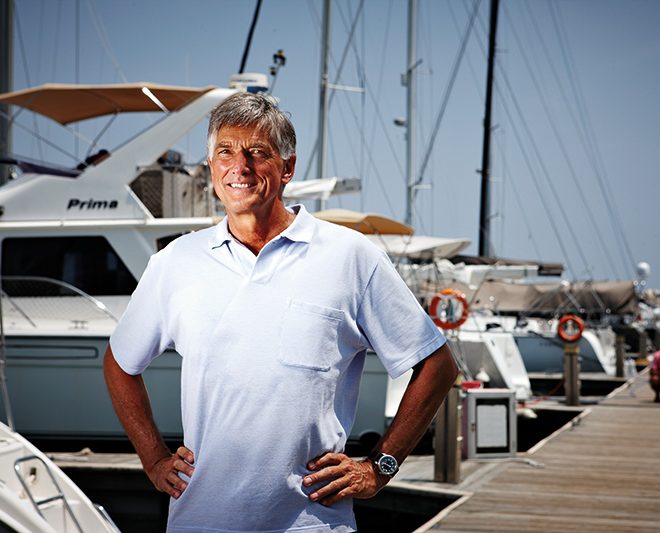 Some 35 years ago, Mike Simpson built a yacht in Taiwan with the intention of sailing slowly around the world. He got as far as Singapore, where someone made an offer he could not refuse and he ended up selling the yacht and flew back to Taiwan to build another. When it was nearing completion at the shipyard, the same thing happened again. Amazed at how easy it seemed to be to sell yachts, he then built a third and sailed her down to Singapore. Within a few weeks he had sold the third yacht and taken orders for two more! The penny finally dropped and he concluded that selling yachts could become a business. And so he put his cruising plans on hold and dropped anchor in Asia.
Today, 30 years later, Simpson Marine has 16 offices across Asia, and is the pre-eminent name in the marine leisure business. Its name is inextricably associated with Beneteau sailing and motor yachts ( "I've lost count of how many we have sold") and its subsidiary, Lagoon ("well over a hundred at the last count…"), and with Azimut on the motor yacht side of the business. But after 28 years things have changed: Simpson Marine is no longer the Azimut-Benetti dealer in Asia, and have become Asia-wide distributors for Sanlorenzo and Monte Carlo Yachts as well as distributor for Viking Yachts, the world leader in luxury performance sport fishing – a fast developing market in Asia. All this in addition to continuing to represent Beneteau Power, Beneteau Sail and the very popular Lagoon catamarans.
"It was time for a change," explains Mike Simpson. "Simpson Marine is a multi-brand company. We have always aimed to provide our customers with the yacht that is right for them, whether sail or power, monohull or catamaran, production or superyacht, and we do that by having dealerships for a few complementary ranges. Azimut wanted us to contract and become a one-brand dealership, the way that some car companies operate, so it eventually became inevitable that we should go our separate ways."
Simpson Marine has now become the China and South East Asia dealer for both Sanlorenzo and Monte Carlo Yachts (a part of Groupe Beneteau), thus replacing one brand name with two new ones. There's a bit of history here: Massimo 'Max' Perotti, started his boat building career with Azimut, and then bought into and subsequently became the owner of Sanlorenzo, while Carla Demaria started with Azimut, moved to Beneteau Group, and then became GM of Beneteau Group and CEO of Monte Carlo Yachts. "We go back a long way together," says Simpson with a smile. "Now we have come full circle. Over the years we have developed a strong mutual respect for each other and it is a pleasure and a strength to be working with trusted friends."
In the 1980s Sanlorenzo sold a few yachts in Hong Kong. In Europe, it was well-recognised as a 'premium' brand by a small yet discerning clientele. Today, it is the number two superyacht builder in the world, (by number of feet launched, according to the Global Order Book 2015). This has been achieved through an unrelenting attention to detail that goes down well in this part of the world. Simpson confirms that "clients in Asia want something special, something entirely individual. Designer interiors with a name to them. Custom finishes that nobody else has. Sanlorenzos are 'custom' yachts, not "off-the peg." Dealing with his long-term friend Perotti, he says, means dealing directly with the boat builder. "There's no middle man. We can go to Sanlorenzo with what the client wants, and Sanlorenzo can, and will, deliver."
The relationship with Monte Carlo Yachts (MCY) and Carla Demaria is similar. "Monte Carlo Yachts and Sanlorenzo are both highly respected leading motor yacht brands, and Simpson Marine represents the two brands in parallel. The differentiation between the two is a matter of personalisation and customisation, and Monte Carlo build boats that are substantially different. Sanlorenzo is a modern classic with clean, elegant lines. MCY has modern distinctive lines and designer interiors." Simpson notes that recent trends in motor yacht design have gone the way of "strong, aggressive, masculine," although not all buying decisions are made by men! "Monte Carlo designs seem to appeal to the fairer sex." At the same time as Simpson Marine are happy to be taking on the distribution of two new and strong brands, the company is ramping up its brokerage and charter operations. "Asia is still a developing market, and has never reached the boom status that has been trumpeted by some of the boating media. For many who are new to yachting, a conservative and less costly way to get on the water is to charter a yacht for a holiday, see if you like it, and maybe buy a pre-owned yacht. Then, when you have gained more experience and know what you want, you can commission a new build."
"We know serial superyacht owners for whom the design and build process is as much a part of the enjoyment of a yacht as the use of it. If not more." Simpson understands that newcomers to the world of luxury yachting need a lot of hand-holding. "We can provide that. We have recently sold a superyacht to a first-time Chinese client who spent a night on board a 40 meter yacht in the Mediterranean last year to convince his family they would not be seasick. Then he chartered a yacht for a week with some friends and finally took the plunge and bought his own superyacht. We handed the yacht over to him in Greece during the summer, and he went for an extended cruise in the Mediterranean before shipping to Hong Kong. It's a step-by-step process for those new to the experience."
On a smaller scale, Simpson Marine are now offering charter management for clients who have bought yachts from them. "This part of the business is growing rapidly in Phuket, and Lagoon catamarans are particularly suited to chartering. We offer a full management ("Yacht Care") service for owners to charter out their boats and earn income to cover their running costs when they are away from Phuket. When they return they find their yacht ready to go cruising, fully provisioned, fuel in the tank, and champagne in the fridge. We are trying to expand this operation to Sanya, where we have sold a number of Lagoons, but the operational model is very different – charter customers are still at the stage of looking for trips around the bay for a few hours. But in time we hope to convince charterers to be more adventurous and sleep on board!"
After three decades in the marine leisure industry in Asia, Mike Simpson believes that the future holds plenty of promise. "We have distribution agreements in place for the next five years with two exceptionally strong brands. We have a flourishing charter division. And one of our brands – Sanlorenzo – is part-owned by the Sundiro Group in China, who have also this year invested in Simpson Marine. There's a great deal of synergy there – and the long-promised boating boom in Asia could well be just around the corner! We live in hope!"
Story Credits
Text by Guy Nowell, Editor-at-Large, Yacht Style
This story was first published in Yacht Style.
---