---
Style / Jewellery
An interview with Bhavik Mehta, Founder of Family-Run Infiniti Jewels
PALACE speaks to Bhavik Mehta, one of Singapore's top diamond-grading experts and the founder of family-run Infiniti Jewels, to find out more about the industry and what makes his custom jewellery design and manufacturing house unique.
From the vaults of royalty to the elegant visages of society's rich and famous, there's no denying the enduring appeal of diamonds. As the market for bespoke fine jewellery grows, these covetable rocks are the epitome of exquisite beauty and investment value.
An interview with Bhavik Mehta, Founder of Family-Run Infiniti Jewels
PALACE: Tell us a little bit about yourself, how did you grow your passion for the industry and what was the impetus behind Infiniti Jewels?
BHAVIK MEHTA: When I was a young man, I used to follow my brother to his diamond manufacturing factory to see how he was working. My passion came instantly through seeing the process of raw diamonds being cut and polished—from a diamond in the rough to a gorgeous sparkling beauty.
Our inspiration for Infiniti Jewels was to create a brand that produces high-quality jewellery with high-quality diamonds. We also wanted to offer a very bespoke experience for our clients – from diamond-selection education to the formation of inspiring designs.
What sets your brand apart from other jewellers in the local industry?
Our brand is very unique in that we have a very strong focus on a personalised experience for our clients. What I mean by that is how each customer experiences something different—from choosing the right stone together with our experts to selecting the right design in collaboration with our knowledgeable jewellery designers.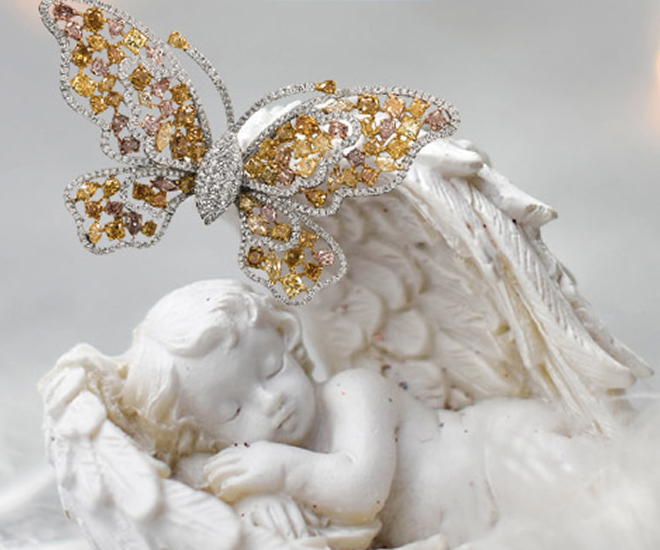 What kind of diamonds and precious stones do you work with and where do
you source them from?
Infiniti Jewels specialises in coloured diamonds— something that is very rare and not easily accessible—such as pink, green, yellow, and orange. We also have a variety of unique designs rendered in white diamonds, rubies, emeralds and sapphires. These gems are sourced from a variety of different places and countries, depending on where we get the best quality and price. The majority of where we get our gems would be Belgium, Israel, and India.
The demand for bespoke luxury products is growing with more consumers today wanting something unique to exclusively call their own. From your experience, what is the most often-requested jewellery design from your clients?
When it comes to bespoke jewellery, everyone has different taste and most who want to make a bespoke piece usually go for a unique one-of-a-kind design so there is no most-often-requested design. But what is common is that most people usually request for
a bespoke ring or earrings.
What are your thoughts on the current fine jewellery market? What future trends do you see emerging?
The current trend for fine jewellery is the preference for designs that involve more than one colour of diamond—so any combination of yellow, pink, white, green, and so on. Every customer has a different opinion of what is most valued, but what is increasing in price more than anything else is coloured diamonds, possibly due to the increase in demand and shortage of supply. I see this as a future trend as well, as more people are becoming aware of coloured diamonds and designs that involve these beautiful colours.
Take us through the process of customising a unique piece of jewellery with Infiniti. What can clients expect from such a collaboration?
When new customers visit us for the first time, we first educate them on diamonds by taking them through a sample certificate. We help them understand all the different variables that are important and that they should look out for. This will help them understand what kind of diamond would be best suited for them in terms of look and budget. For example, one of the most important aspects of a diamond to look out for is the cut.
One should always look for a stone with excellent cutting as that is what will really bring out the sparkle in a diamond. After that, we consult with them regarding the occasion they would like to create the piece for (if there is one). This helps our designers better understand what kind of aesthetic would fit the client's requirements.
Next, we show the client some loose diamonds, and after the selection of the centre stone, our designers then get to work to come up with unique design options for the client, a process which can take a week. Base on this, you can see how this is a completely personalised experience.
Your thoughts on fine jewellery and/or diamonds as forms of investment?
Diamonds are certainly a robust form of investment, especially solitaires, which give a good and safe return in the long run. What gives a better investment (in my opinion) is coloured diamonds, as those are more rare and harder to source for.
What would you say has been your favourite / most memorable project to date and could you perhaps share with us a little more about it?
My most memorable project is when we were in the process of developing our brand for the Malaysian market. We participated in some jewellery shows, and I remember how our very first show went terrible for us. We made no sales and this was perhaps because we were a new brand that not many locals knew of.
I had told my two sons not to be disappointed and to keep trying, and I pushed them to participate in more shows with the confidence that we will do well. Today, our persistence have paid off for not only have we expanded our booths at trade shows, we also make it a point to travel to Malaysia every two weeks to meet with our clients and partners.
What would be your dream design project if you haven't already achieved it?
My dream design project would be to create a masterpiece that can be worn in more than five ways. This would give the client a variety of different ways to wear one piece, making it look unique and value for money.
Is there anything in the pipeline for Infiniti Jewels that you would like our readers to know about?
All I can say is that there are exciting times ahead for our brand, which is currently collaborating with some of our exclusive partners in Singapore, Malaysia, Hong Kong, and Dubai for upcoming events that promise to be memorable for all. Besides also carrying an exclusive line of  diamond jewellery in our store, we are currently in the works of creating some unique coloured diamond pieces so do stay tuned for more to come!
Words by Olivia Lock
This story is republished from Issue 20 of Palace.
---