---
Properties / Luxury Homes
King Abdullah Economic City
The Saudi government is planning four new cities, in its bid to diversify the economy and increase employment opportunities, has encouraged growth in the non-oil industrial sector. The mega project was revealed in 2005 by Abdullah bin Abdulaziz Al Saud, the king of Saudi Arabia. As designed, the cities will have a total of four […]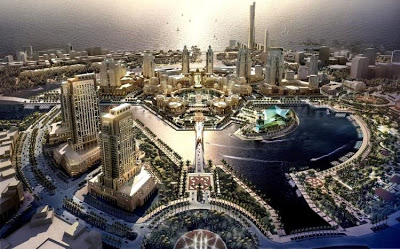 The Saudi government is planning four new cities, in its bid to diversify the economy and increase employment opportunities, has encouraged growth in the non-oil industrial sector.
The mega project was revealed in 2005 by Abdullah bin Abdulaziz Al Saud, the king of Saudi Arabia. As designed, the cities will have a total of four times the geographic area of Hong Kong, three times the population of Dubai, and an economic output equal to Singapore's.
The coastal King Abdullah Economy City (abbreviated as KAEC; pronounced CAKE – Arabic: مدينة الملك عبدالله اللإقتصادية‎) is designed to house two million in an area twice the size of Hong Kong.
Entirely funded by domestic and foreign private investors, this is the only one of the four planned cities that is currently under construction.
With a total development area of 173 km² (66.8 sq mi), the city is located along the coast of the Red Sea, around 100 km north of Jeddah, the commercial hub of the kingdom.
The city will be the largest transportation and logistics hub in the Middle East and will be approximately an hour away from the holy Islamic cities of Mecca and Medina by car and an hour away of the 12 Middle Eastern capital cities by plane.
The city will be divided into six main components: Industrial Zone, Sea Port, Residential Areas, Sea Resort, Educational Zone, and a Central Business District (Find out more details on Wikipedia).
The total cost of the city is $26.6 billion. The first stage of the city is planned to be completed in 2010, while the whole city is going to be fully completed by 2020.
The city will help diversify the oil-based economy of the kingdom by bringing direct foreign and domestic investments. Based on initial forecasts, the project and its several components will create up to 500,000 employment opportunities for the youthful population of the country, where 60% of the population is under 15. (Source CNN)
---