---
Motoring / Cars and Bikes
Jaguar Debuts First SUV With F-Pace
Jaguar's first-ever SUV delivers sportiness, power and grace despite its tough facade.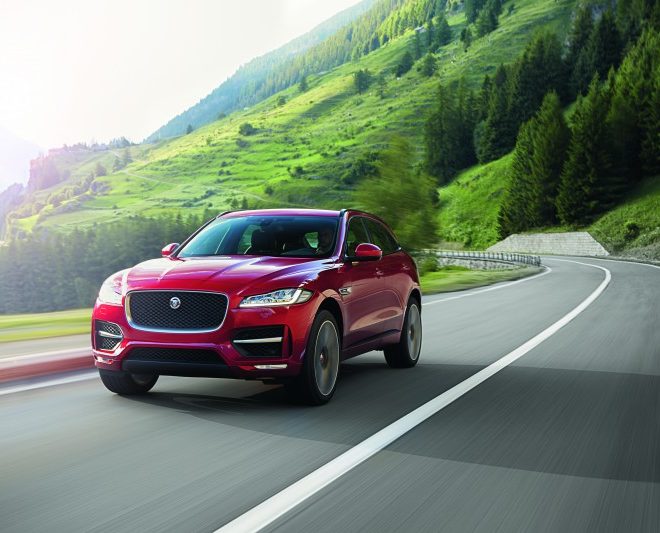 There's always a first for everything – vaccination, kiss and even spouse; the first is usually the most memorable. The same goes for Jaguar's first-ever SUV, the F-Pace, a jacked-up softroader that delivers more than enough power for that school run.
And Jaguar certainly didn't hold back on its affectionately dubbed "performance crossover" vehicle. Brought to life with either an Ingenium two-litre four-cylinder turbocharged diesel unit or the three-litre V6 supercharged petrol variants, the F-Pace is really more sportscar than SUV, and is well-positioned to rival the Beemer's X3, Audi Q5 or – dare we say it – the Porsche Macan. The former will bring you to 296 bhp, while the latter, 375bhp that propels the car to 62mph in 5.5 seconds.
We have to say that we were perplexed by the four-cylinder version and on the little makeshift test track as the Singapore launch, this version did seem to suffer ever so slightly coming out of corners and hitting the gas. That it works at all is a testament to the creativity of the engineering department.
The highly adaptable Lightweight Aluminium Architecture on the monocoque, previously utilised on the XE and XF models, work in tandem with the F-Type-derived double wishbone front suspension and Integral Link rear suspension for a refined yet dynamic ride. The Jaguar, being sister company to Land Rover, inevitably share the same gene pool. The standard Torque Vectoring, coupled with the Electric Power Assisted Steering system delivers specific handling and control for an enjoyable ride.
On that familial note though, don't expect all-wheel drive in this vehicle. However, an apple never falls too far from its tree, so all F-Pace variants are equipped with Jag's F-Type sports car rear-biased all-wheel drive transmission. The part-time all-wheel drive is engaged for safety when the weather turns grim and roads get slippery, as they are wont to do in the United Kingdom and indeed, the tropics.
Here is another first for Jaguar: an infotainment system that won't let you down. The F-Pace's new generation InControl Touch says goodbye to Fisher Price graphics of the past and instead sees a 10.2-inch widescreen in its place, providing crystal graphics and none of those tacky buttons. This big friendly SUV also comes in four trim levels – the entry level Prestige, masculine R-Sport and the high performance S and First Edition, an exclusive model dedicated to honoring the new F-Pace's launch.
"The F-PACE has been much awaited since its dramatic reveal at the Frankfurt Motor Show last year. Instantly recognizable as a Jaguar, our first-ever performance SUV combines maximum driving exhilaration and practicality and is sure to excite the senses," says Russell Anderson, Managing Director of Asia Pacific Importers, Jaguar Land Rover. "With its seductive look, exceptional ride and handling, it is the ultimate practical sports car. It drives, feels and handles like a Jaguar and we are extremely excited and proud to finally launch the F-PACE in Singapore."
The F-Pace is now available at Jaguar showrooms in Singapore, and prices start from S$245,999.
---