---
Lifestyle
Small Discoveries: Perrier-Jouët Belle-Époque 2007
The fresh notes of Perrier-Jouët's limited-edition cuvée are offset by a vessel that is equally imbued with the magic of spring.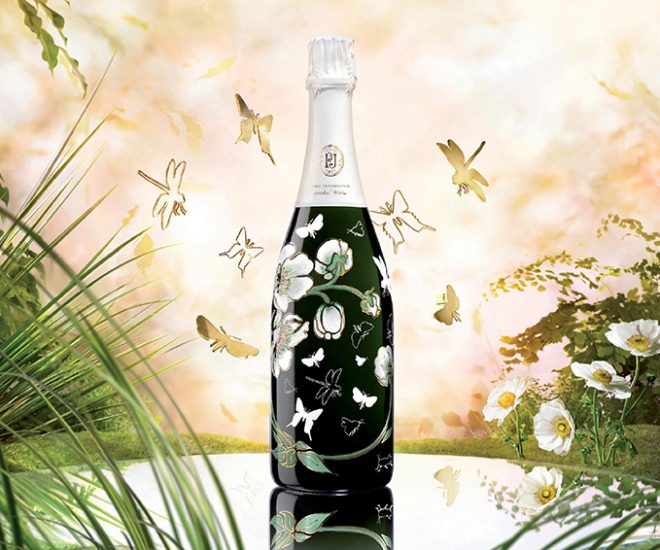 Nothing is so beautiful as spring," the English poet and Jesuit priest Gerard Manley Hopkins wrote as an opening line to his poem, Spring. Indeed, the loveliness of the season has been the source of inspiration for many an artist, not least for Austrian design duo, mischer'traxler, a moniker that amalgamates the last names of Vienna-based Katharina Mischer and Thomas Traxler.
The pair was commissioned by champagne house Perrier-Jouët to create a collectible limited-edition of the Perrier-Jouët Belle Époque 2007 in collaboration with cellar master Hervé Deschamps. Called "Small Discoveries", the cuvée – which contains notes of magnolia, honeysuckle, ripe pears, peaches and almond milk – is housed in a bottle that calls to mind the blooming landscape of springtime. Butterflies and dragonflies flit among flowering Japanese anemones creating a mise en scène that is the encapsulation of everything that's alluring about the natural world, and gives a nod to the Art Noveau movement and its fascination with insects as fantasy creatures.
When the cuvée was launched in London last September, mischer'traxler created an installation in the Norfolk House Music Room at the Victoria and Albert Museum, suspending from the ceiling 264 oversized blown-glass bulbs, each containing a hand-made model of an insect. When visitors drew near, thermal-imaging sensors triggered the fluttering of the 25 species of insects and the bulbs would also light up. "The heritage of Perrier-Jouët is very interlinked with Art Nouveau and they asked us to put it into a contemporary setting," says Katharina Mischer. "Being in the installation is like being in a dream, because you have all these elements moving around you – it creates a really magical moment."
And that's the kind of moment one longs to have with any glass of bubbly.
The limited-edition Perrier-Jouët Belle-Époque 2007 Small Discoveries by mischer'traxler is now available
in Singapore.
Story Credits
This story was first published in L'Officiel Singapore.
Download the Epicurio app on iTunes or Google Play now, to learn more about wines and purchase your very own bottle, today.
---