---
Lifestyle / Gastronomy
Singapore Michelin-starred Hawker Starts Food Chain
The hawker chef is looking to bring his Michelin-starred chicken rice dish to customers across Asia, through a partnership with a multinational company.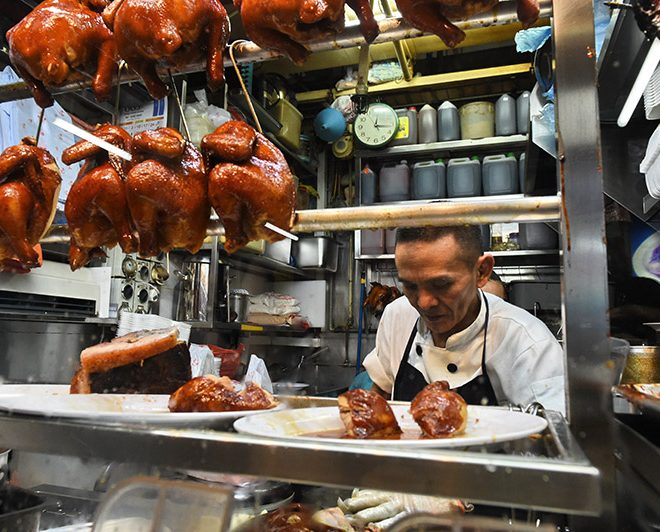 Remember when the inaugural Singapore Michelin guide made culinary stars of a couple of street food stalls? Now, one of those street-food chefs has found a way to serve his now-famous braised chicken rice dish to customers across Asia, through a partnership with a multinational culinary company.
The partnership between Chef Chan Hon Meng and Singapore-based Hersing Culinary (who holds the franchise for another Michelin-approved food chain Tim Ho Wan) will start with a new Singaporean restaurant before expanding across the region,as announced in a joint press conference. If this news sounds vaguely familiar, it is because we previously covered Chan's desire to find the right partner, where he even cited the Tim Ho Wan example as ideal.
"I'm very happy to find the right partner," Chan told reporters. "It's important that they are very enthusiastic about the food and beverage industry and they put their customers first."
The starting point of their joint project will be a restaurant called Hawker Chan, which will serve the signature chicken rice dishes that won over the Michelin judges. It will be located near Chan's current Chinatown hawker stall, with a capacity of 80 seats, air-conditioning and sit-down dining for a slightly higher price. The startup cost is estimated to at SG$1 million ($720,000), and Chan will get a 50% stake in the venture.
Chan's braised chicken rice dish, which you can get for just SG$2.50 (approx. $1.80) is a feat on its own. Today, people will queue for hours to have a taste of Chan's specialty, reportedly the cheapest Michelin-starred fare in the world.
"I'm very happy that I can bring something small that belongs to Singapore to go across the world," he said Friday. "If you work hard, you can be recognized and your day will come." The original stall will stay open, while Chan shall oversee both outlets.
Hersing chairman Harry Chua declined to give a timeline for international expansion, with financial terms for future outlets to be negotiated between the two parties. Currently, the group's dim sum chain Tim Ho Wan has expanded to the international culinary scene, with 38 outlets spread in nine countries.
The feat is a dream came true for Chan, who in indicated his desire to "be like Tim Ho Wan" in previous interviews.
---