---
Culture / Art Republik
Art Exhibition in January 2017: "Traces and Residues" by Kanchana Gupta at Helutrans, Singapore
"Traces and Residues" exhibition by Kanchana Gupta will be on display at Helutrans from 10-24 January, thanks to Richard Koh Fine Art Gallery,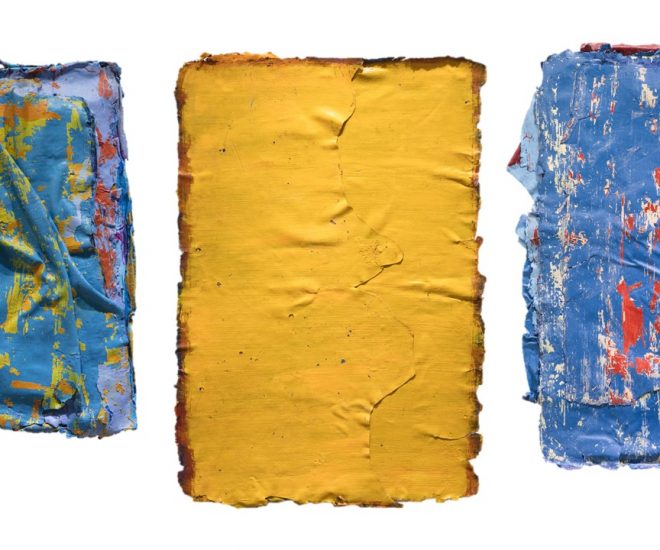 Exploring the importance of materials and gesture in the making of art, is Singapore based artist Kanchana Gupta's latest series "Trace and Residues", brought by Richard Koh Fine Art. Immediately intriguing, the colorful artworks soon reveal the secrets of their composure to the viewer. They are all made of oil paint skins, that are then turned into sculptural wall-mounted entities.
The creation process is delicate and requires time: First, the artist lays several layers of oil paint on a canvas, forming a thick skin. Then, the paint is removed from its original support and suspended. The peeled skin reveals its imperfections and bruises, allowing light to go through. The gesture itself is a performance, as the paint "fabric" is frail and can be damaged at any time during the process.
The act of revealing the rawness and the vulnerability of the matter is key in Gupta's reflection. As she exposes her paintings' past, she also invites viewers to think about how we sometimes let our own flaws surface and been seen by others.
"Traces and Residues" is not the first time that Gupta's work is taking centre stage. While this is her first show was at Helutrans she has also held a solo exhibition at the Institute of Contemporary Art, displaying her painting and mixed media work.
"Trace and Residues" by Kanchana Gupta, 10-24 January 2017 Artspace @ Helutrans
More info on Richard Koh Fine Art website
---