---
Style
Glashütte Original Thrills Singapore Collectors
The German watchmaker celebrates the opening of its new boutique in the region with a spectacular splash.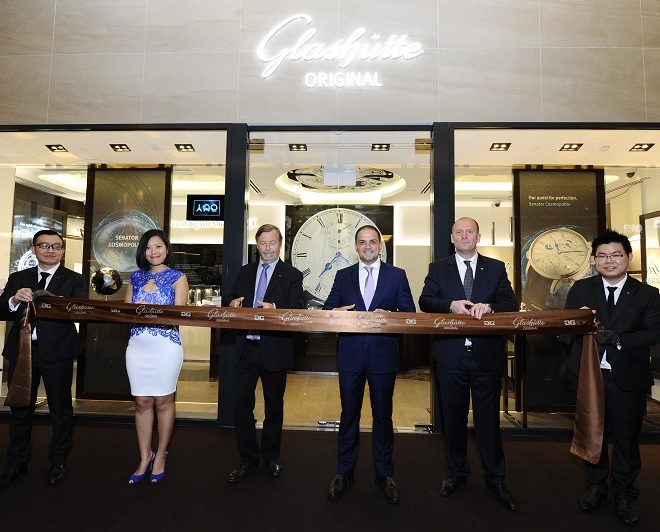 With the presence of what seems like an endless parade of luxury stores in Singapore, things are looking up for the high-end market here. Recently, Glashütte Original dropped in as well with its own boutique, while also having two more over in Beijing, all in a span of six weeks. They held a spectacular launch last month over at the Marina Bay Sands, where an exclusive group of guests were welcomed by the president of the German watchmaking company Yann Gamard and Regional Sales Manager Wolfgang Lackner.
The opening was officiated by a ribbon cutting ceremony, and, to spice things up a little in a specially Asian way, it was followed by a lion dance performance. The rest of the evening was celebrated with an exquisite fine dining experience at Spago, and on the Sands Sky Deck. With a night view of the city's skyline as a backdrop, guests had the opportunity to view the various novelties brought around by the brand this year, since the global release in Baselworld. They also had the opportunity to view watchmaking techniques from a Glashütte Original watchmaker.
In the dining hall, there was edible art in the form of delicately crafted stackable gears with little chocolate treats. The menu was specially prepared by Celebrity Chef Wolfgang Puck and his team, mixing up an imaginative and seasonal touch of fine cuisine with global accents. The latest timepieces were presented, such as the brand new Senator Excellence with the Calibre 36, a new version of the Senator Chronometer featuring a distinct blue face, and refined versions of the Lady Serenade.
This grandiose opening marks the start of Glashütte Original's greater presence in the Asia region, and a great boon to horologists here as well. A night of common love in the art and craft of watchmaking – what greater joy could you ask for?
---