---
Properties / Hotels
Iconic hotels in Paris: Revamped Hôtel de Crillon opens at Place de la Concorde
From Sophia Loren to Shah Mohammed Reza Pahlavi of Iran and more, the highly-anticipated re-opening is finally here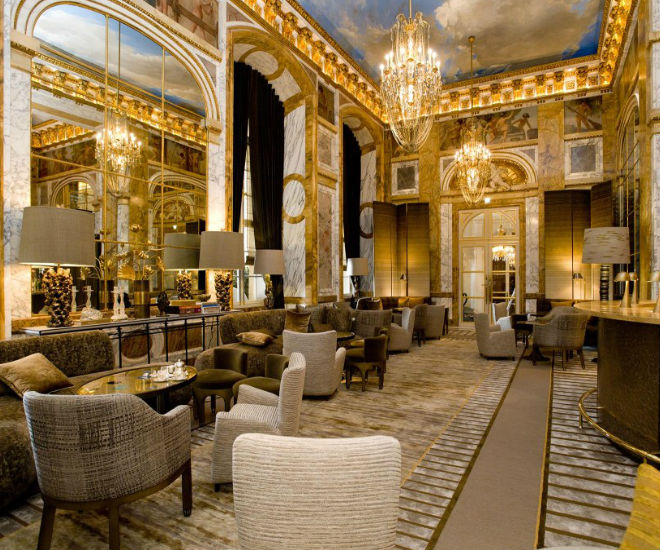 After four years, the majestic Hôtel de Crillon, located in the heart of Paris has thrown open its doors to welcome back guests and Parisians. Situated at 10 Place de la Concorde, many have come to love the luxurious hotel that has long been a symbol of the city's style and elegance. First opened in 1909, it now boasts 81 rooms. 33 suites, 10 signature suites, a gastronomic restaurant, a brasserie, a bar and winter garden, a spa, a hair salon and grooming spaces. To help bring the restoration to life, the hotel enlisted 147 Métiers d'Art artists who showed off their skills by combining history with modern amenities.
Stepping through the doors of the hotel, and guests will be greeted by luxurious interiors that do justice to the $200 million worth of renovations by Rosewood Hotels and Resorts. With $1.8 million spent on the rooms alone, rest assured, this elite hotel has spared no expense with the bespoke pieces, antiques and objets d'art that fill the room. With rooms costing $1,800 onwards per night, the hotel even has a top floor that houses the Leonard Bernstein suite that is available from $28,000 per night.






The Grands Appartements, made up of two suites and a room, have been decorated by none other than Karl Lagerfeld. Staying true to the hotel's heritage, the German designer has incorporated hand-finished wooden panels, Baccarat chandeliers, a walk-in wardrobe and marble bathrooms stocked with products from L'Officine Universelle Buly. Peppered around the hotel, are sculptures that have as storied a history as the hotel itself. A standout, is a Baccarat crystal elephant sculpture that has been restored to its former glory and is featured in the hotel. First created in 1878 for the Paris World's Fair, it is just one of the many attractions that will have guests enthralled.
Those in search of gastronomy will be happy to hear of Chef Christopher Hache who has made his return with a fine dining restaurant called L'Ecrin. The other restaurants that will be joining the lineup, are Brassierie d'Aumont under the care of Justin Schmitt and Jérôme Chaucesse for pastries.
---