---
Motoring / Cars and Bikes
Porsche Panamera Turbo Sneak Preview
Four Doors, but who's counting? The All-New Porsche Panamera Turbo launches in Singapore.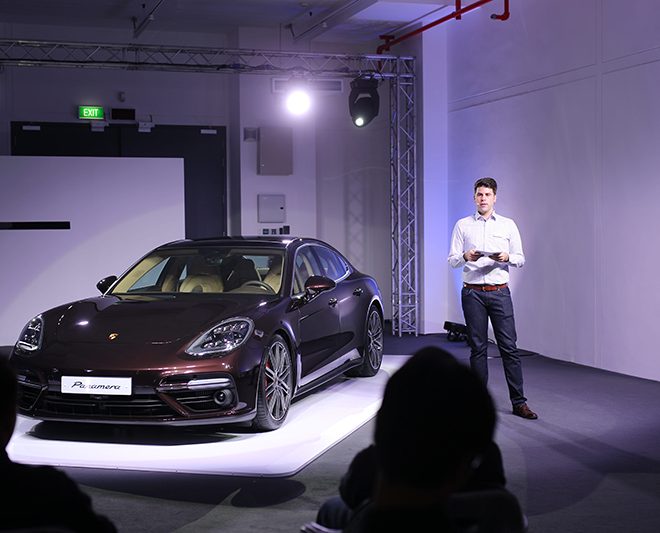 The car that once set the benchmark for all four-door sports sedans is back. On November 2 the Panamera Turbo made its debut in Singapore to exciting fanfare. As part of its launch, the car was first shown to the media in a secret high security vault. A very exciting way to kick off showcasing the vehicle! It then went on to tour the city for four days, from November 3 to 6. Starting at the famous Fullerton Hotel, the car travelled to Dempsey Hill, Suntec City, ION Orchard and completed its tour at the W Hotel.
The all-new Panamera was towed by a Cayenne SUV with an entourage from Porsche Club Singapore. Tim Oh from Class 95 and Mike Kasem and Vernetta Lopez from Gold 90.5 were also in attendance at Suntec City and Porsche had their own complimentary ice cream for everyone that came to check out the sedan.
So how is the new car? Having sat in it at a special press preview, the quality is vastly improved over an already well-built product. The interior features more tech, more style and more space. Basically everything in the new car is digital with LCD screens consuming most of the front cabin, save for the rev counter, which sticks with the traditional center analogue gauge. The driving position has not been compromised either. You sit low, but with lots of visibility. The rear is a much more inviting place to be in than before and features more space while still giving the feeling of being in a coupe.
A lot of traditional sports car manufacturers that go on to make sedans end up compromising on interior quality, but the Panamera feels like Porsche has been doing this for decades. The exterior styling sticks with Porsche's philosophy of evolution over revolution. You can still easily recognise it as a Panamera, however it is a prettier car than the previous model and I believe it will appeal to more people. The new active aero spoiler is an extremely cool piece of kit as well and is probably my favourite feature on the car. The way it deploys looks like something out of Transformers.
Up front you'll find a new 550 hp 4.0 L twin-turbo V8 in this "Turbo" model. However, like most Porsches now, expect a large portion of the range to be turbocharged. You can also expect a blisteringly quick 0 – 62 mph time of 3.8 seconds with the Sports Chrono Package installed. Emissions and fuel consumption have also been improved and the PDK transmission has been updated for faster shift times and improved performance depending on your style of driving.
There will be three cars initially released in Singapore, the Panamera 4S, 4S Diesel and Turbo. I never thought I'd say this, but personally, I'm most excited about the new 8-cylinder 4S Diesel. The horsepower and torque figures Porsche are extracting from the engine are out of this world. There's 422 hp and 850 Nm of torque on tap, producing a 0 – 62 mph time of 4.3 seconds with the Sport Chrono Package and a top speed of 177 mph. That makes the Panamera 4S Diesel, the fastest production diesel in the world! It will have some immense pulling power, along with a really good range on a full tank.
Stay tuned for a full review…
---