---
Culture / Art Republik
Unnamed Hills
White Space Singapore presents Huang Hong Tao's signature series Unnamed Hills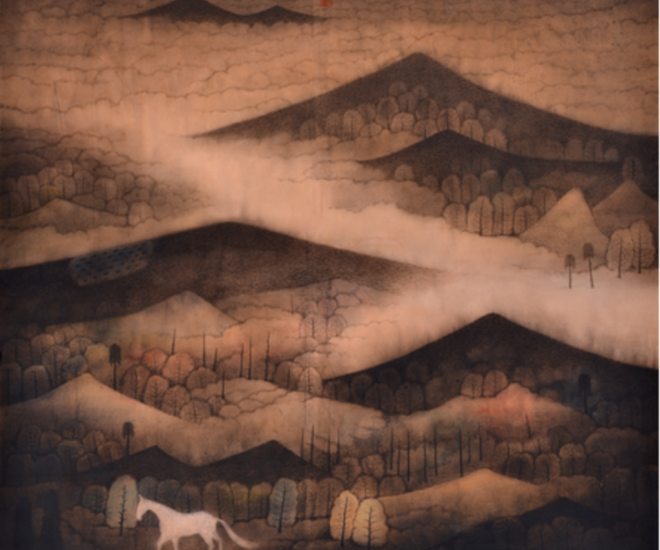 In his signature series Unnamed Hills, Huang Hong Tao inherits the spiritual tradition and content of traditional Chinese ink painting. The series was born from Huang's emotional attachment to the rolling hills of the Heilongjiang region where he grew up. The result is paintings that feel deeply personal and in some ways, sacred. Instead of depicting the larger, more well-known mountains, he chose to feature the smaller, less dynamic and rarely noticed unnamed hills, hence the name. Huang describes the series as a spiritual pursuit, a safe space that is an expression of his personal experiences, learning and wisdom. It is the natural expression of his attempt at understanding and communing with nature.
Unnamed Hills, like most Chinese ink paintings, features the spaces beyond, allowing the artist to 'see the details from a larger perspective'. Huang notes that there is great character in the landscapes he chooses to paint, and how observing them prompts reflection on the relationship between man and nature (this might explain why in many of his paintings, he has included a figure that appears to be either a person sitting in meditation or a Buddhist statue). In no easy feat, Huang perfectly captures both the vastness and intricate details of space. The artist uses particularly thick rice paper to better capture layers of ink wash, creating an atmospheric effect of the play of light on the scenery as well as the imagery of mist in the distant hills that gives each painting a certain dream-like quality. He also uses an almost 'gongbi' style of meticulous fine brushwork to bring out the finer points of the landscape.
White Space Singapore will be bringing Beijing-based Huang to town for a solo exhibition Contemplation in line with the gallery's aim to identify, cultivate and support emerging talents whose artistic voices should be heard. The exhibition will be held at the Arts House Gallery from 21 to 24 August. 
---