---
Culture
OM Presents New Furniture Range in Singapore
Luxury furniture brand OM recently unveiled a new range at its showroom that may soon be seen in its next project.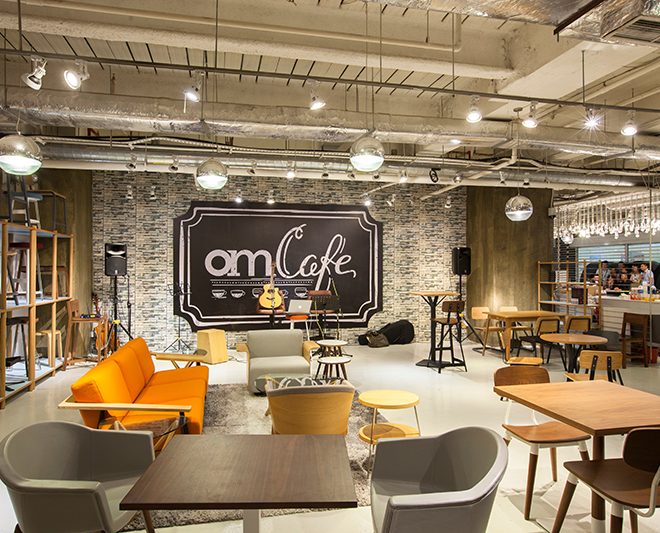 Chances are you have stepped into a room or restaurant that has been curated by OM, an imprint of Nobel Design in Singapore. The luxury furniture company recently unveiled a new OM range at its showroom in Liang Court in the city-state. Boasting a lineup of international collections, the brand had curated the pieces to present a hospitality and F&B set-up on October 7.
Before being invited into the warm and cozy showroom, guests were first brought to the OM Café which provided a mix of food and drinks for the night. To highlight the new collections, OM created three main areas within the showroom: Bedrooms, Café and Lobby. To help get guests familiarized with the collections, OM flew in three of the designers, Sean Dix, Kelvin Ng and Mario Mazzer from Hong Kong and Italy.
Sean Dix is the designer behind the Panda Series that presents an all-natural finish to the seating, thanks to veneered plywood. Paired with powder-coated steel legs, and available in multiple veneers, the furniture is versatile and able to conform to almost any space. The statement piece came from Kelvin Ng with the Diamante Sofa. Using genuine leather strips that are sewn and stitched along angular genuine leather pieces, the sofa offers numerous combinations. In a variety of colors and selections, the designer proved that personalization is not limited to fashion but also extends to furniture.
The final highlight is the Tiffany Collection by Mario Mazzer that stands out thanks to its unique leg shapes. Each of the pieces are designed in a way that they appear to float above the floor. OM also presented guests with an outdoor collection by Sover Klas that is known for its reliability and use of quality materials.
For more information on the new range of products, visit OM.
---