---
Culture / Art Republik
Interview: Photographer Peter Steinhauer
Art Republik sees blocks and cocoons with fine art photographer Peter Steinhauer as he discusses Singapore and Hong Kong.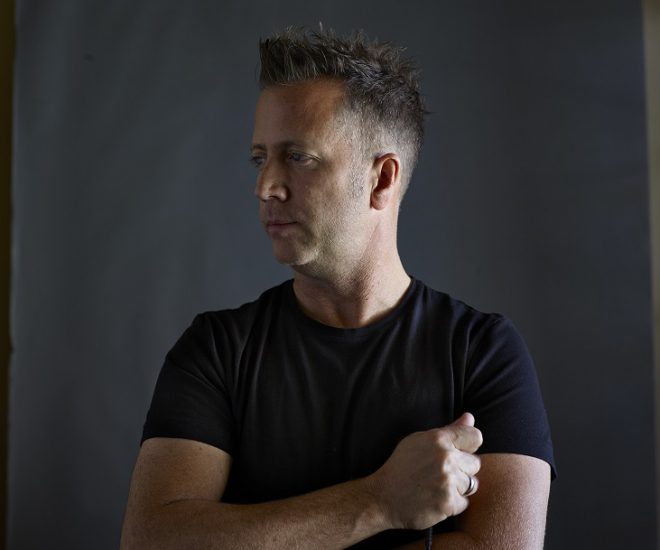 Award-winning fine-art photographer Peter Steinhauer recently showed at REDSEA Gallery Singapore his Singapore 'Number Blocks' and Hong Kong 'Cocoons' series based on having lived in the two cities during 21 years of residing in Asia.
Singapore 'Number Blocks' is a series that captures the bright colourful number markings found on the sides of HDB buildings of Singapore. For Steinhauer, the interest lies in the unusual colour schemes and deliberately scripted fonts used on these government housing blocks that are the very heart of the multi-cultural integration that is Singapore. Meanwhile Steinhauer's 'Cocoons' series documents the surprising beauty of a construction technique native to Hong Kong – the bamboo and fabric nets that encase the 'metamorphoses' of a building project.
Peter Steinhauer's work is held in collections at the Carnegie Museum of Art, the Hong Kong Heritage Museum and numerous private and corporate collections worldwide. Born and raised in Boulder, Colorado, Steinhauer developed an early fascination and appreciation of culture which culminated in him living in numerous cities throughout the US, Stockholm, Sweden, Hanoi, Saigon, Vietnam, Hong Kong and Singapore.
Describing himself as a purist from a photography background not a digital artist, Steinhauer speaks with Art Republik about Singapore, Hong Kong, and his work.
What's your favorite building in Singapore?
My favourite building is not one that many would probably think or know of. It is an old shop house on the corner of Jalan Besar and Veerasamy Rd. The most beautiful detailed building in Singapore in my opinion. Painted a light pastel blue, accented with emerald green small square tiles with pink roses with emerald green roof trim and terracotta tiles. The detailing of the glass tiled windowed doors and the ornately flower looking carvings on the faced is something that I look at every time I pass it. No one makes houses like this any longer.
HDBs and their corridors are loaded with nostalgia and psychic weight for Singaporeans, featuring often in art films. Why do you think that is?
The character of them. It is Singapore, and has the identity of Singapore within them. Again, it brings it back to the culture, the multi-cultural, race and religion that make up Singapore. The background of Peranakan, Chinese, Malay mix, the food and way of life. This is what makes up Singapore, not the Marina Bay Sands. Beautiful, yes, but it is not the culture and background of Singapore. You find it, like in any other Asian culture, in the working class, foundational groups of people, and in Singapore, they are in HDB's. I am sure this is why many films are made in or with them.
Tell us about your Hong Kong 'Cocoons' series.
In my 'Cocoons' series, the structures are encased in bamboo scaffolding, then the colored material is draped around the bamboo to stop debris and other things from falling onto the streets below. I first started the interest in these on my first trip to Hong Kong in 1994. I was living in Hanoi, Vietnam at that time and had to go to Hong Kong as my visa had run out. Outside of the old Kai Tak airport, I saw this massive building across the street and it was covered with bamboo and yellow material. I thought it was the environmental artist Christo and his wife Jean Claude wrapping buildings (as is their art) in Hong Kong. I quickly realised, after seeing others on the way to my hotel, that this was a construction process. I found them extremely interesting as they look like giant colored wrapped packages within a mono chromatic, dense concrete urban environment. I made images of these as well, snap shots if you will, every time I visited Hong Kong. When I moved there in January of 2007, I started photographing them as a full-time project. The 'Cocoons' book is under design as we speak and hope to have it published in 2016.
What first brought you to Asia, and what kept you here for so long?
My background with Asia, starting with my father being a doctor in the Marines in the Vietnam American war. I was born while he was there and growing up we always had slide shows of his snap shots of Vietnam in the living room; from third grade until a senior in High School, I gave the same slide shows for extra credit. He started going back to Vietnam in 1988 and helped start an organization that gives donated medical equipment from the US to Vietnam and developed friendships with people there through this work. I finished photography school and had a chance to go there to make my art and was going to stay for a few months. After one week there, I had felt so comfortable with it all and knew this was the place I was supposed to be. I travelled around Asia while based in Vietnam working on my projects and just felt that there wasn't a better place for a photographer. I stayed for the next two decades!
What kind of camera setup do you have?
I work with Phase One IQ260 medium format digital back, which is a very high resolution 65 megapixels. It is attached most of the time to a Cambo WRS 1250 technical camera that is made for architecture. I use Schneider Digitar lenses and Lexar compact flash cards. Occasionally I use the Phase One camera body with the IQ260 digital back but mainly the technical camera. All my work is set up on a carbon fiber tripod. My exposures range anywhere from 1 second to 1 minute for most cases. Oh, and I like to work on cloudy days.
Why is that?
I prefer soft light. It focuses more on the subject and I can push the contrast more without losing details. You can see what's hanging on their doors even if it's in the shadows, you can even see through people's windows.
What kind of a photographer do you consider yourself?
I'm not so much a social documentary photographer. I just take pictures of things because of the way they look to me. What interested me about the Singapore 'Number Blocks' is that someone took a lot of time to find color schemes and fonts — sometimes scripted or blockish or art deco fonts, some with drop shadow and lots of style — and I was intrigued that they put a lot of effort into all of that.
*For more information, please visit www.redseagallery.com
Story Credits
This article was originally published in Art Republik
---