---
Culture / Art Republik
Focus: Maison&Objet Asia 2016
Expect big changes at Maison&Objet Asia 2016 but number isn't among them. When the show opens March 8, expect a renewed focus on quality.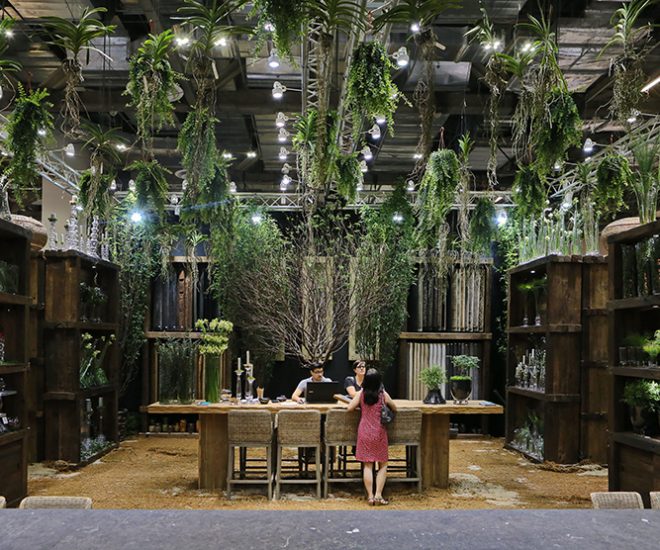 "It's not all about the numbers," Regina Chan says with emphasis, "this year it's about making our positioning clear." Chan, who assumed the newly created position as M&O director for Asia-Pacific in July 2015, is tasked to grow the M&O Asia brand across the globe, develop its audiences, and highlight its relevance in the Asian market. Ahead of the opening tomorrow, March 8 in Singapore, our friend the editor of Form magazine in Singapore brought us this story, direct from Chan herself.
M&O Asia launched in Asia 2014 with a well-attended inaugural show that drew participation from brands with international cachet, introduced a host of top-drawer speakers to the M&O Asia Summit, and shone the spotlight on a handful of upcoming design talents. Regional designers showed in national pavilions as the likes of Tom Dixon and Paola Navone headlined 45-minute talks throughout the show's five-day run; it also named Kenneth Cobonpue Designer of the Year.
Without doubt, novelty played a major part in gathering the buzz for the first show; M&O may have been the major biannual trade event of its kind in Paris, but was a totally new entity in Asia. Comparisons among existing trade events around the region favored the newcomer, which was viewed as being more sophisticated, upmarket, and global—but with an Asian perspective. 
The post-show report card showed high marks in participation and attendance, and testimonials were uniformly buoyant, so much so that the organizers vowed to return the following year bigger and better.
But the second edition of M&O Asia was less stellar. There were fewer exhibitors than the first show; some returning brands brought what they have already shown in the January edition of M&O Paris, and even then, as a pared down version. Regional brands, many of them small- and medium-sized, worried about the disparity between the cost of participation and the value of deals closed during the show.
"A lot of people had the misimpression that M&O Asia was a sourcing show; that's one of the reasons some of them went home with unmet expectations," Chan clarifies. The event, she emphasizes, is for an exchange of innovative ideas among suppliers and specifiers; it is also for manufacturers to get to meet property developers, hoteliers, and specifiers who will require their services and products. "It works well for entities that are looking for a long-term business partnerships, but maybe not for those seeking to make a connection with agents and retailers." Although that may happen, it is secondary to the fair's objective.
Organizer SAFI is interested in cementing the show's relevance in the Asian market, especially given its plan to stay for the long haul. From the choice of Singapore as permanent venue to the selection of people who will run the show in Asia, deliberate choices have been made. Working closely with M&O managing director Philippe Brocart and international development director Frederic Bougeard, Chan reiterates that "(We) view our presence in the long term," Chan says, "and that's why we're ensuring that we are connecting with the right audiences." 
Chan candidly admits that this year's edition of M&O Asia will be smaller than the previous ones. "We have gone through a list of potential exhibitors and decided who would benefit most from exhibiting. If we have the top developers from the region and beyond attending the show, we thought hard about the products and services that they will be looking for, and the brands that they will want to work with long into the future." M&O Asia 2016 will see about 300 participating brands from 26 countries, including AGC Glass, Dornbracht, and Cotto. Of these participants, about 40 percent will be showing exclusively at the show, and 30 percent will be Asian brands. 
Following in the footsteps of M&O Paris, which saw a major revamp in direction and layout in its September 2015 show, M&O Asia 2016 exhibitors will be grouped under three categories: Maison for high-end interior design concept, Atelier for customised design solution, and Objet for bespoke accessories. Chan shares that there will be installations, including one by Industry+ and another by renowned local design practice Terre, headed by Terence Chan. "It's exciting to bring new ideas to the fair, so it becomes more engaging for visitors and participants. After all, we are interested in providing solutions and concepts. I'm particularly excited about 'Man Cave' and 'Framed' installations," she says without giving away too many details. The Summit will feature international designers and thought leaders, and awards will be handed to the Designer of the Year and the Rising Asian Talents. "The three main components of our show are still Exhibition, Summit, and the Awards," Chan says. 
Chan is clear about her mission. She spent a good part of the year travelling across Asia talking to designers, architects, developers, professional organisations, and practically anyone whom feels will benefit from attending the event either as visitor or exhibitor. "I was looking for people who would bring something to the table, both in terms of expertise, new ideas, energies."

Her estimation is well supported. A good number of international brands with offices in the region are increasingly doing contract work. Those with either a shop or business with retailers are strengthening their custom and contract services. In an industry whose performance is closely tied to that of real estate's, survival often means opening up of more revenue streams. Retail is no longer the primary income source. It has become commonplace to see a brand that is represented by a local or regional retailer to take up space at fairs in order to reach out to underserved markets. This is another expression of strengthening the sales force geared toward contract and custom.
This year's selection of designers representing Rising Asian Talents also bears an interesting aspect of this new direction. For Singapore, they picked Lekker Architects, represented by design consultant Joshua Comaroff and director Ong Ker-Shing. The multi-disciplinary practice counts landscapes and buildings—both residential and educational—among its recent projects. "What I find interesting is that Joshua first studied literature and creative writing before turning to architecture, and Shing has done extensive documentation of personal histories and living spaces of residents of Shanghai's French Concession housing," Chan reveals. Besides remarkable abilities and output in research and writing, the duo has already delivered a number of projects, placing them above 'rising talents' category. "I brought up the invitation carefully, not knowing what to expect," recalls Chan. "But they were very gracious and open to the idea of participating."
M&O Asia is keen on showcasing multi-disciplinary practitioners, or creatives whose body of works encompasses several categories and disciplines, seeing in them the power to innovate and deliver unique solutions to common problems. "I'm not bringing the quantity; I'm bringing the quality," Chan remarks.
Story Credits
Text by Marc Almagro
Images Courtesy of M&O Asia
This story first appeared in Form.
---